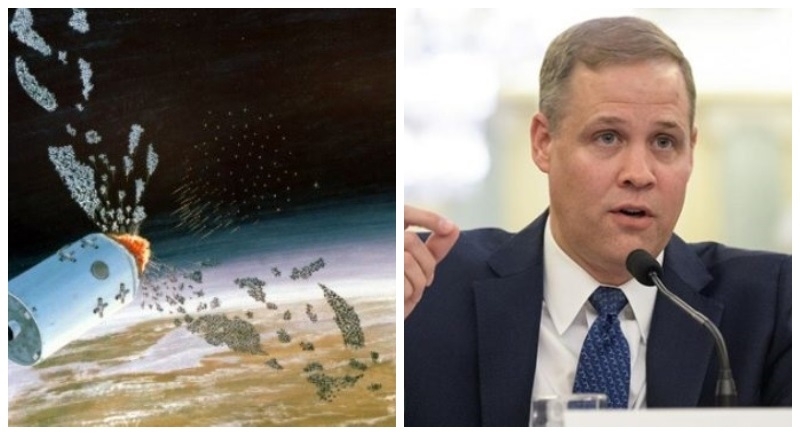 New Delhi, Mar 3: "Mission Shakti" by India is one of the most appreciated space expedition by the world. The whole world congratulated India for such accuracy and a huge success. But NASA has 'toothache' about this mission.
NASA's head on Tuesday stated India's destruction of one of its own satellites a "terrible, terrible thing" that had created 400 pieces of orbital debris and led to new dangers for astronauts aboard the International Space Station.
With this statement of NASA, the clash on Mission Shakti started. Indian scientific community and ISRO criticized NASA for such Statement.
Debris will disappear in 45 days-
DRDO stated that Debris issue is one of the concerning issues in space, Mission Shakti's debris will disappear in 45 days.
Further, DRDO's official said, "
The test was calibrated keeping in mind the debris issue. The world should know that debris from two Chinese tests is still floating whereas those created by the Indian test will disappear".
Responsibly conducted test-
Indian Scientists said, India conducted the anti-satellite test responsibly but agreed it could have raised risks for the ISS.
3,000 pieces Chinese space debris?
The US military tracks objects in space to predict the collision risk for the ISS and for satellites. They are currently tracking 23,000 objects larger than 10 centimeters. That includes about 10,000 pieces of space debris, of which nearly 3,000 were created by a single event- a Chinese anti-satellite test in 2007 at 530 miles from the surface.
It is the LEO Test, No danger to ISS-
Rajeswari Rajagopalan, head of nuclear and space initiative, Observer Research Foundation (ORF) said, "I would say India conducted the test responsibly. At 300km, the altitude is lower than that of the ISS and most of the other satellites and the debris will come back to the atmosphere of the earth eventually. there is a possibility that some debris might enter the apogee of the space station; the risk of collision increases as it does with any object sent to space".
Debris from the destroyed satellite would be smaller!
Dr. M Annadurai, former director of Isro satellite center in Bengaluru stated that the problem of space debris is a wider issue.
He said, "Space debris is composed of satellites, parts of launch vehicles, etc. The only difference with the debris from the anti-satellite mission is that a satellite would be a larger piece weighing a few tonnes, the debris from the destroyed satellite would be smaller," he said.
With 830 satellites, the US leads the world in the number of satellites, followed by China with 280 satellites. India has 54 satellites.