New Delhi, May 9: "The court finds no merit to entertain this petition," says the Supreme Court while dismissing the petition filed by former BSF jawan Tej Bahadur Yadav against the dismissal of his nomination from Varanasi Lok Sabha constituency.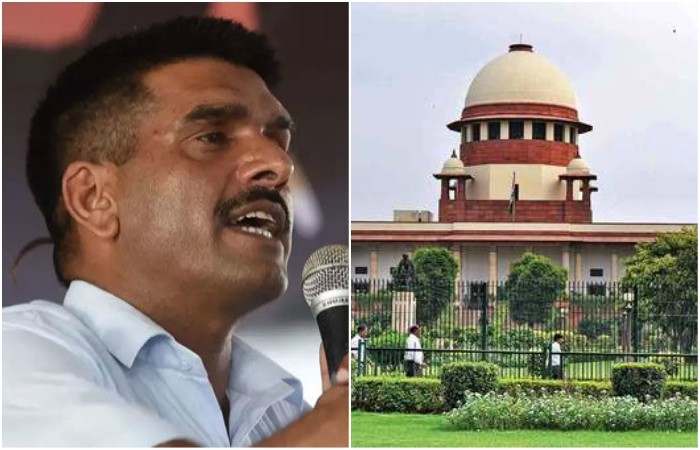 Bahadur had filed his papers on April 29 as a candidate of the Samajwadi Party. This was rejected by the Returning Officer on May 1 on the ground that he was dismissed from the government service on April 19, 2017, and five years period from the date of such dismissal has not elapsed, in terms of section 9 of the Representation of the People Act 1951.
Bahadur was dismissed from Border Security Force in 2017 for allegedly making false complaints about food quality.
Bahadur is the one who was seen in a shocking video agreeing to kill PM Modi for Rs 50 crores, which got viral on the Social Media platforms.
Tej Bahadur Yadav can be seen in the video, chatting with other men, allegedly his friends, over drinks and food. While the men appeared in the intoxicated state, in conversation with one of them, Tej Bahadur Yadav said, "50 crores do, main Modi ko marwa dunga." (Give me 50 crores, I will get Modi murdered). The other man shots back that nobody in the country will be able to give him such a huge amount, Pakistan might be willing to give him. To this Tej Bahadur Yadav replies, "Desh se gaddari nahin, agar yahan ka koi dega, toh mai Modi ko marwa dunga." (I won't betray the country, if someone here pays me that amount, and then I will get Modi murdered).
BJP spokesperson Sambit Patra on Tuesday hit out at opposition while addressing a press conference saying, "It's a very serious matter. It is about the prime minister's safety. It is about the conspiracy to assassinate an elected prime minister. Why is the opposition silent?" He also asked does the opposition agree with what Tej Bahadur Yadav said?