Pathankot, June 10: The cry of the young girl, sleepless nights of family members, the outcry of India against the heinous crime of sexual assault on 8-year-old was finally heard. Slating the most awaited verdict on Kathua rape case, the Pathankot Court on Monday availed justice as Six out of seven accused were found guilty. The Pathankot Court pronounced the verdict amid the heavy security while the quantum of punishment will be announced shortly.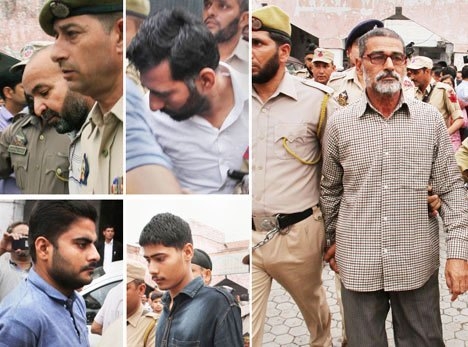 Following the Supreme Court directions, the in-camera trial in the case was conducted on a day-to-day basis and was completed on June 3, with both the prosecution and defence counsels examining 114 witnesses in a year. Temple priest and main accused, Sanji Ram, has been convicted of the heinous crime by the special court. Ram's son Vishal Jangotra is the only one to have been acquitted.
Village head Sanji Ram, his son Vishal, two special police officers Deepak Khajuria and Surender Verma and Head constable Tilak Raj convicted by Pathankot court in Kathua rape & murder case were convicted by the Court.
The court held all seven guilty under the provisions of the Ranbir Penal Code. The plea of the eighth accused in pending before the Jammu and Kashmir High Court where they have challenged the decision of the trial court claiming he was a juvenile when the crime was committed.
According to the 15-page charge sheet, the eight-year-old girl, who was kidnapped on January 10, 2018 and was allegedly raped in captivity in a small village temple in Kathua district after having been kept sedated for four days before she was bludgeoned to death.
The apex court order came after lawyers in Kathua prevented Crime Branch officials from filing a charge sheet in the sensational case, which shocked the nation. The prosecution team in the case comprised J K Chopra, S S Basra and Harminder Singh.
The Crime Branch arrested village head Sanji Ram, his son Vishal, juvenile nephew and his friend Anand Dutta, and two special police officers Deepak Khajuria and Surender Verma. Head constable Tilak Raj and sub-inspector Anand Dutta, who allegedly took Rs 4 lakh from Sanji Ram and destroyed crucial evidence, were also arrested.
Charges of rape and murder were framed by the district and sessions judge against seven out of the eight accused. The trial against the juvenile is yet to begin as his petition on determining his age is to be heard by the Jammu and Kashmir High Court. The court framed charges under the Ranbir Penal Code (RPC), including Sections 120-B (criminal conspiracy), 302 (murder) and 376-D (gang-rape).