Guwahati, June 12: Enabling various sources of information, school is one such temple where one seeks knowledge in abundance. What happens when this abundant temple of knowledge gives out lifetime thoughtful examples? Making people aware, a school in Assam has taken a novel approach to address the scourge of plastic waste by making its collection a condition of free attendance.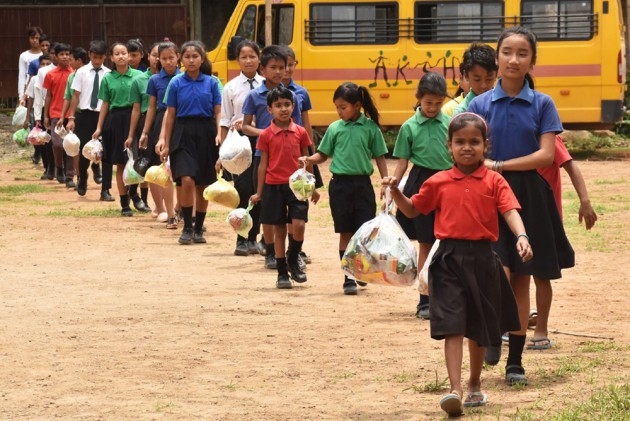 This school in northeast India has taken up this noble initiative wherein every week the 110 pupils at the Akshar Forum school outside Dispur in Assam state must bring up to 20 items of plastic gathered from their homes and the local area. Until last year schooling was complete without charge, but the school decided to introduce the plastic "fee" after a plea to parents to take part in a recycling scheme fell on deaf ears.
Emancipating the idea of free education, the school asks parents to give away the plastic waste to schools. In addition, the parents have to make a "pledge" not to burn plastics. This has initiated the fact that the children now go from home to home asking for plastics has also increased awareness in the local area.
According to local non-governmental organisation Environ, Dispur alone -- home to just under a million people produces 37 tonnes of waste rubbish daily. After collection, the school makes good use of plastic waste. Pupils stuff plastic bags inside plastic bottles to make "eco-bricks" which can then be used to construct new school buildings, toilet buildings or pathways.
The students are also paid to do this, something which dovetails with another aim of the school: getting children out of the local stone quarries and into education.