Hyderabad, June 19: The YSRCP led by Mr Jaganmohan reddy, son of YS Rajasekhara Reddy won the 151 out of 175 seats in Andhra Pradesh assembly election 2019. He took the oath first time as a Chief Minister of Andhra Pradesh on 30th May 2019. The Chandrababu Niadu-led Telugu Desam Party (TDP) won only 23 seats out of 175. In 2014 state election, the TDP won 102 seats with only 2% votes. It was recognition for both leaders Jaganmohan Reddy and Chandrababu to make a tough strategy for winning the 2019 election.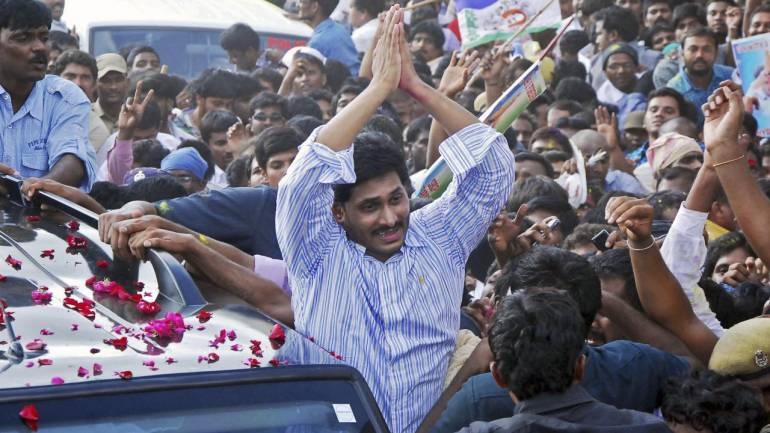 Jaganmohan Reddy a third generation Christian:
Many of us don't know that Jaganmohan (YSRCP) is third generation converted Christian. Before we see how YSRCP rose to popularity we need to take a look into past of his father; YS Reddy (YSR). YSR was born into a Christian family; after his medical education he served as medical officer in mission hospital in Andhra Pradesh (AP). In 1973, he established 70-bed charitab le hospital which made him a popular local man. YSR married to Vijaya Laxmi and had two kids; son, Y.S. Jaganmohan and daughter Y. S. Sharmila. YSR joined active politics in 1978 and same year he became a cabinet minister and enjoyed several terms in various ministries being close to Indira Gandhi. He also served as state president of Congress (I). On 2004 he became a CM of Andhra and continued his tenure after winning the 2009 state election. On the same year he died in a chopper accident. The London based "Religious Intelligence" published an article titled "Head of Indian state, a Christian, killed in chopper crash." It said YSR was a second-generation Christian, as his father Raja Reddy was converted by missionaries while serving in the military in Burma.
2004-2009 regime of YSR was full of corruption, he faced many charges. Notable was where he had to surrender more than 1600 acres land to state government. Opposition parties demanded his resignation for the owning the land in violation of law.
YSR and rise of Christianity in Andhra Pradesh:
On record YSR was known to be staunch supporter of Christianity. Many a times, he was criticized for openly supporting the evangelists and mass conversion of Hindus in rural AP. He sanctioned Rs 80,000 per church for repair in August 2006 (Govt Order MS. No: 21 date 22/8/2006). It wasn't the same case for the temples and mosques of AP. This was the clear case of discrimination on the basis of religion and no doubt, that he officially insulted the Constitution of India by issuing such order. While YSR was pushing this missionary agenda and murdering Constitution, not a single liberal or leftist protested against this. He had also sanctioned "grant in aid" of Rs 1.5 Lakh for the construction of each church. At the same time 30,000 temples were controlled by government of AP. These temples were asked submit all of their revenue to state government where in return they used get 15% to maintain everything. Over 40,000 priests in these temples used to get salary around Rs 500 to Rs 100 per month. In a way temple funds were used to build and repair churches across AP.
In year 2009 PIL petition ("HC stays government funds for church repair" times of India 8th Sept 2009), the Hyderabad High Court stayed the disbursement of government funds for Church construction and for subsidies to Christian pilgrimages. The state government went on appeal to the Supreme Court which returned the petition to the High Court with instruction that it "dispose it quickly". Now it's been four years and decision is still pending in Hyderabad HC. Meaning of which is the petition has not been disposed off and the state funds are still disbursed for promotion of Christianity in the AP.
YSR has subsidized Bethlehem/Jerusalem pilgrimage for Christians, first of its kind in the country, allotting a budget of Rs 2 crore for 2008-09, apart from Rs 5 crore for repairs of churches and mosques.
Oppression of Hindu institutions:
YSR was more "Missionary" than the evangelists; he did everything to break the backbone of Hinduism. YSR led state government identified 7000 acres of temple lands for sale to raise revenues of Rs 20,000 cores. In YSR era, thousands of churches have been planted by missionaries all over the state which were seen as a disproportionate to the Christian population. It's been reported that, to enjoy the reservation status and other benefits most of AP's Christian population still sticks with their old religious status on paper.
One of another attack on Hinduism by YSR was releasing a govt order saying Bhagwan Venkateshwara's (Tirupati) assets were only 2 hills and other 5 would be taken by government for welfare activities. Fortunately AP High Court quashed this order (Judgment of a Division Bench of the Andhra Pradesh High Court1997 (2) ALD Page 59 (DB) – Tallapakam Koppu Raghavan Vs State of A.P). Moreover YSR went on to award TTD's commodities contract to a Christian company by the name JRG Wealth Management.
YSR's Son-in-law; Brother Anil Kumar:
His son-in-law Anil Kumar is an evangelist with his own ministries. A Brahmin-convert, Brother Anil Kumar claims to be a preacher with anointing of holy spirits, powerful and authoritative teacher, revealer of Kingdom's principles, warrior of faith and a healer through miracles doing wonders in the name of Jesus (http://www.aweministries.org/).
Chandrababu Naidu joins race of Christianization of Andhra Pradesh:
After YSR, Chandrababu Naidu got elected as CM of Andhra Pradesh. Till this time YSR's missionary agenda has started to reflect on political horizon, scenario was totally changed as new vote bank of converted Christians emerged. Naidu continued the special status given to Christians as he didn't want to lose his political ground. These might be the reason where Naidu decided to leave NDA after the separation of Telangana. Naidu's appeasement politics is another blow to Hinduism.
Continuing YSR's legacy, Chandrababu in 2016 raised amount for churches from 1.5 lakh to 3 Lakh. Next increment was made on 23 Dec 2017 Christmas Eve; amount was raised to Rs 5 lakh.
On 20th dec 18, Chandrababu Naidu announced that Christmas will be officially celebrated by state government of Andhra Pradesh. He also told that
· TDP Government spent Rs 250 Cr for Christians in these four years,
· Government provided full economic support for construction of churches in the state,
· TDP Govt provided 2 acres of land and Rs 10 Cr to build Christian Bhavan.
· The govt. spent Rs 100 Cr to develop burial grounds for Christians,
· State govt provided Rs 50,000 for each Christian girl's marriage
On 6th Feb 2019, Andhra Pradesh legislative assembly passed the resolution by majority, titled "Resolution Requesting the Central Govt for Making necessary Constitutional amendment to bestow Scheduled Caste status on the Scheduled Caste Converted into Christianity."
Foreign funding (FCRA) under both Y S Reddy's and N Chandrababu Naidu's tenure:
On the above specially benefited schemes by both governments, according to foreign funding (FCRA) from 2006-2017 period, the Christian NGO's received the Rs 2896 Cr. fund only for Andhra Pradesh state. Most funds received in Andhra's Guntur district and were largely spent on rural areas by initiating Dalit Christian campaign.
Emulating YSR Chandrababu Naidu also tried to placate the converted Christian as a vote bank politics. But the only difference is that Chandrababu is not a converted Christian and Jaganmohan son of YSR is himself a Christian and this community recognised him more closely with them.
This shows the power of population of one community over the election. The next 5 years are looking more challenging for Andhra's Hindu community.