Jolarpet, Jul. 12: The rainy season is slowly capturing the entire country, but the Tamil Nadu is yet scorching due to drought. Now, named as 'India's Detroit', Chennai is facing major water shortage which resulted in the schools to shut, companies to ask employees to work from home, and hotels to ration water for guests.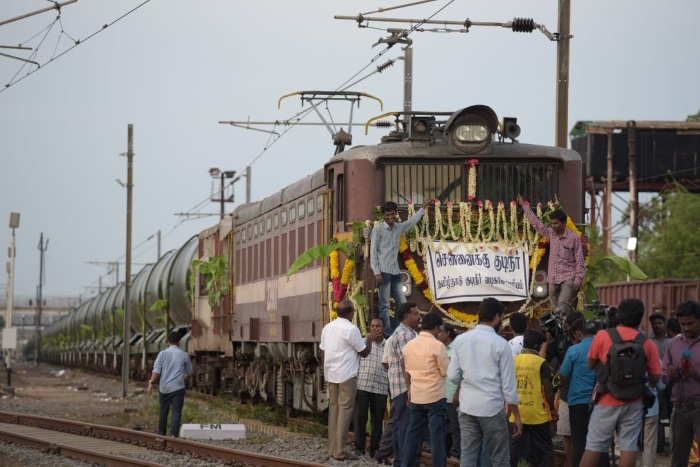 Now, giving some relief to this drought, The first train carrying water from Jolarpet railway station in Vellore left for Chennai today.
This is expected to bring an additional 10 Million liter per day to the Tamil Nadu capital which is reeling under an acute scarcity of the essential resource.
Adorned with flowers and bearing a poster stating 'Drinking water for Chennai', the train will reach the city shortly. As many as 50 wagons with a capacity of 54,000 liters each have been brought from Rajasthan to be attached to the train and carry water.
However, each wagon will only carry 50,000 litres of water.
On each trip, the train will carry 25 lakh liters of water and a total of four trips per day will be made. Each trip will cost the state government eight lakh forty thousand rupees.
The Chief Minister had sanctioned a fund allocation of 65 crore rupees for the entire project.
As per the railway's statement, the special arrangement will continue in operation until the water shortage is resolved in Tamil Nadu.