New Delhi, July 5: Moving a step forward towards 'New India', the Modi-led government in the Union Budget presented today decided to make no changes in the personal income tax rates. However the surcharge on individuals having taxable income from Rs. 2 crore to Rs. 5 crore and Rs. 5 crore above, has been increased.
The financial document presented today by the lady Minister also focused on the Public Sector Units banks and the modes to boost capital infusions within.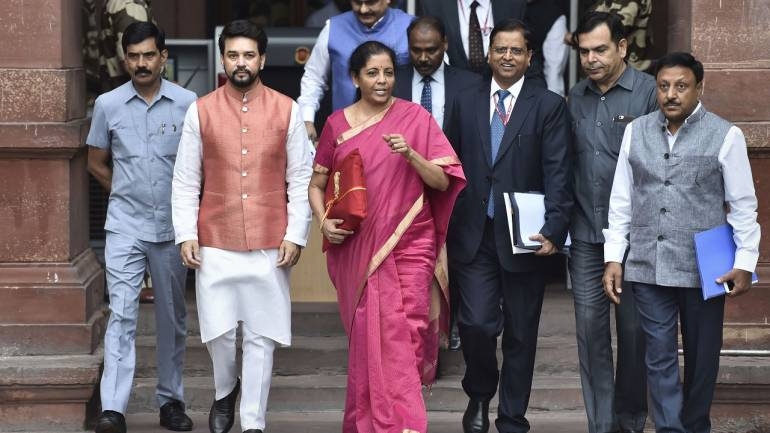 With the NPAs in PSU banks reducing by over Rs 1 lakh crore in the last year, the Finance Minister has allotted Rs 70,000 crores to boost deep pockets. The said banks are also to be provided with one time 6 month credit guarantee of Rs 1 lakhs to buy high rated pool assets of sound NBFCs.
"The government is setting an enhanced target of Rs 1,05,000 crore for disinvestment and will continue with disinvestment of PSUs in the non-financial space", said the Finance Minister.
Further lauding the honest taxpayers for filing direct and indirect tax returns, FM Sitharaman said that the tax collection had increased to 11.37 lakh crore to 2018-19 from 6.37 lakh crore from 2013-14, the growth being 78 per cent. She also declared 25 per cent tax for all the companies with annual turnover of Rs 400 crore. While there are no changes in personal income tax rates, the budget has increased the custom duty by 2 per cent on gold.
"Currently, the lower tax rate of 25% is applicable to firms with annual turnover of Rs 250 crore. I propose to widen this to all companies with annual turnover of up to Rs 400 crore. This will cover 99.3% of all companies", she said. Further additional income tax deduction of Rs 1.5 lakh on interest paid on loans taken to buy electric vehicles was also declared meanwhile.
Plunging the budget documents to provide ease of doing business to the middle class families, the lady Minister equally focused to resolve the so-called Angel Tax issue. "The start-ups and their investors who file requisite declarations and provide information in their returns will not be subjected to any kind of scrutiny in respect of valuations of share premiums", she said.