Chennai, Aug. 14: 'Prasad' or offerings for deity is one of the most important rituals in Hindu religion. Now, this unique tradition got another jewel added in it. 'panchamirtham' of Palani temple from Tamil Nadu tagged with GI status. This is the first time a temple 'prasad'' from Tamil Nadu has been bestowed with the GI tag.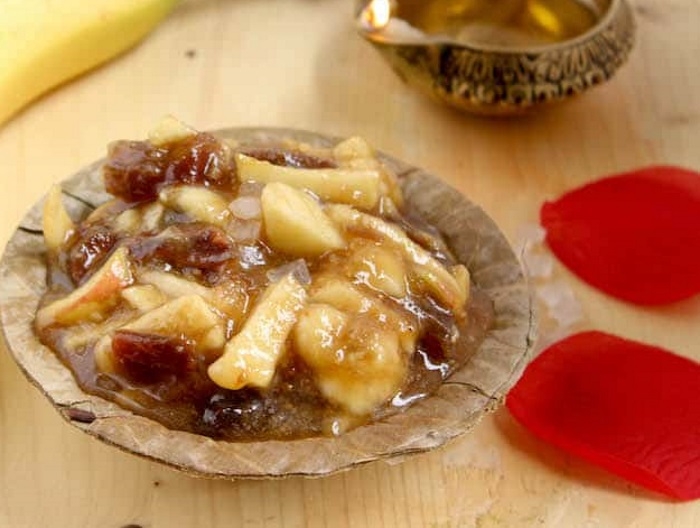 The application was filed by the Joint Commissioner/Executive Officer, Arulmigu Dhandayuthapani Swamy Thirukoil, North Giriveethi, Adivaram, Palani.
This is a combination of five natural substances — bananas, jaggery, cow ghee, honey, and cardamom. Dates and diamond sugar candies are added for flavor.
The panchamirtham is an 'abhishekam prasadam' (food that is a religious offering), which is served in a semi-solid state. It is sweet in taste and one of the main offerings for Lord Dhandayuthapani Swamy, the presiding deity of Arulmigu Dhandayuthapani Swamy Temple, situated on Palani Hills.
Earlier, the Tanjavoor Veenai, Madurai Malligai, Neelgiri Tea leaves as well as Turmeric from Erode from Tamil Nadu have been bestowed with Geographical Identity tags.
Not even a single drop of water is added during the preparation of the panchamirtham. This gives it its classic semi-solid consistency and taste. No preservatives or artificial ingredients are used. The meaning of the word Panchamritham translates to Five Nectars and the offering is believed not to go bad for long periods.
The quality of the Panchamritham is being monitored by the Central Research Institute of Food Technology in Mysore. It is also noteworthy that Palani temple is one of the six Kartikeya temples in Tamil Nadu that have special associations with the life of Lord Subramanya or Karthikeya.
Chinnaraja G. Naidu, Deputy Registrar of Geographical Indications, confirmed that the GI tag had been given for the panchamirtham.