New Delhi, August 27: Although he might have lost the first-round match, Indian tennis player Sumit Nagal won hearts becoming the first Indian to win a set against ace player Roger Federer. Not just earning accolades across the world, the Swizz maestro Federer also praised saying Nagal is going to have a solid career.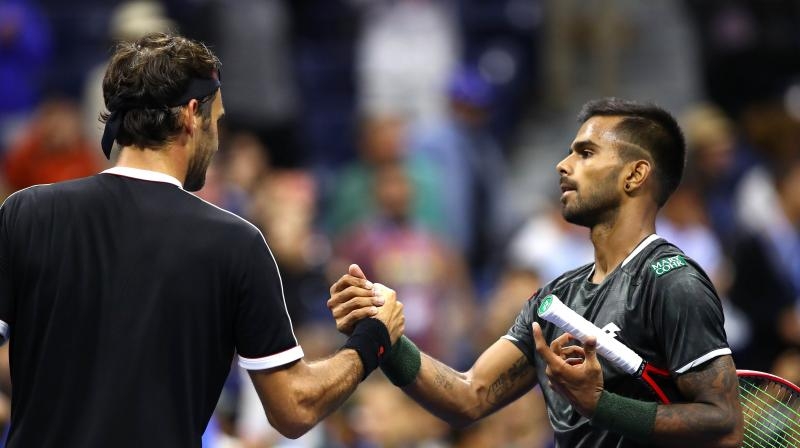 The historic feat was achieved by Sumit Nagal during his first-round match against Federer in the ongoing US Open as he outclassed him in the first set. Nagal ended up losing the match 6-4, 1-6,2-6,4-6 against Federer.
The 22-year-old became the fourth player to take the opening set against Federer at the US Open. Peter Wessels (Netherlands), Jose Acasuso (Argentina) and Frances Tiafoe (America) are the other three people who have previously won the first set against the Swiss tennis maestro.
The first set was a closely fought affair as both Federer and Nagal went back and forth and at one stage the set was tied at 4-4. It was then that Nagal won games continuously, and the 22-year old won the first set 6-4.
In the second set, Federer came out all guns blazing and he was seen toiling with Nagal. Federer was able to win the second set 6-1. The 38-year-old Federer was in no mood to slow down and he carried the momentum in the third set, and he easily wrapped up the set 6-2.
Roger Federer was quoted as saying, "I think he knows what he can bring. That's why I think he is going to have a very solid career. But, of course, it is not the game that comes out with the biggest surprises. It is really consistent. I think he did it very well tonight."
Sumit Nagal became the youngest Indian in 25 years to qualify for the main draw of a Grand Slam after defeating Brazil`s Jaao Menezes 5-7, 6-4, 6-3. Nagal had earlier bagged the Wimbledon Boys` doubles title in 2015.