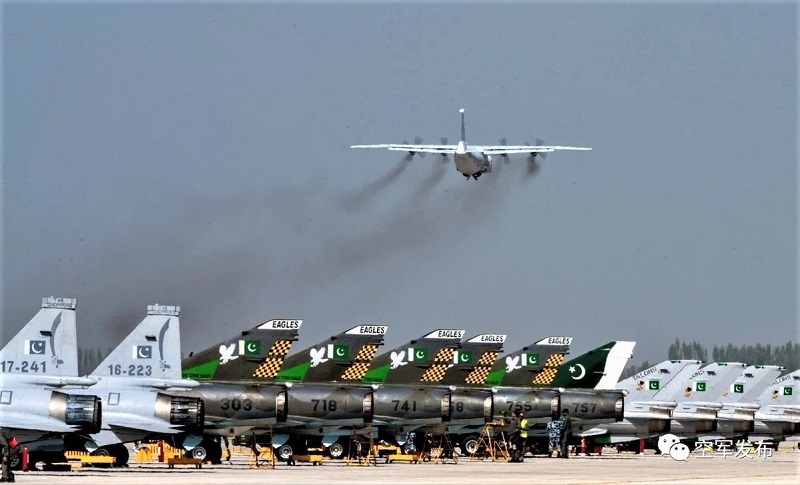 Ever since the Indian Government abrogated Article 370/35A of the Constitution to revoke Jammu and Kashmir's special status and passed a law in Parliament to divide the state into two Union Territories on 05/06 August, 2019, Pakistan has left no stone unturned to draw international attention and intervention on/in Kashmir.
Till 18
th
September, 2019 his efforts bore no fruits except verbal support by his "All Weather Friend" China and Muslim supporters Iraq and Turkey. Last straw was, cold shoulder given to and rejection of impassioned speech of its Foreign Minister Shah Mahmood Qureshi by United Nation's Human Right Commission on 11
th
September, 2019 and acceptance of American President Donald Trump an invitation to share the dais with Prime Minister Narendra Modi in US on 22nd September.
In between these two events was observed an interesting Military Event of great magnitude which our Print/Electronic Media has probably overlooked.
Air Forces of China and Pakistan were engaged in a Joint Military Exercise, "Shaheen VIII" between Friday 23 August to Monday 09 September, 2019 around Holton close to the Indian border near Ladakh. It comes at a time when the Indian Diplomatic and Strategic Relations with Pakistan are at its lowest ebb. The reason that this exercise has put India on its guard is its proximity to the Leh region. The location is reportedly around 300 km North of Leh. Pakistani Fighter Planes participating in this exercise have passed through the Skardu Air Base in Gilgit Baltistan, a Semi Provincial Area, illegally occupied by Pakistan. Pakistan has used this Air Base in Pakistan Occupied Kashmir after a long time. Chinese Air Force has built several such Air Bases in Southern Tibet in close proximity of Ladakh and Arunachal Pradesh.
Pakistan is one of the biggest recipients of the Chinese Military Aid to include Missile Technology, Fighter Planes and Warships. During post-Balakot Air Conflict, Pakistan Air Force (PAF) had relied heavily on Chinese Military Equipment including Fighters. Islamabad participated in this exercise with its JF 17 Fighter Aircraft while China took part with J 10 and J 11 Fighter Planes. JF 17 is a single engine Light Jet Aircraft which is mainstay of PAF as was evident in Air Battle on 27 February 2019. On the other hand, J 10 and J 11 form the modern/latest backbone of Peoples Liberation Army Air Force Fighter Fleet. Main feature of this Joint Training was that it was conducted in a Back to Back Manner wherein, neither party was informed of the other's situation/position and had to find it completely depending on the Early Warning Aircraft, predict its Operations and immediately change their Operational/Training Plan. Such training is more Confrontational than that follows Pre Arranged Plan(s).
This Confrontational Exercises was carried out in highly complicated environment simulating Plateau and Mountainous areas akin to Kashmir, and the troops had to overcome the impacts caused by natural snow clad mountainous conditions and related disturbing factors. Since this was Back to Back Exercise without the communication of any information, the Joint Operational Training inculcated a keen sense of unfamiliarity and was very close to Real Combat Environment, with its indicators and plans reaching the Real Combat Level. This Joint Training integrated and unified All Forces and various types of Troops. PAF employed, 126, JF 17 Thunder Bird and Mirage Fighter Jets, Early Warning Aircraft and other Ground Troops along with a SSG Group and 7000 Combat Soldiers. PLA used 36,J 10C, J 16 and Early Warning Aircraft as well as Ground Detachments covering Ground to Air Missile, Radar and Airborne Landing and Communication. This information is available with Chinese News Agency Xinuha.
Why this particular exercise has raised the hackles of Defence Analysts (like me) is that it was conducted after Pakistan had to suffer a "Bloody Nose" in Poonch Naushera Dog Fight when a Pakistani Pilot flying his far superior American F 126 Fighter Jet was shot down by an Indian Pilot flying much inferior Russian MIG 21 Bison on 27 February, 2019. It was undoubtedly because of superior training of Indian Pilot, as was evident in Air to Air Combat which probably gave a complex to Pakistan and forced him to seek Military Solution on training aspects of his Pilots from China. This supplemented with the fact that 36 Border Action Team members of Pak have been neutralized by IA and some 28000 Mujahidins are waiting in Gilgit Baltistan Area and 250 Mercenaries are ready in POK to cross over to India. Hence conduct of Shaheen VIII which has evolved into systematic Mock Battles featuring more Warplanes, Multiple Military Branches including Ground Forces that deploy Missiles and Electronic Countermeasures than were used in Balakot/Poonch Sector. Realistic Operations with the best equipment were carried out to achieve best Confrontation performance in highly Complicated Environment, so the fighting troops have to overcome the impacts caused by natural conditions and disturbing factors.
When Pakistan Foreign Minister Shah Mahmood Qureshi held bilateral talks with his Chinese counterpart Wang Yi in Pakistan on 07 September 2019, a Joint Statement was issued by both nations specifying that Indian "Unilateral Actions" in Kashmir had already "Complicated" the situation which needs to be corrected. After these talks, Pakistan on 08 September 2019 moved a Brigade plus size Force in the Bagh and Kotli sector close to the Line of Control (LoC) in POK along with 250 Special Service Group Commandos in a bid to push Mujahidin Terrorists into J&K and incite violence there. This movement of the Pakistan Army has come at a time when it has already activated its Terrorist Infrastructure through their Inter Service Intelligence Agency (ISI). Pakistan has also constructed four Radio Relay Towers of transmission of FM Band to be used for propaganda in Villages on Indian Side and pass on instructions to his Jihadis in deep in Kashmir Valley. Pakistan has also manipulated Islamic State Army (ISIS) elements stationed in FATA, Baluchistan to move by Sea to Kerala and exploit its Sleeper Cell contacts for Jihadi havoc in Kerala, Tamil Nadu and Maharashtra. According to a report, 6-7 unmarked/unclaimed boats have been found in Sir Creek Area of Gujarat.
In situ Terrorist Organisations, Lashkar-e-Toiba (LeT) and Jaish-e-Mohammed (JeM) have been instructed to recruit locals and Afghans in a big way. Islamabad has been trying to fuel terrorism in the Valley. It has also been attempting to draw International Attention and Intervention by terming the prevailing situation between the two countries as "Very Tense and Extremely Volatile". The movement of troops has also come in the wake of Pakistan Prime Minister Imran Khan and his Ministers engaging in War Mongering, with the former even talking about a "Nuclear Shadow" hanging over the South Asian region in the wake of Indian decisions on Kashmir. "Pakistan will certainly give fullest possible response to Indian actions in Kashmir and the global community would be responsible for any "catastrophic" aftermath", Imran Khan said on Friday 06 September 2019. On same day, during Annual Defence Day remembrance of Pakistan's Fighters in 1965 war, Pakistan Army Chief General Qamar Javed Bajwa claimed: "Deteriorating situation in Kashmir is a threat to Regional Peace which may lead to war/nuclear confrontation and hence super powers/United Nations must look into it immediately". Gen Qamar Bajwa, thereafter, visited the Headquarters of 1st Strike Corps at Mangala/ Gujranwala to ascertain their "Operational Readiness/ Preparedness". On 12 September, Imran Khan gave a sensational statement saying that "He knows that Pakistan is bound to/will lose an Open Military Confrontation with India and then he will have no option but to use Nuclear Weapons". On 16 September, Pakistan resorted to very heavy shelling all along border in Jammu, Samba, Pathankot, and Poonch Area. On same day, Indian Intelligence Agencies revealed that approximately 60 Mujahidins have infiltrated through Poonch-Gulmarg Area trekking through high mountain ranges, though Indian Army has neither refuted nor accepted it.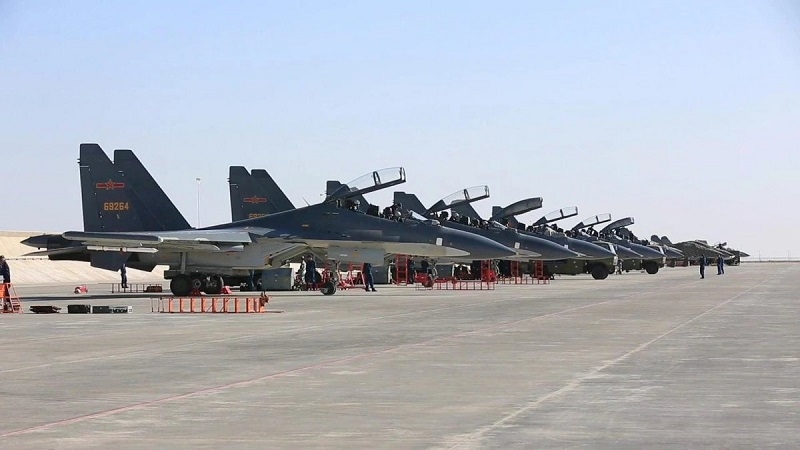 All above mentioned activities are what we call as "Battle Indicators" in Army. Battle Indicators are those actions/items which give warning of impending action by the adversary. These are the signs of things to follow. So it is safe to assume that, in due course of time, Pakistan will unleash Jihadis by Sea route in Kerala, Gujarat and Maharashtra. He will activate its Sleeper Cells throughout India to create mayhem of Jihadi Attacks. This would be accompanied by Trans Border Attacks/Actions to start a "Limited Confrontation/War". India has to take stern actions against such misadventures. Naturally people will be put to inconvenience and that is when Pakistan would be able to draw attention of World Community to Kashmir Problem and bring it to World Forum for their consideration. All this has to happen before a given date and what better way than the address by Prime Minister Imran khan to Session of United Nation General Assembly on 27 September?
This is borne out from the fact that, United Nation's General Assembly (UNGA) will be holding its 74th Plenary Session from 20-30 September, 2019. "General Debate" will commence on 24 September with address of President Donald Trump to UNGA on 24 September and Pakistani Prime Minister Imran Khan and Indian Prime Minister Narendra Modi will be addressing the Session on "Progress in Addressing the Priorities" on 27 September. In between, on 26 September is a discussion on "Elimination of Nuclear Weapons" wherein, Pakistan will definitely rake up issue of "Possible Nuclear Confrontation" between India and Pakistan in case India does not amend its ways in Kashmir. In his address to UNGA, Imran Khan will also not leave any stone unturned to blame India for repression of Kashmiris and Muslims in general by India. He will also lay emphasis on Pakistan's rights to help Kashmiri People in distress and resort to military action if necessary even taking the risk of its escalation in to a Nuclear Conflict with the onus lying on World Community. He would, therefore, request them to intervene before it is too late. This would help him to regain lost prestige in eyes of Pakistani Janata.
This has to happen sooner or later, but it will definitely happen because Pakistan is on the Last Page of script of Kashmir Drama. She has played out ALL Her Cards and has only this Ace of Trumps to play. Will Imran Succeed in this Poker Game? Only time will tell.