s -Shivani Shinde
"The answer to an atom bomb is an atom bomb, nothing else," these were Atal Bihari Vajpayee's words when he delivered a speech in parliament just after, China conducted its first nuclear test.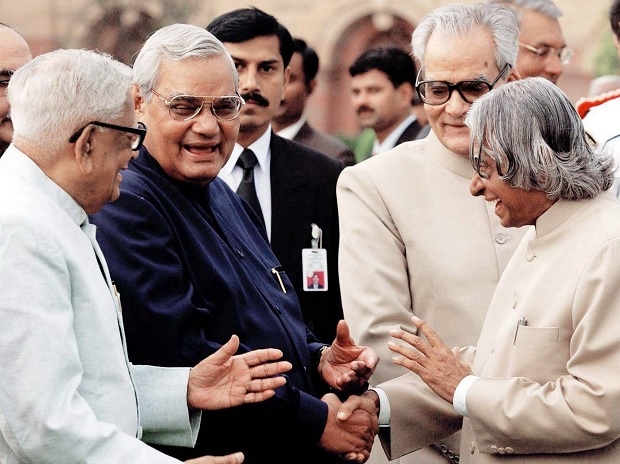 From 1974 India was struggling to become a nuclear state. During the Congress government, India had tried twice but it didn't work. India's first nuclear test was carried out on May 18, 1974, in Rajasthan's Pokhran but it turned out to be an unsuccessful test and led to sharp sanctions on India by Western powers. The test was called a "peaceful nuclear explosion" to pacify the western powers and avoid the threat of sanctions from them (it didn't work). In 1995, Rao approved a nuclear test but it was aborted after the Central Intelligence Agency CIA detected suspicious movement at Pokhran.
Difficulties started to increase for India after America and other nations extended the Non-Proliferation Treaty (NPT). It put India under pressure. Moreover, during the same period, there was severe pressure on India to sign the Comprehensive Test Ban Treaty (CTBT) — which would restrict India from conducting a nuclear test. There was also some possibility that India may face a nuclear threat from China, other superpowers, or nuclear nations who did not want the nation to acquire this arsenal as it will diminish their power.
For India, testing a nuclear weapon was also necessary for its pursuance of big power status. With Vajpayee at the top, felt that conducting a nuclear test was a necessity if India wanted to be taken seriously by the world. However, it was a huge risk; a risk nobody thought India would take. It was the time when A.P.J. Abdul Kalam emerged as the ray of hope for Indians and become a nuclear folk hero. A visionary leader and architect of India's space & missile programs, who always wanted to build a strong and self-reliant India.
Vajpayee and Kalam decided that it was time for the country to announce its nuclear status with a huge bang. Vajpayee was keen on going ahead with the nuclear test after he formed the government for the first time in 1996 but looking at the political turbulence, he called it off. Two years later, when he came back into the power he again tried to conduct a test. At that time, both of them had an intense meeting in which Vajpayee permitted Kalam to conduct atomic tests. The operation was conducted in such high secrecy that nobody except the then Home Minister LK Advani knew about it.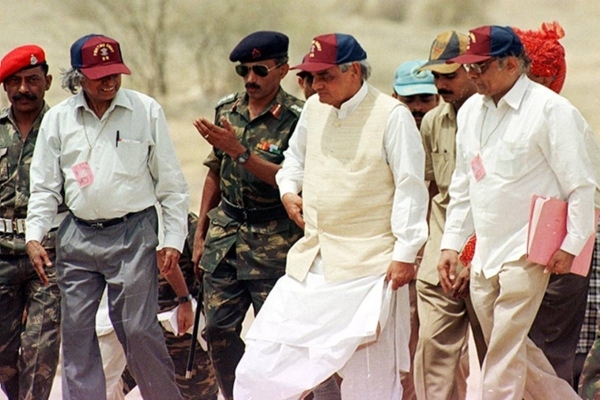 Meanwhile, it was not easy for Indians to conduct the test as the United States of America got a whiff of this and tightened its scrutiny on India. It's the Central Intelligence Agency (CIA) that put up a satellite in space so as to track the ongoings in India. It had also kept a track of everything happening at the Defence Research and Development Organisation (DRDO) which is the R&D center of the Indian military. Even telephonic conversations at DRDO were tapped and decoded by US intelligence.
At that time the complete responsibility of this secret mission was laden on Kalam and his fellow scientists. In no time, he became the brain behind the multiple nuclear tests carried at the Pokhran test range. He had come up with a smart solution to all the strict monitoring that the USA was doing in India. Under his guidance, scientists at DRDO did not use any terms and words associated with atomic bombs. Code words like 'Taj Mahal',
'kumbhakaran', 'Sierra', and 'White House' were used instead. DRDO and Department of Atomic Energy (DAE) scientists would wear army uniforms so that the CIA satellite could not figure out the plan.
India's access to state-of-the-art satellites gave it pivotal intel on what could and could not be seen from space. Scientists only worked on test sites during the night, when satellites would be unable to capture clear images due to the absence of light. As dawn approached, everything was placed just as it had been the previous day. When the analysts at the Central Intelligence Agency (CIA) downloaded images from the satellites the next day, it would seem as if not a single strand had been moved. Additionally, in locations where holes were dug, sand was aligned towards the direction of the wind. This prevented suspicion since unaligned sand could have signaled activity. In fact, hovering over Pokhran were four satellites that were so technologically advanced they could supposedly even be used to count the number of green patches the Indian Army soldiers had on their fatigues. They were called "Billion Dollar Spies". And all India had against them were the "Regiment 58 Engineers" from the Indian Army.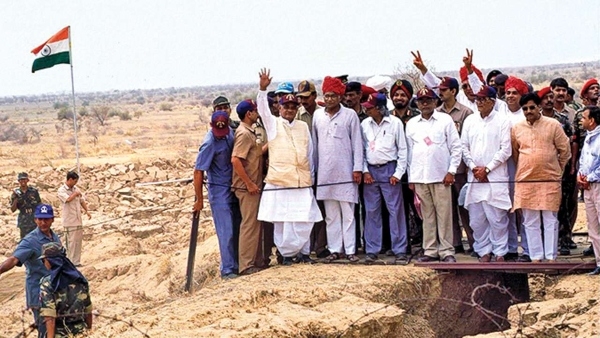 D-Day:
On May 13, 1998, when half of the world was sleeping; India's nuclear era emerged. Deceiving spy satellites of the United States and other countries, India secretly conducted a series of underground nuclear tests with five bombs in Pokhran, Rajasthan, and become the sixth nation to enter the exclusive nuclear-armed State club. India announced itself with a bang that it had become a nuclear power State.
Kalam then Scientific Advisor to Vajpayee, sent a message on the hotline, saying, "Buddha smiles again". It was a defining moment for both the country and Vajpayee, whose long-standing dream of converting India into a nuclear state was fulfilled by Kalam. Prime Minister Atal Bihari Vajpayee addressed the media. He confirmed that nuclear tests were successfully conducted in Pokhran and there was no release of radioactive elements into the atmosphere.
The tests left the Western world shocked and surprised. Thousands of miles away, in an interview, US senator Richard Shelby articulated that the CIA's failure to identify that these tests were going to take place was "the biggest failure of our intelligence-gathering agencies in the past ten years or more".
Although foreign countries viewed India's nuclear program as a threat, Defence Research and Development Organisation (DRDO) chief APJ Abdul Kalam, in a press conference, clearly mentioned that the nuclear weapons were for "national security".
Vajpayee even wrote a letter to Clinton and without mentioning China said, "We have an overt nuclear-weapon state on our borders, a state which committed armed aggression against India in 1962. Although our relations with that country have improved in the last decade or so, an atmosphere of distrust persists mainly due to the unresolved border problem."
India did it because of the decisive leadership and vision of our former PM Atal Bihar Vajpayee and the great efforts put forth by Dr. APJ Abdul Kalam & the team. They were the reason India could create history on 13th May 1998 by Pokhran tests!