"Teaching is a very noble profession that shapes the character, calibre and future of an individua. Youth have a dream and also they have a pain. The pain comes out of their dream; they want to live in a prosperous, happy and peaceful India. This type of student's environment ignites me and leads me to interact with young minds"
Avul Pakir Jainulabdeen Abdul Kalam or A.P.J Abdul Kalam's contributions in the field of science and technology are widely known to many of our countrymen as well as to the world. However, he has been regarded as immensely known for the role of a teacher that he played throughout his scientific and political careers, encouraging millions of students through his speeches, books, and wherever and whenever was possible for him.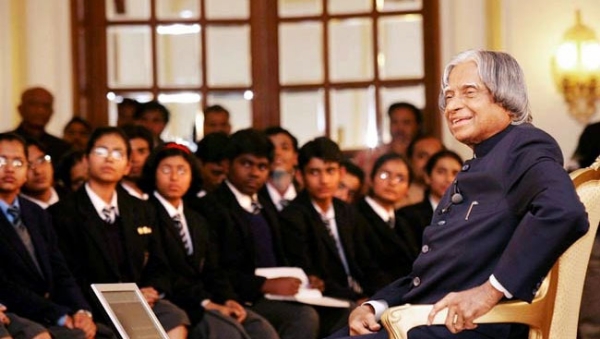 Unarguably, he is the most loved President of India. He was a scientist who made India proud with his missile defense program. However, he used to have a different vibe, when he used to speak about the students or interact with them. Remember the quote, "The best brains of the nation may be found on the last benches of the classroom.". Many of us have grown up listening to this quote of him. This is the reason why people consider him as an inspirational personality whose favorite job was teaching and that's how he wanted the world to remember him. "If the people remember me as a good teacher, that will be the biggest honor for me."
Students across the nation still look up to him. As previously said his inspiring quotes speaking of students, dreams, etc. are still shared on social networking sites. Hailing from a poor family in Tamil Nadu to securing the highest constitutional post in India, his life story made him into one of the biggest role models for the Indian youth.
Mr. Kalam shared a close and harmonious relationship with the students from all cultures and societies beyond the demographic lines of caste and economical divides. This might come as his own life as a student had been very challenging and filled with hardships and struggles due to which he did not want any child to go through what he had been throughout his childhood. There was even a time when he had to sell newspapers from door to door to support his family and education.
However, these obstacles did not stop him to fulfill his commitment to his education. As he said it was this dream that did not let him sleep and as a result, he overcame all the hardships and achieved excellence not only in academics and career; but also held the highest constitutional post in the Republic of India. A story that is still remembered and inspired millions of students and will continue to do so for centuries to come.
Mr. Kalam throughout his scientific and political career considered himself as a teacher and was most pleased while addressing students; whether they belong to a school in some remote village or an esteemed college or university. So much was his inclination towards teaching and inspiring young minds that at a time in his career he left the post of Principal Scientific Advisor to the Government of India; a cabinet-level post, to become a teacher.
Prior to him, no leader would have inclined to inspire students as much as he did as his teachings, speeches, books are still read and listened to even today by students even across the world. He has also spoken about the importance of education. He had said, "Education gives us wings to fly". He has explained it that anything in this world can be destroyed, disappears, or stolen but no has the ability to snatch or take away our knowledge and education we gain. Educating each and every child of India will result in victory for the country.
Even his sudden demise on July 27, 2015, shocked the nation but Kalam died doing what he loved best: teaching. Delivering a lecture to the students of IIM Shillong, Kalam fell down the stage suffering a stroke and passed away almost instantly. The entire nation grieved his demise irrespective of caste, creed, location or religion.
Having said that, his teachings do not only limit to inspiring students but also explaining the importance of success and failures. Meanwhile, it is said that October 15th is observed as World Students Day to celebrate the birth anniversary of APJ Kalam but the UN has denied it. Though it might not be World Students Day, it will no surprise, if the day is celebrated as Students Day, given his major role as a teacher. Choosing his birthday as the 'World's Student's Day' would be an appropriate decision honoring his works as a scientist and the millions of youths that he inspired and still inspires through his works, achievements, speeches, lectures, and books.