-Siddhi Somani
There are many local legends about how saffron came to Kashmir. One goes back to the 12th century, and says that Sufi saints Khawaja Masood Wali and Sheikh Sharif-u-din Wali presented a local chieftain with a saffron bulb after he cured them of an illness while they were traveling. Another claims that the Persians brought it in 500 B.C., as a means to further trade and market. A third dates the spice back to the Hindu Tantric kings, when it was mixed into hot water to create potions that incited feelings of romantic love.
While the myths arouse discord, there's one item of consensus: Kashmiri saffron is the sweetest, most precious spice in the world. Its strands are thicker and more fragrant than its counterpart from Iran, which accounts for more than 90 percent of the world's saffron production. For Kashmiri farmers, crop sells for as much as Rs 250,000 or $ 3,400 a kilogram, or $1,550 a pound, in what was once a booming industry. Most of Kashmir's saffron is grown in Pampore, south of the state's summer capital, Srinagar.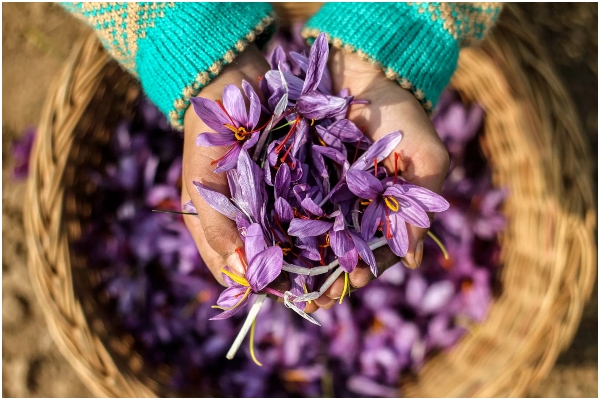 Kashmir is a majority belt in the north of the Indian subcontinent, and the most militarized region in the world. It today consists of a region that lies on both sides of the border between India and Pakistan. Indian-administered Kashmir is the territory within the state of Jammu and Kashmir in India, and Pakistan-administered Kashmir consists of a region also called Azad Kashmir along with the more remote Gilgit-Baltistan. Kashmir became the subject of war between the two nations when the Indian subcontinent gained independence in August 1947, and at the same time was split into two. Was it because of the precious grows like that of Saffron?
Pampore, only 30 minutes away from Srinagar, the summer capital of the state, advertises itself as "Saffron Town." The process for farming the crop begins in April, when the soil is plowed twice to allow moisture to seep in. The corms for the saffron, which cost 50,000 rupees per kanal, or 1/8 of an acre are sown in August or September, and the soil is pulverized and allowed to breathe. Following this, apart from minor tending, nothing much can be done, except to wait. In mid-October, the plants begin to sprout by themselves from the soil, and for a month they are picked, dried, and sorted.
The saffron flower has three parts. There's the flower petals, that goes in for medicine, then there's the yellow strands, which aren't much use. The red strands, right in the middle, are pure saffron, which is what we're reading about. A single flower produces just three red strands; one gram of saffron is made from around 350 strands. For a kilogram of the spice, more than 150,000 flowers are sifted and scanned, and the rarity of the red strand can lead to shortcuts from less scrupulous merchants. Isn't that a lot?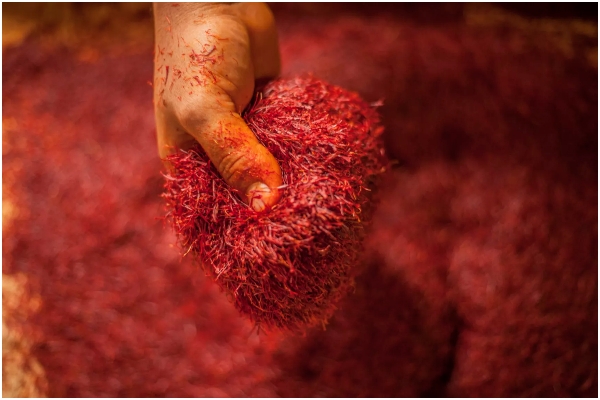 In the Indian subcontinent, saffron has many names: zafran in Urdu (from Persian), kesar in Hindi, Kong Posh in Kashmiri, and kungumapoo in Tamil. It was popularized by the Mughals — the Turkic kings from Central Asia that made the subcontinent their home in the 16th century, who took saffron wherever they established court and introduced it into their cuisine. Under the Mughals, saffron, as a color and scent, became commonplace in the royal kitchens. It became prominent in biryani, in which golden-colored rice stacked with meat became a favorite meal. It was used in stews made with lamb; in breads like sheermal, a sweet, thick flatbread dipped in saffron water that is today eaten in Lucknow, an ex-Mughal capital in India's North; in fruit sherbets as a cure from tiredness; and in phirni, a rice pudding made with spices and eaten all over Delhi, Lucknow, and other parts of India and Pakistan where the Mughals had established rule.
While a glimpse of Kashmiri saffron can be seen in its cuisine, its most important presence is, for Kashmiris, in kehwa a slow-brewed green tea, infused with saffron and spices like cinnamon and cardamom, garnished with almonds, and sweetened with sugar or honey. Kehwa is consumed through the valley; deep golden, it is an ode to local saffron, its color and the fragrance it brings.
While saffron has an overarching emotional presence in Kashmir and the rest of the Indian subcontinent, its struggles are mostly ecological: drought and lack of irrigation. In previous years, farmers could count on the winter snow seeping into the soil through spring and summer, keeping it moist despite the region's strong sun. But climate change in the valley has led to scarce rainfall and snowfall, leading the soil to become dry and unsuited for the crop.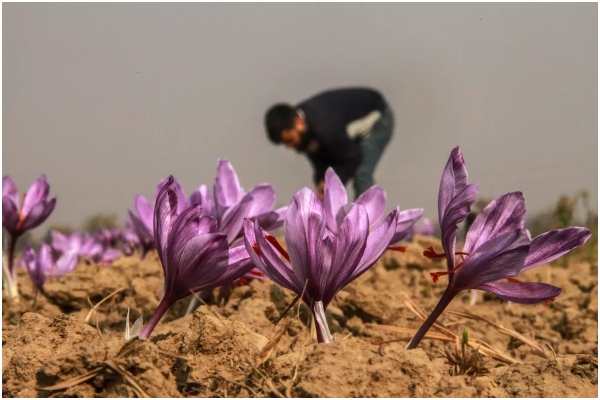 In 1997, more than 5,700 hectares of land were cultivated for saffron, according to the Jammu and Kashmir Agriculture Department, producing just under 16 metric tonnes. Due to a severe drought, the early 2000s saw a dip in saffron production, falling to as low as 0.3 metric tonnes in 2001. The next 13 years would see an average of 8.71 metric tonnes yield, even despite flooding in 2012 that brought with it great damage, washing nutrients away from the land. In 2010, the central government set up the National Saffron Mission to revive saffron production in Kashmir. The objective behind the mission, with a budget of 4.1 billion rupees (or $57 million USD), was to reconcile Kashmiri farmers with the changing nature of their job. The goals were manifold: to provide irrigation facilities in the form of sprinklers and taps, to increase the quality of the seed sown for crop, to conduct research to further productivity, and to educate farmers about new methods.
Despite the violence and struggles, more than 20,000 families are associated with the saffron economy in Kashmir today. Saffron requires enterprise and extensive support from the state, but also a loosening of military control and a reinstallation of pride in the lands. While the first two are tangible goals that can be achieved with effort, a free, peaceful atmosphere for prosperity seems out of reach.