New Delhi, Oct 17: Giving out sharp comments since the Moscow meeting last month with Chinese State Councillor and Foreign Minister Wang Yi, External Affairs Minister Dr S Jaishankar said the border clashes between India and China have left the Sino-Indian relationship 'profoundly disturbed'.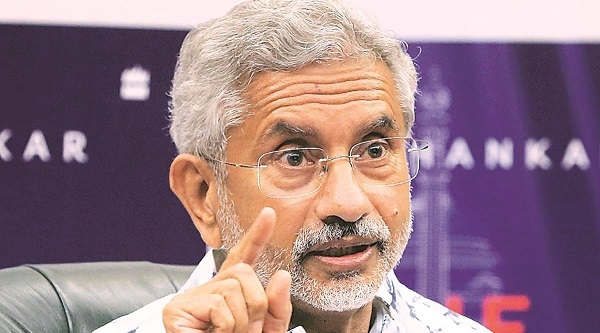 His remarks on China came after he had an hour-long discussion on his book, "The India Way: Strategies for an Uncertain World", with former Australian Prime Minister Kevin Rudd, under the aegis of Asia Society. Currently, Rudd is the President of Asia Society Policy Institute, a think tank with offices in the US, Hong Kong and Australia among other places.
Jaishankar said that India-China border standoff in eastern Ladakh including 20 soldiers martyred in Galwan Valley face-off has had a "deep public impact, and a very major political impact and it has left the relationship profoundly disturbed.... Today, there are very large number of troops with weapons concentrated on that segment of the border, and that is a very critical security challenge that we face."
The Minister stated that China's actions at the border were a sharp departure from a course of relationship over 30 years, since Rajiv Gandhi was the Prime Minister. He stated that a basis for peace and tranquillity along the Line of Actual Control (LAC) was made between the two neighbouring countries, including multiple agreements starting from 1993, which limited the presence of military forces at border areas, the behaviour of troops and more.
Jaishankar in a clearly mentioned that China violated all the agreements which were made in the past following the clashes seen along the Line of Actual Control (LAC) "What we saw this year was a departure from this entire set of agreements, and the massing of large amounts of Chinese forces on the border was clearly contradictory to those agreements. When you have friction points which was the large number of troops at different points, very close to each other, then something tragic happens than what happened on June 15. To underline the enormity of the incident, it was the first military casualty we have had after 1975," said Jaishankar.
"So there are a whole set of issues. We've been engaging and talking to them over many years, including at the summit meetings…open discussions on each other's interests," Jaishankar added.
India and China have been engaged in border standoff for the last five months. India has held discussions that includes seven rounds of military talks, six rounds of diplomatic talks, and at least three separate bilateral meetings at the level of NSA Ajit Doval, Defence Minister Rajnath Singh and Jaishankar with their Chinese counterparts over the last five months.
Also Read: