-Anjali Ankad
Festivals and celebrations reflect what Indian culture is all about. It fortifies the rich culture and history of this country. It not only teaches us about celebrating these festivals but also about the meanings and significance of each festival. Each festival of India leaves its own mark every year. One such festival is Navratri which happens to be one of the most significant Hindu festivals of India. It is cherished for 9 days and it is believed that there is a significance of each day in Navratri.
As the name suggests, "Navratri" is a nine-day festival in which nine forms of Goddess Durga or Maa Durga are worshipped. Goddess Durga is an incarnation of Goddess Parvati. This renowned Hindu festival is cherished twice in a year - once in Chaitra, (during the month of March-April) and once in Ashwin (during September-October months).
Goddess Durga is worshipped under 9 distinct names for 9 days of Navratri. She wears up a new look, a fresh character, and a new responsibility each day. The significance of each day in Navratri also discloses the religious significance of this nine-day-festival. Let us see what is the significance of each 'Avataar' of her each day.
Goddess Shailputri
On the very first day of Navratri, the deity Durga takes on the form of Goddess Shailputri. She holds a Trishul in one hand and a lotus in the other and rides a bull called Nandi. Goddess Parvati was born as the daughter of Himalaya and in Sanskrit, Shail means the mountain, thus she is known as Shailputri. Shailaputri is considered to be the direct incarnation of Mahakali. The color of the day is red, which depicts action and vigor.
Goddess Brahmacharini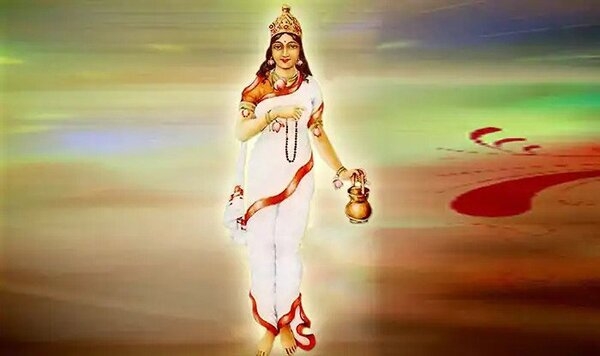 Goddess Brahmacharini is the second manifestation of Maa Durga. This name is derived from "Brahma", which signifies penance or "Tapa". She is one of the many forms of Parvati(or Shakti). The goddess walks bare feet with a rudraksh mala in one hand and a sacred Kamandalu in the other. The meditative form of this goddess symbolises Goddess Parvati when she engaged in her deep meditation to please Lord Shiva. She symbolizes bliss and calm. Blue is the color code of this day. Blue color depicts tranquility yet strong energy.
Goddess Chandraghanta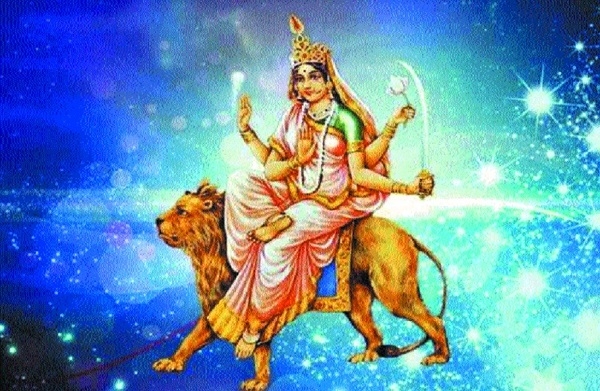 Goddess Durga adopts the form of Goddess Chandraghanta on the 3rd day of Navratri. Chandraghanta symbolizes bravery and beauty. The ferocious goddess is a fierce 10-armed goddess with a crescent moon on her forehead, which gives her the name Chandraghanta. She rides on a tiger to destroy all evil and wickedness. She is the embodiment of beauty and is also symbolic of bravery. Yellow is the color of the third day, which is a vivacious color and can pep up everyone's mood.
Goddess Kushmanda
The fourth day of Navratri is dedicated to Goddess Kushmanda. The name Kushmanda is derived from three words - 'Ku' (little), 'Ushma' (warmth or energy), and 'Amnda' (egg), which means the creator of the universe. According to the legends, it is said that Kushmanda created the whole universe by her giggle and hence she is worshipped as the creator of this entire universe. Kushmanda associated with the endowment of vegetation on earth and hence, the color of the day is Green.
Goddess Skanda Mala
Goddess Skanda Mala is another form of Goddess Durga which is revered on the 5th day of Navratri. She is also known as Panchami. Skandmata is a four-armed deity, who carries a lotus in two of her arms with a sacred Kamandalu and a bell in the other two. She also carries a little Kartikay on her lap and because of this Kartikay is also known as Skanda. The reason behind the name Skanda Mala is this: she was Skanda's mother who was the warrior head of the army of Gods. The color of Grey is symbolic of the transforming strength of a mother when her child is confronted with danger.
Goddess Katyayani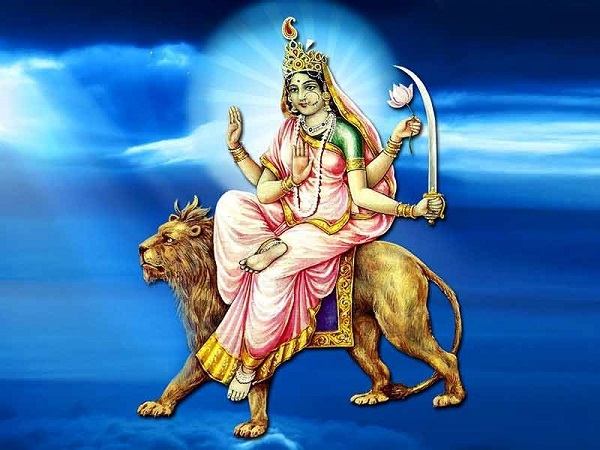 Durga takes up the form of Goddess Katyayani on the 6th day of Navratri. She is a form of Shakti. Also known as the warrior goddess, Katyayani is considered as one of the most violent forms of Goddess Parvati. She has four arms and carrying a sword. She is the daughter of Sage Katyayan and rides on a lion. Katyayani sits on a lion and she has four hands and 3 eyes. She is shown to exhibit courage which is symbolized by the color Orange.
Goddess Kaalratri
Saptami or the seventh day of Navratri is of Goddess Kaalratri. Kalratri means dark night. As per legends she sacrificed her skin color and embraced a dark complexion to kill demons. She is a four-armed deity who rides a donkey, carries a sword, a trident, and a noose. She has a third eye on her forehead that is believed to contain the entire universe. The color of the day is white that portrays prayer and peace and ensures the devotees that the Goddess will protect them from harm.
Goddess Maha Gauri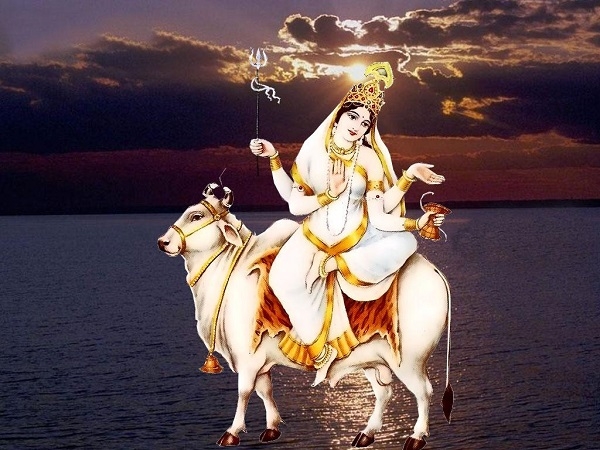 On the 8th day, Durga is revered as Goddess Maha Gauri. She is a four-armed deity who rides on a bull or a white elephant. She carries a Trishul and a damru in her hands. On this very day, Maha Gauri is adorned with white-colored jewelry. Maha Gauri signifies tranquility and displays wisdom. The color associated with this day is Pink which also depicts optimism.
Goddess Siddhidhatri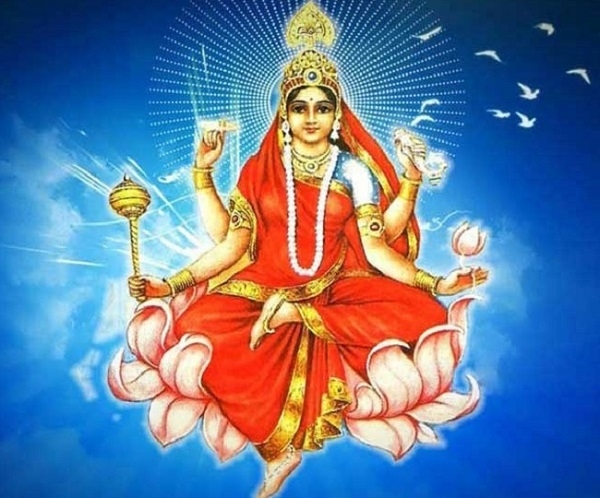 The ninth or the final day of Navratri is of Goddess Siddhidhatri. It is said that Siddhidatri encompasses all the 8 siddhis. Siddhidatri is believed to reside on a lotus and is revered by all the Sages, Yogis, Sadhakas, and Siddhas. She is projected as a four-armed deity sitting on a lotus, holding a mace, discus, and a book and lotus in her hands. This form of Goddess Durga signifies perfection. The light blue color of the day portrays an admiration towards nature's beauty. With all these characteristics of Maa Durga each day, it teaches us everything to overcome all the obstacles coming into one's life.