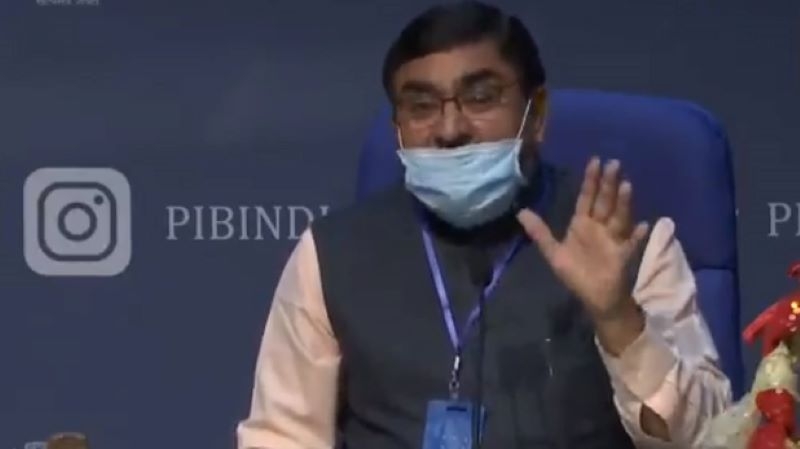 New Delhi, Oct. 19: The Rashtriya Kamdhenu Ayog has developed a chip of cow dung that reduces radiation from the mobile phones. This was claimed by Dr. Vallabh Bhai Kathiria, Chairman of the Rashtriya Kamdhenu Ayog here recently.
Dr. Kathiria, who was a minister in the Atal Bihari Vajpayee government, informed about this chip at a national webinar he addressed recently in Delhi. The webinar was jointly organized by the Rashtriya Kamdhenu Ayog and Muslim Rashtriya Manch (MRM) Cow Cell. MRM patron Indresh Kumar, Cow Cell National Convener Mohd. Faiz Khan and Bharat First National Convener Adv Siraj Qureshi were prominently present at the webinar. Dr. Kathiria claimed that the chip was approved by the science.
The Rashtriya Kamdhenu Aayog (RKA) which comes under the Ministry of Animal Husbandry, Dairying, and fisheries were established by the Centre on Feb 6, last year. It was aimed at the conservation, protection, and development of cows and their progeny. The RKA was announced in the Union Budget last year.
The chip named 'Gaustve Kavach' reduces radiation significantly, Dr. Kathiria claimed. "If mobile users want to avoid the ill-effects of radiation then this going to be most useful," he said. The number of mobile handsets used in India crosses one hundred crores. And the same figure in the world is five hundred crores. The chip made of cow dung, he presented to media persons this week is made by Rajkot based 'Shriji Gaushala '
He also displayed other products made from cow-dung. He said cow – dung has anti-radiation properties. It protects you from other radiation if you bring this home. Your place will be radiation free. All this is approved by science. At the moment, there are more than five hundred gaushalas manufacturing the chip. They are available for Rs fifty to one hundred. One person is exporting the chips to the US where it is sold at ten dollars.
When asked, if it is funded by the government, Dr. Kathiria added, 'Our aim is to popularize anti-radiation properties of cow-dung and many Gaushalas are coming ahead of their own. The media persons asked whether the chip is certified by a govt laboratory, he added, 'these are not certified but tested. It can be tested in any laboratory even in a college.
RKA has launched a campaign as 'Kamdhenu Deepawali Abhiyan'. While unveiling the Abhiyan, he said, there are other cow-dung based products like earthen lamps, candles, incense sticks, paperweights, idols of Gods and Goddesses. RKA aims to reach eleven crores families to light thirty-three crores Diyas made from cow-dung this Diwali.