Ghaziabad, Oct 8: The Indian Air Force Day is celebrated on 8th October and today Indian Air Force is observing its 88th Anniversary. The IAF was founded on the 8th of October in 1932. A scintillating air display by various aircraft will be the hallmark of the Air Force Day Ceremony at Air Force Station Hindan, Ghaziabad.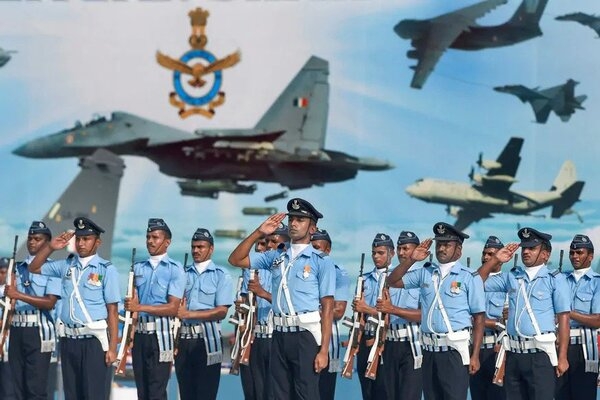 IAF's frontline warplanes like Rafale, Su-30MKI, Apache, Tejas, 'Gajraj' will showcase its lethal firepower. 56 aircraft, including 19 fighters and seven transport aircraft along with 19 helicopters, would be taking part in aerial display during this year's Air Force Day Parade, according to a press release by the IAF.
Defence Minister Rajnath Singh has extended best wishes to the air warriors and their families on the occasion of Air Force Day-2020. He said, My felicitations and best wishes to the air warriors and their families on the occasion of Air Force Day-2020. Eighty eight years of dedication, sacrifice and excellence mark the journey of the IAF which is today a lethal and formidable force to reckon with."
Further, he said, "the nation is proud of its men and women in blue and salutes the prowess of the IAF as it stands ready to face challenges and deter adversaries. Tthe government remains committed to enhancement of IAF's combat capability through modernization and indigenization. I am confident that the IAF will always guard the Nation's skies, come what may. Here's wishing you blue skies and happy landings always."
President Ram Nath Kovind also extended wishes on this day. He has said that the nation remains indebted to the contribution of the IAF in securing our skies and assisting civil authorities in Humanitarian Assistance and Disaster Relief. He said that the ongoing process of modernisation with the induction of Rafale, Apache and Chinook will transform the IAF into an even more formidable strategic force.
He said he is confident that in the years to come, the Indian Air Force will continue to maintain its high standards of commitment and competence. He said, on Air Force Day, we proudly honour our air warriors, veterans, and families of the Indian Air Force.
Prime Minister Narendra Modi has congratulated all the brave warriors of the Indian Air Force on the occasion of Air Force Day. Sharing a video, he said, these brave warriors not only keep the skies of the country safe, but also play a leading role in the service of humanity in times of disaster. He said, their courage, valor and dedication to protect Mother India inspire everyone.