Paris, Oct 9 : Parisian Pro - Armenian demonstrators protested in front of the Turkish Embassy in Paris, on Oct 8, to oppose the Turkish support to Azerbaijan in the Nagorno Karabakh conflict. Protesters marched a rally with posters that read "Stop Erdogen" and "Stop Azerbaijani Aggression" held in hands, with a few waving Armenian flags as well.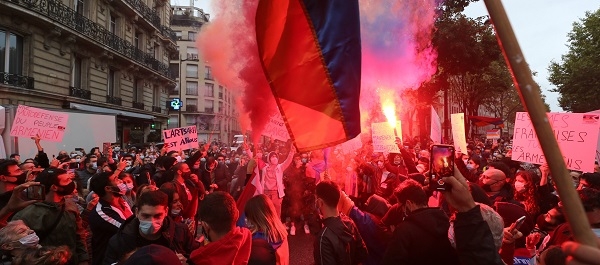 The Nagorno Karabakh conflict is on the verge of becoming a global conflict with, Turkey's unexplained involvement in the issue. The conflict has caused deaths on both the sides and emerged severely in the last week of September. The Minsk Group has been trying to mediate the conflict ever since with the current announcement by France, Russia and USA to initiate ceasefire in the disputed region. However, Turkey's uninvited involvement in the conflict is directing the tensions against peace.
Mourad Papazian, Chairman of the Coordinating Council for Armenian Organizations in France, said "President Emmanuel Macron, the UN Security Council and the OSCE (Organization for Security and Co-operation in Europe) have demanded a ceasefire but Azerbaijan and Turkey want to push forward and this is unacceptable".
The world is indirectly being drawn in the conflict due to Turkey's stand to support Azerbaijan and sustaining the tensions. Few days back, even Canada had to suspend their drone technology export to Turkey, since there are strong chances of Ankara to assist Azerbaijan with the technology, which would only fuel up the conflict.
UN is asking both the nations to settle their dispute peacefully. But with Turkey catalyzing the conflict and supporting Azerbaijan to continue with the destruction for their personal agenda it has become difficult to expect Armenia to keep it low from their side. The protest in Paris was to oppose the inconsiderate policy of Turkey in the Nagorno Karabakh conflict.