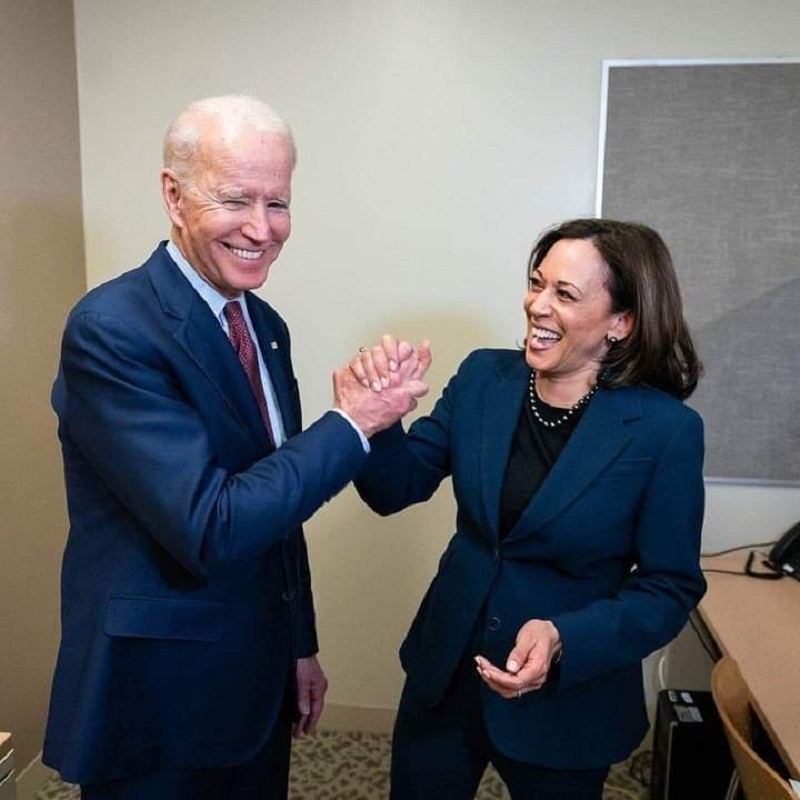 US President-elect Jo Biden with his V-P Kamala Harris
Kamla Devi Harris, the Democratic Vice-President elect, has been in news over the past few months and now even more as Joe Biden inches closer to becoming the next President of the United States of America.
With Harris looking set to take over as United States' first woman, African-American and Indian-American Vice-President, we look at her political journey and what her vice-presidency could mean for India-US ties.
Indian Americans love Kamala Harris. The daughter of an Indian biologist Kamala moved to the United States and became one of the most respected cancer researchers in the country.
Kamala's mother Shyamala Gopalan hailed from Tamil Nadu state and her father is from Jamaica. Her nomination for the second most important position in the United States had stirred social media in India. Well known businessmen to celebrities to the common man, all congratulated and celebrated Harris on different social media platforms.
Although Ms. Harris has often downplayed her Indian lineage compared to her experience as a "Black Woman", her path to the vice presidency has been guided by the values of her Indian-born mother and her wider Indian family, who have stood by her all her life. In her speeches, Ms. Harris has often proudly referred to her grandfather PV Gopalan, who inspired her.
In the victory speech in Delaware, Ms. Harris said her mother was "the woman most responsible for my presence here today."
"When she came here from India at the age of 19, she maybe didn't quite imagine this moment," Ms. Harris said. "But she believed so deeply in an America where a moment like this is possible."
Kamala Harris embodies the values of hard work, intellectual accomplishment, and political engagement.
As a U.S. senator, she had pushed for immigration policies favored by the Indian American community, including a lifting of country caps on H1-B temporary employment visas and the retention of employment rights for spouses of H1-B visa holders.
And Indian Americans were understandably proud to see one of their own rising to the top of the U.S. political systems.
But for some of India's policymakers Kamala's stand on Kashmir remains a cause of worry. It is a fact that despite her lineage, Harris has remained a tough critic of India's domestic policies under Prime Minister Narendra Modi. She has been vocal on most contentious issue in India, Kashmir. But what exactly are her views on Kashmir. Let's find out.
'We've to remind the Kashmiris that they're not alone in the world'.
"We've to remind the Kashmiris that they are not alone in the world. We are keeping a track on the situation. There is a need to intervene if the situation demands," - this has been the most publicized statement of Ms Harris made during the initial days of her Presidential race campaign after India had abrogated Article 370 in Kashmir last year,.
Obviously, this has given rise to sentiment in India that she is Anti-India and pro-Pakistan.
But read her statement in full again:
In response to a question on human rights abuses in Kashmir while she was still in the presidential race in September 2019, Harris had said that "we are all watching" the situation, and that the United States need to re-appoint an Ambassador to Pakistan to have any meaningful influence in the region.
Think objectively. Look at the time when she made her statement. You will realize that it was a political statement - reaction to a guided question possibly, and more definitively a potshot at Trump's policies.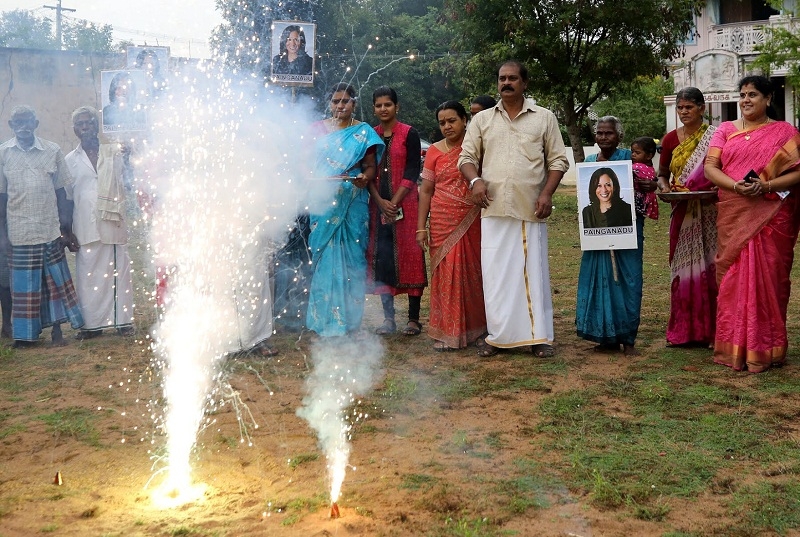 People in Tamil Nadu celebrting victory of Kamala Harris who claims her origin here
More so, because while Harris spoke of 'intervening', Trump too had offered to 'mediate' - words were different, but the bottom line for India they both meant was interference in Kashmir.
US - Pakistan ties have soured greatly over the last few years as various US administrations' policies have come undone even as a desperate Pak has tilted towards China; whereas India has emerged as the most significant counterbalance to China in the region.
In International relations, governance is a continuous process. For all his tough talking, Trump too amended his stand on North Korea and patched up with Kim Jong Un.
During a high voltage election, many times, candidates have to take up positions in accordance with that of the opponent. Campaign strategists many times manipulate the candidates for their own gains.
View the so called Anti India stance of the Biden - Harris ticket or their calculated cozying up to China and Pakistan - both are strategic and political in nature; a mere ploy to gain favor with the larger Pakistani-origin voter base for the democrats.
Despite this, Kamala Harris has not shied away from brandishing her Indian heritage as the Indian American community is one of the largest, wealthiest, and most politically driven groups in recent times.
Both India and America, two of the world's oldest and largest democracies will have to work together to check mate the threat posed by Chinese global ambitions. And under the Biden presidency, both hopefully will do that and play a decisive role in the region.
One cannot and should not jump to the conclusion that Kamala Harris is Anti-India.