-De Umesh Londhe
'Laxmii', the movie was released on eve of 2020 Diwali, wow! What a wonderful gift on the biggest festival of India by Producer Shabinaa Khan Entertainment Company to the most amazing and peace-loving Indian Society! Trading communities of all cultures in India worship Goddess Laxmi on the auspicious day of 'Laxmi Poojan' during Diwali. Lawrence, the Director of the movie justifies the title saying original Tamil movie was 'Kanchana' meaning Gold and Gold means Laxmi! Really? We in India know Laxmi as the Goddess of prosperity and wife of Lord Vishnu, God who preserves the entire universe, anyways! As said by William Shakespeare, "That which we call a rose, by any other name would smell as sweet". What's in a name? I wonder, how would have they justified the name 'Laxmi Bomb' which was later changed to 'Laxmii'?
The lead role is played by none other than Akshay Kumar! An actor who has become a role model for 'New India' of the nationalists! The central role of a transgender (Laxmi) is played by Sharad Kelkar, the same talented actor who played Chatrapati Shivaji Maharaj in the blockbuster movie 'Tanhaji'.
In one of the flashbacks, the story of Laxmii begins with a scene when he is beaten up ruthlessly during childhood by his father and thrown out of the house (may be house of a peace loving communisy as "Shubh" शुभ is clearly shown on the wall of their house). Laxmi begs for food and is spotted by the noble, selfless and very kind hearted 'Abdul Chacha' who takes him home, offers food, puts 'kumkum' (which was kept on table in the living room of Abdul Chacha) on Laxmii's forehead. Abdul Chacha also narrates the story of "Ardhanarishwara" (wisely misunderstanding the Shiv-Shakti form as transgender).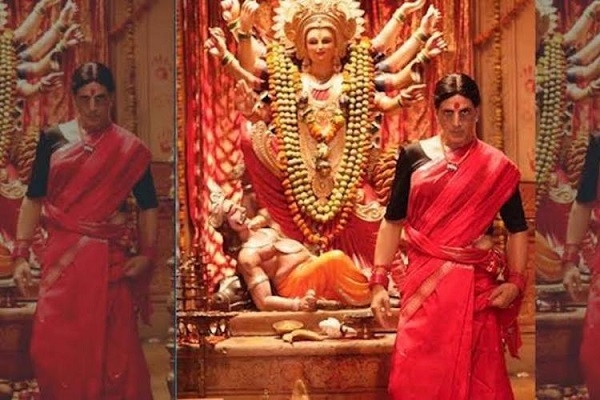 The audiences here must always remember that, in the movie, 'Abdul', 'Asif' & 'Pir' are the only trustworthy and good people about whom or about their religion nothing funny or non-sense can be tolerated in this self-advertised funny-horror movie. The main scene begins with Akshay Kumar tearing into a 'Saffron' dressed 'exorcist' for cheating poor villagers in the name of evicting 'spirit' from their body, brilliant! New India is against superstitions and do not give a damn to the colour of someone's clothing in the campaign against superstitions. Well done the movie! Akshay Kumar as 'Asif' is a member of an organization that works against superstitions.
Asif's wife Rashmi.. oh ho ho.. Hold on, don't start assuming about 'Love Jihad' & all that nonsense. Asif, being smart, liberal and forward-thinking modern guy, Rashmi falls in love and marries Asif against her parent's will. Rashmi's entire family is shown as a traditional north Indian Hindu family engaged in the noble profession of "Devi Maa kaa Jagran". Being it, the 'Pandit' who helps Rashmi's mother and sister-in-law to know the ghost entered in their house proves pointless in giving solution. And then, Rashmi's mother mentions that "Pandits MUST be retired as they don't have solutions". Isn't it a bold generalist statement against the peaceful community of India? But understandable, of course!
Later it becomes thrilling to watch how 'Pir', the REAL exorcist & not like the 'useless Pandit' or the 'Saffron cloth wearing imposter' forces the spirit of Laxmii to evict the body of Asif and reel on knees in front of him and then orders the spirit to get into the bottle and the spirit has no option but to listen to the 'Pir' else, the 'Pir' had water from 'zamzam' and some 'Ash' to sprinkle on the spirit. The Pir also tells the spirit in clear terms that the entire family of Rashmi is under his protection (and not under the protection of thousand Gods & Goddess as shown earlier) and that the spirit cannot touch them now! This is not superstition, come on, the 'Pir' has proved it for the second time!
The Villain of the movie, MLA Girja also seems to be from the same peaceful community as he pays respect to a 'Pandit', has 'Marigold' garlands at the entrance of his house etc. During the final fight with Laxmii, he enters the Temple wearing shoes while Asif enters the Temple bare footed which is clearly shown by focusing camera to their legs, thanks for bringing this to our notice! There is a special song on a world famous hotel from Arab country, even wild imagination of any writer may prove irrational and irrelevant to link it with the story based on transgenders. Hope its commercial and other interests are limited to the song only. I forgot one more point, have you seen the adorable murti of 'Adiyogi' at Sadguru ji's Isha foundation? similar huge Idol of 'Ardhnarishwar' is shown as God of Kinnars in the last song. May be 120 million followers of 'Adiyogi' were kept in mind! Just to take it positively!
Lastly, I have only and only ONE Question- Is 'Laxmii' a movie for the noble cause for transgenders or a story of ghosts & spirits or these themes are just used to fool the viewers and the main objective is to cleverly use the symbols and beliefs of largest peaceful community of India and create a feeling of inferiority amongst them, similar to 'PK' & 'OMG'?
The only answer which comes to my mind is based on certain recent political facts:
As most transgenders are expected to watch this movie, every effort is made to alienate them from Hindus and create a psychological association towards Abdul & Asif's faith! When Laxmii gives her speech in the movie, the stage backdrop has a party symbol similar to Congress party. It's interesting to note that Laxmii gives a very high potential speech emphasising voting rights of transgenders. The current Modi Govt passed The Transgender Persons (Protection of Rights) Bill, 2019 on 26 Nov 2019 which was opposed by a section of trans society for some of its clauses. This movie was also announced during same period. India has conducted first census of trans community in 2011 and the number was 4.9 Lacs. Considering the unawareness & social taboo, this number in all likelihood will increase manyfold and that seems to be the motive behind so many dimensions to the movie as its going to emerge as a vote bank in near future. Don't forget, the villain politician was a Hindu and in the last scene of the movie, again political goons are marching towards Geeta hospital and Laxmii is all set to fight with them. As per the State wise census data of 2011, the number of transgenders is highest in (western) UP which has state elections in 2021! If we go by world statistics, 0.35% of total population is transgender, total population of UP is 20.42 Crores. Looking at the close fight in Bihar elections where may MLAs lost by a margin of less than few hundred votes, we don't need psephologists to highlight the importance of trans community as a NEWLY emerged votebank!