- Shivani Shinde
Bollywood's actor Saif Ali Khan was in limelight for, of course, wrong reasons. He had recently stirred up controversy by commenting that his upcoming movie named 'Adipursh' will showcase Ravan's humane side as possible. He also went on to say that the movie will also justify the reason for the abduction of Sita Maa. However, after the social media backlash for these remarks, he apologised.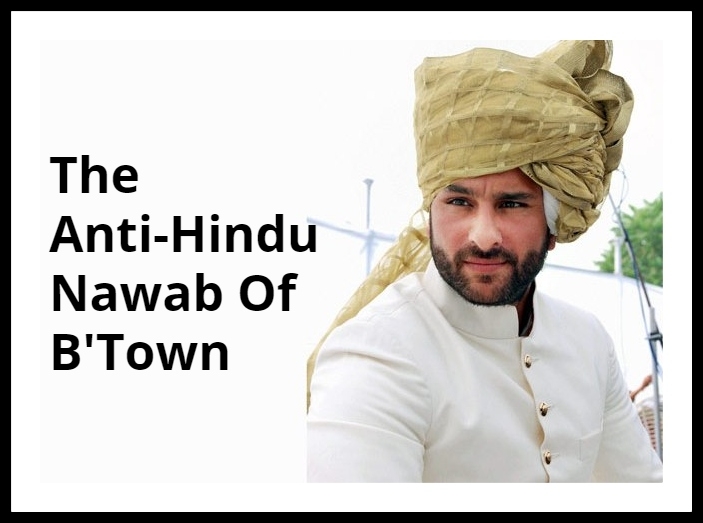 But, it is not the first time the 50-year-old actor has triggered such controversies by making such statements or actions and thereafter released an apology. The actor has time-and-again came up with such ridiculous theories about India's cultural past. His fascination for alternative history is not a new phenomenon though. Having said that, the context of his anti-Hindu family history can be explained.
Family History
His ancestors came to India from Afghanistan after Salamat Khan arrived in 1480 CE. His great-grandson, Muhammed Pir, rose to power in Akbar's court. He was rewarded with Kalam mahal (which today is known as Pataudi House near Delhi Gate). In the 18th Century, Salamat's descendant Alaf Khan assisted the Mughal ruler in his battle against the Maharaja of Jaipur. He was rewarded with Kalam Mahal (which later came to be known as Pataudi House near Delhi Gate) to serve as the family residence. They also assisted the British in their battle against the Marathas. As a reward, the British established the State of Pataudi in 1804 and declare Faiz Talab Khan as the first Nawab of the newly established princely state of Pataudi.
In 1939, Saif's grandfather Iftikhar Khan married Sajida Begum, daughter of the last Nawab of Bhopal, Hamiduallah Khan. He ruled over an area with an 80% Hindu population & was opposed to joining India. On 2 August 1947, Hamiduallah wrote to Muhammad Ali Jinnah expressing his wish to merge Bhopal with the newly formed Pakistan.
"I have throughout the last 8 or 10 years been in my humble way a staunch supporter of Pakistan and a loyal and devoted friend of the Muslim cause in India and the Muslim league. In recent years I took upon myself the task of doing my humble bit in securing the establishment of Pakistan by seeing to it that nothing was done on behalf of the Indian States which would seriously hamper the birth of a separate Muslim State in India," wrote Hamiduallah.

However, Shankar Dayal Sharma led public agitations against the Nawab in December 1948, after which Shankar Dayal jailed Shankar Dayal Sharma for agitating against his plan. In addition to this, Sardar Vallabhai Patel foiled Nawab of Bhopal's ambition. They signed the agreement for a merger with the Indian Union on 30 April 1949. After the partition, Saif also suggested that his family members who shifted to Pakistan did so as they thought India won't be a secular country anymore (as if they were moving to a secular state!) Saif's own grand-uncle Sher Ali who had joined Pakistan Army was an advocate of Islamisation through the Army.

After the partition, Saif also suggested that his family members who shifted to Pakistan did so as they thought India won't be a secular country anymore (as if they were moving to a secular state!) Saif's own grand-uncle Sher Ali who joined Pakistan Army was an advocate of Islamisation through the Army..
Saif's ISI connect
Saif Ali Khan's uncle is one of the contenders to head Pakistan's Inter-Services Intelligence (ISI) in 2012. Mohammed Ali, who was the younger brother of Mansur Ali Khan's (Saif Ali Khan's father) father Iftikhar Ali, was also a general in the Pak army. The elder General Pataudi opted to join the Pakistani army after partition. A cavalry officer, he served in the Pakistani army until 1958. He was later Pakistan's envoy to Malaysia and Yugoslavia and served a four-year term as information and broadcasting minister in military dictator General Yahya Khan's cabinet. Before his stint as DDG-ISI, Major General Pataudi commanded the 25th Mechanised Division of the Pakistani army.
Like Father Like Son
Everyone knows that Saif was involved in the hunting & killing of two blackbucks (An animal which is considered sacred to Hindu communities such as the Bishnois of Rajasthan and Haryana who worship the blackbuck), in Rajasthan in 1998 during a film shoot, but fewer people know that Mansur, too, was involved in the hunting & killing of blackbuck. As per the reports, police recovered carcasses of a female blackbuck from him after his hunting expedition in Haryana's Jhajjar district. The police also recovered a 22-bore rifle that was supposedly used for hunting. The rifle was registered in the name of Pataudi's daughter and Saif Ali Khan's sister Soha Ali Khan.
Later in 2009, Gurgaon's district magistrate had canceled Soha's arms license for violating the rules. Six people were convicted in that case, but Mansur Pataudi's name was removed from the case only because of his death. In the Saif's case, only Salman Khan was sentenced to five years' imprisonment by the chief judicial magistrate court (Jodhpur court) who was also named as accused. Besides Saif, actresses Neelam, Tabu, and Sonali Bendre were also co-accused in the case. All four of them were acquitted as they got the benefit of the doubt, but now their acquittal has been challenged by the state government. The case is currently in the Rajasthan High Court.
Mansur, who married Hindu woman - Sharmila Tagore - later converted into Islam and became Begum Ayesha Sultana Khan. Similarly, Saif too, married Hindu women. Firstly, he married Amrita Singh who later converted into Islam just after the marriage. Their children were named Sara and Ibrahim. He then married Kareena Kapoor and they named their son's name as Taimur
Nammed his son Timur ! Ohhh sorry ... Taimur
Saif named his son as Taimur Ali Khan Pataudi after a Turco-Mongol conqueror - Timur . The conqueror had destroyed temples of India, killed millions of Hindus. He had not only massacred millions of Hindus, but he had also humiliated the Indic culture in his autobiography.
He chose to name their child after a man, who in his memoir said, "My object in the invasions of Hindustan is to lead a campaign against the infidels, to convert them to the true faith according to the command of Muhammad (on whom and his family be the blessing and peace of God), to purify the land from the defilement of misbelief and polytheism, and overthrow the temples and idols, whereby we shall be Ghazis and Mujahids, companions and soldiers of the faith before God is their choice."
Justifying his son's name, he had said it is not Timur it's Taimur adding that both are not similar and Turco-Mongol conqueror was just a little violent and violence was the work of a general. In the same interview, Saif said that he cannot "realistically name his son Ram." In the land of Ram, an Indian citizen who otherwise insists he should not be judged by family history and Pakistan connections, can't "realistically" name his son Ram. Why?
It is perhaps due to Saif's family history of fighting against Hindu rulers, his connections in Pakistan and his involvement in the killing of an animal that makes him suspicious. If tolerance meant not reacting to one of our own carelessly and brutally disregarding the history (and the wounds), then let's react and afford to become a bit "intolerant" for a while! Ironically, someone like Khan, who does not believe in 'India' or the existence of Lord Ram, has been cast to playing the role of 'Lankesh.'
The article is based on a twitter thread.
The article is based on a twitter thread.