New Delhi, March 26: "COVID 19 Economic Task Force will soon announce an economic relief package", reassured FinMin Nirmala Sitharaman on Thursday while the Centre has announced a slew of measures to provide relief to people and business community by relaxing the compliance and regulatory norms in the wake of COVID-19 outbreak.
Finance Ministry on Tuesday extended the last date for filing of income tax return for the financial year 2018-19 till June of this year. Interest on delayed payment of income tax has also been reduced to nine per cent, it added.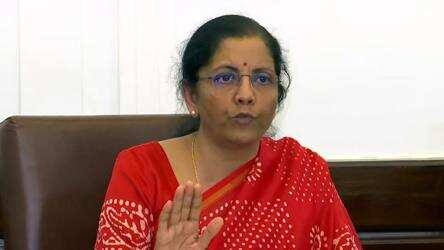 Vivad Se Vishwas scheme, PAN-Aadhar linking, Sabka Sath, Sabka Vishwas scheme and last date for filling of GST return for the month of March, April and May have also been extended till June. Further, it has been decided by the government that no interest, penalty and late fees will be imposed on those companies which have turnover less than five crores.
In a major relief to people, debit card holders can now withdraw money from any branch of any bank without paying charges for the next three months, she said. To keep the supply un-interrupted in the country in this difficult time, custom clearance will remain open 24 X 7. Threshold of default has been raised to one crore rupees from the existing one lakh rupees which will prevent triggering of insolvency proceedings against Micro, Small and Medium Enterprises.
According to the data shared by the Indian Council of Medical Research on Thursday, the total tally of the corona patients have reached 649, including 43 cured cases and 13 deaths. In a bid to contain the corona chaos, Prime Minister Narendra Modi has declared 21 day India lock-down, the country is diligently seen catering to.