Doordarshan is making the TV time easy and sorted for the audiences in wake of the deadly coronavirus spread in India. This is by re-telecasting the old and popular shows like that of Shaktiman, Sriman Srimati and more. These also include B R Chopra's Mahabharata and Ramanand Sagar's Ramayana that are still highly regarded and valued by the audiences.
Since India, amid the 21 day lockdown period is busy rerunning these epic tales on their television screens, Actor Nitish Bharadwaj, who is known for playing the role of Lord Krishna in B R Chopra's Mahabharata seems happy too, welcoming the decision with open arms.
Here, in a exclusive interview with Mahabharata fame Nitish Bharadwaj :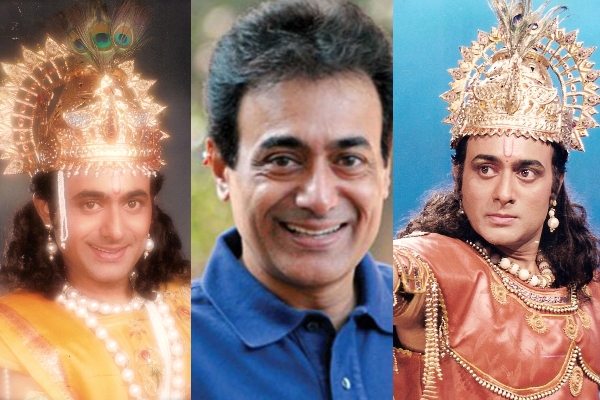 1. This is the fourth time that the 3 decade old epic Mahabharata is being re-telecast on the National Television. What was your reaction when you first heard of the public demanding the re-telecast of Ramayana and Mahabharata again amid Coronavirus outbreak?
Well, I was very happy to know about the public demand and I welcome the decision taken by the government to re-air these old epics on the national television. Mahabharata and Ramayana are the old scriptures India looks up to when in problem. They are the best scriptures to find solutions to life, I think. Especially Mahabharata is considered to be a 'mirror of life'. And the generation today has got this golden opportunity to know the real, old scriptures and know what 'life' actually means and find solutions to all their problems. So, I am quite happy and yes I totally welcome this re-telecast.
2. In one of your interviews you said that Mahabharata in this 21 day lock down period can teach people the 'Art of Living'. How do you think is this to happen in the era of Netflix and social media series?
Mahabharata actually itself is an 'Art of living'. There is a need from within the society. People want entertainment also. When they want entertainment, they go to Netflix and other social media platforms. But people are looking at this 21 day lockdown period, which is a captive period, to find solutions. They can neither see Netflix the whole day, nor can they see Mahabharata the whole day. So the time divided is quite objective.. it's just a couple of episodes a day and the rest of the day people can enjoy and entertain themselves, either through Netflix or spend quality time with family members, read some literature, do yoga, meditation and work immensely towards a healthy lifestyle.
I consider that people today are really, physically and mentally tired. And in this 21 day lockdown period, out of 24 hours even if they sleep for say 8 hours, they have a total 16 hours left? What do they have to do in that time? So, 2 hours to Ramayana and 2 hours to Mahabharata every day is a fair schedule I think.
3. How is it that you spend your quality time these days, especially during the lockdown?
I rest quite a bit, watch no television stuff other than the important news headlines and that's it. Television is an addictive waste of time. I just go through the 9'o clock headlines so that I get to know what has happened throughout the day. Also, I am against the irrelevant Whatsapp forwards. But these days, as I have a bit of extra time I am taking to social media to communicate to my fans who usually complain that I don't interact with them and all (laughs). I've recently posted a video on my Facebook page and I am thinking to take this 21 days period as an opportunity to start a novel initiative and connect to my audiences through social media.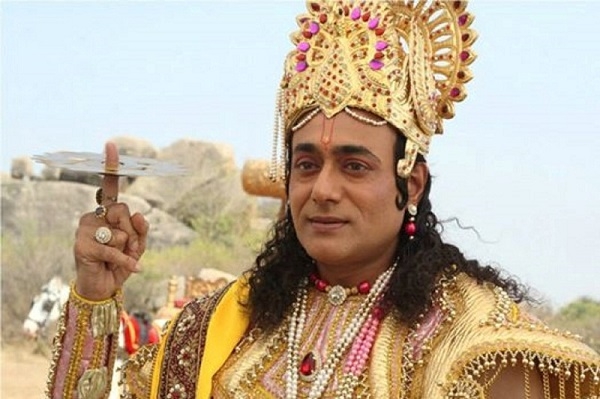 4. You played the most significant part in Mahabharata then, as Lord Krishna! What do you think was the most challenging part of your role back then?
The most challenging part is done, 30 years back now (laughs). But I must note that the most challenging part was to play 'Lord Krishna' itself! I was 26 yr old in 1988, when Mahabharata was originally aired. And I had to speak as if I was Lord Krishna. The dialogues, the expressions.. all mattered. Further, maintaining the specific rhythm of those spiritual dialogues was another challenge. There was no typical dialogue delivery, no raising voice, no shouting! I was expected to maintain the tone throughout and that was a notable challenge I think.
5. That one 'Mahabharata' incident that you can never forget in your life time.
There are many such incidents. One I clearly remember is that I was a bit sceptical about the whole thing. "How is Raviji going to shoot the episodes? Will I get my freedom with the dialogues? Will I get enough time to prepare?", I used to think, because normal dialogues are different than the spiritual dialogues. As I said above that playing 'Lord Krishna' was nothing but my test, had I failed to deliver those spiritual dialogues, as 'Lord Krishna' convincingly, the epic would have collapsed. Our Director Ravi Chopra ji at that time made me comfortable, encouraged me, and gave me enough of the time with those Sanskrit verses. It was altogether a different experience.
6. What did you as a person gain from the epic and gradually want people around to learn from this special airing amid corona?
To be honest, I had less time back in 1988 to learn anything specific from Mahabharata. I was busy shooting for a couple of feature films too while playing 'Lord Krishna' here. Though I was aware of what I am doing, what dialogue I am delivering, its importance, depth, everything, I just did it efficiently then and never over-thought about it.
Life and spirituality are such aspects that people need to sit around and think deep. I had no time then as I was up on my career graph. But gradually life gave that opportunity to sit in a dark place and think. This was after Mahabharata when my career took a downturn. 'Life is not full of roses, it has thorns', I realised and then did my SWOT analysis. It is during this period that I went through the 'Bhagwad Gita' and chose the correct path ahead. I wear a Krishna thinking cap and self-analyse, 'What Krishna would do in this situation'.. I get my answer. And now I consider Krishna as my Friend, Philosopher, Guide!
7. After B R Chopra's Mahabharata, various other producers and directors attempted to make the epic, like the recent one on Star Plus by Siddharth Kumar Tewary that appealed the younger generation or the first time Mahabharata watchers. It had more of VFX and technology and what not. How would you differentiate between the two creations?
There was no technology in India when B R Chopra made the epic. Video concept was itself new to the people. Today, we have high end technology machines, the same machines that the Hollywood works on! Also so much of the Hollywood's VFX work is outsourced in India. It is in these 30 years that the technology has improved, the technicians have improved. B R Chopra offered the best he could at that time, in 1988.
Talking of the differentiation, I think the major impact what the old Mahabharata did was through the conversations, dialogues. Words written by Rahi Masoom Raza are immortal. If the younger generation ignores the VFX and the technology part, B R Chopra's Mahabharata is totally impactful, even today. Also, the later versions of the epic aired on other channels had a commercial motive behind because the television was growing. The Mahabharata that I was part of, had just one motive and that was to appeal the audiences out of our creativity, words and of course, the epic truth.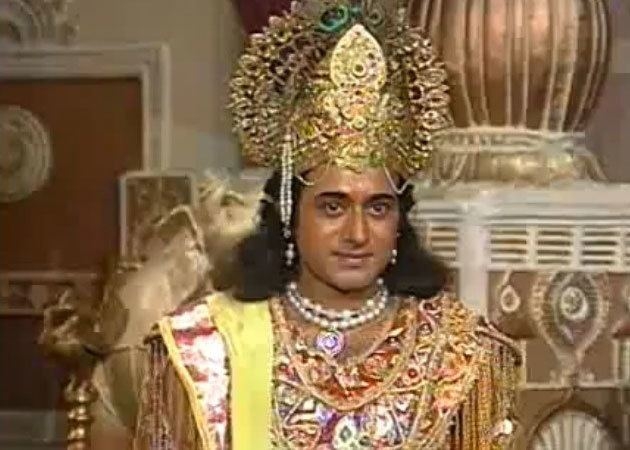 8. Social media now-a-days is considered to be the source, medium and the ultimate platform. Do you think that airing Mahabharata on social media platforms would have had a different impact than the national television now?
Social media has a huge power. And this is what I've recently realised. But there's so much happening on social media and there is no control. Some of the episodes of Mahabharata are available on the YouTube but the complete version is no where available. These epics are to be watched in a serial order. Watching from no where the 65th episode and then clicking in to watch the 2nd episode is not going to work. The audiences may not link to the appropriate understandings then. Watching these episodes on Television in a controlled manner is always a better option I think.
9. You are soon to log in to the social media platforms. Is there anything special that you fans are expected to take up from your handles?
I love talking about spirituality. I am not any kind of dharma guru or so but I have seen a lot of my life, made a lot of mistakes and I want people to learn from my mistakes. Also, I read a lot and have been researching on Mahabharata for last 40 years. Mahabharata gives me a boost to find solutions to my problems and fight battles in Kalyuga. I am enamoured by the text and want people to learn more about what I have learned. Social media is the best platform to connect to my audiences and fans I think. I have plans to post videos in the context of spirituality and my experiences. These will be available on my Facebook page, YouTube and also the Instagram, Twitter.