It is now the time we remember that Italy and Israel PM had cried in front of the media as the corona situation in respetive countries had gone out of hands. Putting up the white flag over the efforts to curb the spread of COVID-19, both the countries and later many more had asked the citizens to take care of themselves in the midst of pandemic. Wait, didn't PM Modi do the same in his last nation wide address asking them to be self reliant?
The number of coronavirus in India is seeing an upsurge and the most affected people seem to be the poor people and the migrant labourers. Though the Centre is striving to take them back home, there are reports of people dying, ladies giving birth to children while walking back to home state. And now the government is asking the citizens to be 'Aatma Nirbhar'. What a timing! These poor people are today in need of the Central help. Back in elections these political parties had huge promises to make.. Rs 6000 per month to every poor, this scheme, that scheme and what not. Now when the time has arrived to support, it is no wonder they are opting a back foot table.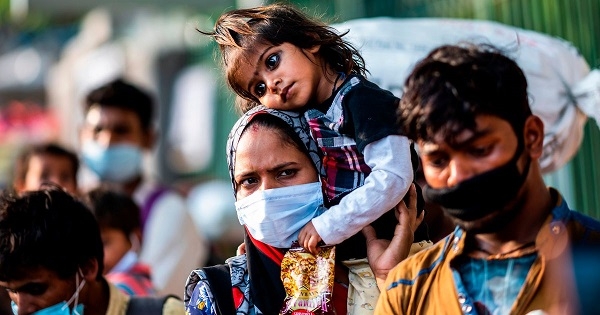 Further, it is not only the Centre's fault but also every state government's fault for they have equally failed to control the migrant people's condition. It is dreadful to imagine how the governments (both Central and State) collected millions of Rupees in the CARES Fund and says the migrant labourers who have no food to eat, barely have any money to survive, will have to finance their own travel? Can't it finance minimum of Rs 300 crore (total collected by Indian Railways by running Shramik Specials till date) out of Rs 20 lakh crore package?
If the labourers were that 'Aatma Nirbhar', why would have they even asked for help. Everyday, almost every media channel is showing coverage of migrant labourers walking back to their homes. Some of the states have even put them in jail for not co-operating with the State government. Today, Shramiks are in no authority.. but just imagine if they had power to jail someone for not cooperating to their needs?
Even if no one had asked them to leave their home states and migrate for money and employment, they would have never if they had had enough employment opportunities in their home states. And in some or the other way, aren't they doing anything but helping India's economy grow? The State governments especially Maharashtra, Rajasthan, West Bengal have crossed the limits of impotence and that the migrants, though less literate or illiterate anyway have no hopes of aid to go back to their homes.
Both the Centre and the state government have made a big mistake by treating migrants this way. It was our human responsibility to send them back to their states and we have failed it completely. If the economy needs to be brought back on track, the government has to increase people's spending capacity, but unfortunately, the Rs 20 lakh crore package had little emphasis on spending! Just another history world will never forget!