By Dr. Nityananda Agasti
Ever since the corona pandemic started in India, debates and discussions were going on in various platforms, whether this year, the world-famous Rath Yatra, an annual festival of Shri Jagannath Temple at Puri in Odisha, should be conducted or not.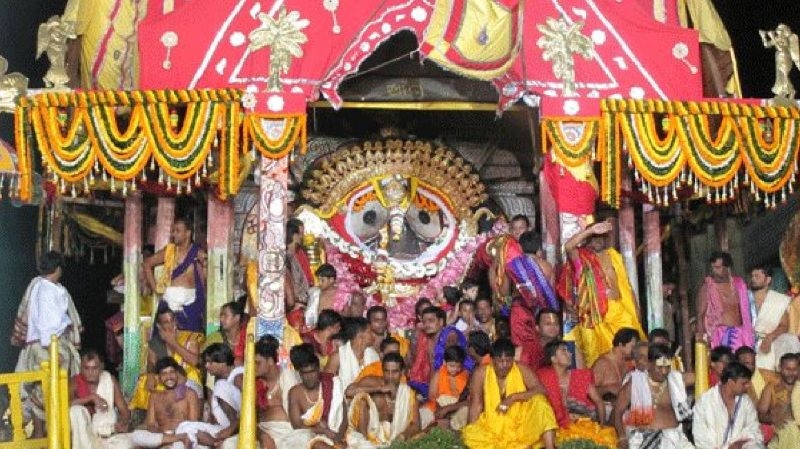 On this auspicious occasion, devotees from all over the world, lakhs in numbers visit Puri to take blessings of Mahaprabhu Shri Jagannath. It is quite obvious to have discussions on this massive event during this unforeseen crisis that makes physical distancing mandatory to prevent transmission of coronavirus disease 2019 (COVID19).
To conduct this festival without complete cancellation and also not endangering the safety of public health, several meaningful suggestions were sent to Govt. of Odisha by devotees around the world. Following the request of the temple managing committee, the ministry of home affairs, Govt. of India, allowed construction of chariots (Rath) without any religious ceremony and by maintaining physical distancing.
Just before 10 days of the Rath Yatra, public interest litigation (PIL) was filed in the Supreme Court of India by an NGO, seeking deferment of annual festival citing the spread of COVID19 among devotees, if the festival is conducted. A valid apprehension of the petitioner and the festival, both could have been addressed simultaneously, by scaling down the Rath Yatra and with special arrangements to prevent transmission of COVID19.
Fully realizing the need for the important festival without compromising the safety of public health, during the COVID19 pandemic situation, on 30th May 2020, the Temple Management Committee has suggested, to conduct Rath Yatra this year without a congregation of devotees and with appropriate measures to prevent the transmission of coronavirus.
Many feasible suggestions were also made by devotees through different platforms, for carrying out the festival following all required guidelines to contain COVID19. But, in response to the PIL, Supreme Court on 18th June 2020 had put a ban on Rath Yatra at Puri this year. The decision to cancel the Rath Yatra, an age-old custom of Mahaprabhu Shri Jagannath culture, practiced since time immemorial, hurt the sentiment of countless devotees across the world.
Though the decision has been taken in the wake of the COVID19 pandemic, the proceedings clearly show, it's an order passed in total undue haste. Perhaps, a detailed plan to conduct the festival without involving a congregation of devotees and with the due restrictions to prevent transmission of COVID19 could have resulted in a decision permitting the age-old festivals with strict conditions.
Rath Yatra, the car festival is performed every year on the specific day (Ashadha Shuklapaksha Dwitiya), at Puri, Odisha. Mahaprabhu Shri Jagannath along with his brother Balabhadra and sister Subhadra visits the sacred place of his first manifestation (called Gundicha Temple, 4 kilometers away from Sri Jagannath Temple) and spends seven days there. The three deities ride on three newly built chariots (Rath).
The name of Mahaprabhu Shri Jagannath's chariot is Nandighosh, Subhadra's chariot is Devadalan and that of Balabhadra is Taladhwaja. Thousands of devotees from across the world join this annual festival and pull the chariots from Shri Jagannath Temple to Gundicha Temple on the grand road (Bada Danda). It is considered to be a sacred moment for the devotees to see Mahaprabhu Shri Jagannath sitting on the chariot rolling on the Puri grand road. As mentioned in the Skanda Purana;
दोले तू दोलगोविन्दम चापे तू मधुसूदनम/ रथे तू वामनं दृष्ट्वा पुनर्जन्मं न विद्यते //
(In Purusottama Kshetra or Puri, if one looks at Lord Dolagovinda in Dola Yatra, Lord Madhusudana in Chaapa (Boating journey of the Lords) and Lord Vaamana in the Rath or Chariot during Rath Yatra, one will get moksha or get liberated from the cycle of birth and death).
Lord Vamana is one of the incarnations of Lord Vishnu and Mahaprabhu Shri Jagannath appears in the form of Vamana while sitting on the chariot. This is the uniqueness of Mahaprabhu Shri Jagannath, who comes out of his temple once a year to bless all beings in the whole universe.
After spending seven days at Gundicha Temple, the three deities again ride on their respective chariots and come back to the main temple, and that festival is called Bahuda, which signifies the return of deities.
This is not just a festival but a right of Mahaprabhu Shri Jagannath statutorily mandated by the record of rights (part-II, pages 69-81) framed under The Puri Shri Jagannath Temple (Administration) Act, 1952.
The distinct nature of this festival warrants it to be conducted every year and in case the Rath Yatra is not conducted once, it cannot be conducted for the next 12 years. Therefore, the cancellation of Rath Yatra would have violated the fundamental right of the deity.
Realizing this, devotees around the world started making appeals to both central and state Govts to explore legal remedies to approach the Supreme Court for reconsideration of its judgment and allow to carry out Rath Yatra with every possible restriction and, without putting a complete ban on it. Standing up to the expectations of devotees, review petitions were filed before the hon'ble supreme court and in response to those, on 22nd June 2020, Supreme Court allowed Rath Yatra only at temple town Puri asking Govt. to take all possible measures to prevent transmission of COVID19.
Finally, Rath Yatra was held with restrictions like, imposing curfew in temple town Puri, suspension of all passenger bus and trains to Puri, closing all entries into Puri, allowing only those servitors who got tested COVID19 negative to pull chariots, allowing only 10 servitors on each chariot, allowing Rath Yatra to be freely covered by visual media, etc.
Fully respecting the guidelines of Govt., devotees also got confined inside their house to take blessings of Mahaprabhu Shri Jagannath on television. Though this unique festival symbolizes the union of Mahaprabhu Shri Jagannath and his devotees out of his temple, and, this year's festival saw no common devotee on the grand road.
Probably this was the wish of Mahaprabhu Shri Jagannath. It is commonly said, Mahaprabhu Shri Jagannath does engage in different activities to please his devotees:
"मम भक्त बिनोदार्थे करोमि विविध क्रिया"
(The author teaches chemistry at the University of Delhi and has spearheaded the Appeal from Academics to Chief Minister of Odisha for reconsideration of the judgment to cancel Rath Yatra. Views expressed are personal).