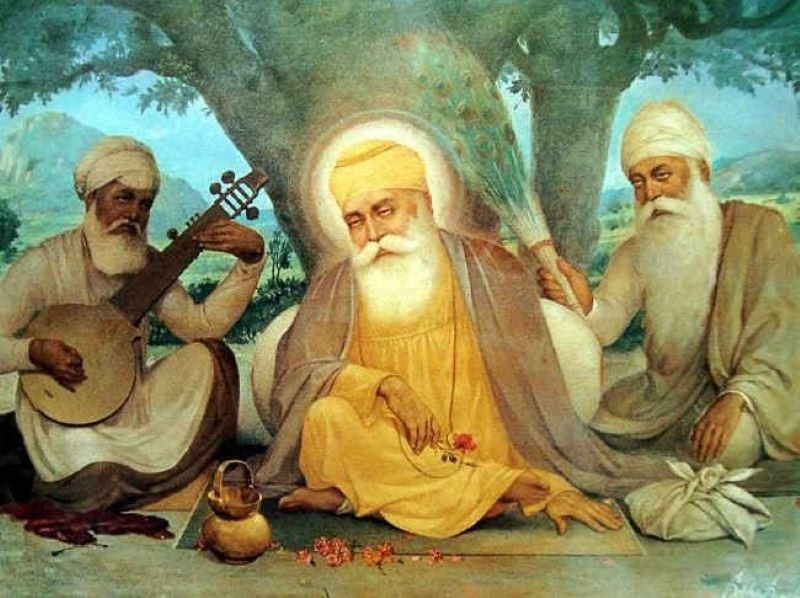 Shri Guru Nanak Devji not only revealed transcendental knowledge to humanity, he put enough light terrestrial life and taught people about social responsibilities too.
Japuji sahib
is the opening chapter of
Shri Guru Granth Sahib
. In last shloka of the said
bani
he says,
Pavan Guru pani pita mata dharat mahat
Divas raat dui dai daiya khele sakal jagat
Changiyaian buriyaiyan wache dharam hudoor
Karmi aapo apni ke nede ke door
Jinne naam dhiyaiya gaye masakkat ghal
Nanak te mukh ujale keti chhuti naal.
In the above shloka, in the first line, Shri Guru Nanak Devji defines the constituents with which the human body is made and human being's relations with the environment. He says, Pavan means air is Guru, Pani means water is the father and Dharat means Earth is the mother of all living beings.
This pious message in today's context seems more relevant.
When Guruji was traveling with his disciple Bhai Mardana, he happened to visit a place in the then north-west India, Hasan Abdal. There was a water spring on a hilltop and a Fakir named Wali Kandhari was controlling that place. Downhill there was an acute scarcity of water and people were experiencing a lot of hardship due to water shortage.
Guruji sent Bhai Mardana to persuade Wali Kandhari to stop blocking water and to open a channel for usage for people staying in the foothills. Wali Kandhari was intoxicated with his power and misbehaved with Bhai Mardana and sent him back. Guru Nanak Devji sent Bhai Mardana again to Wali with a request that people staying in that area had equal rights on water resources since it is God's gift to mankind.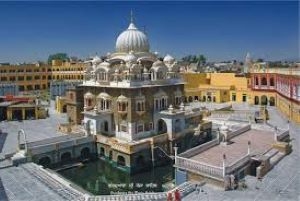 However, arrogant Wali Kandhari got enraged and rolled down a big rock from the hilltop on Guru Nanak Devji who was sitting downhill. Seeing the heavy rock descending on him Guruji stopped it with the palm of his hand. His palm imprint got embossed on the rock and it stopped there. Guru Nanak Devji told Bhai Mardana to remove a stone lying on the ground and a freshwater spring sprouted from there whereas the one at the hilltop which was under the control of Wali Kandhari dried up immediately.
All the villagers assembled there and started singing Gurbani Kirtan praising the divinity of Guruji. Today a famous Gurdwara Panja Sahib is situated at that place which is now in Pakistan.
During his second Udasi (Travel) towards south India, Guru Nanak Devji happened to visit a place near Bidar (Today's Karnataka). They're also people who were tormented because of water scarcity. He told Bhai Mardana to remove the stone and touched that place with his toe; instantly a fresh and sweet water spring emanated from there. The devotees constructed Gurdwara Nanak Jheera in Guruji's memory there.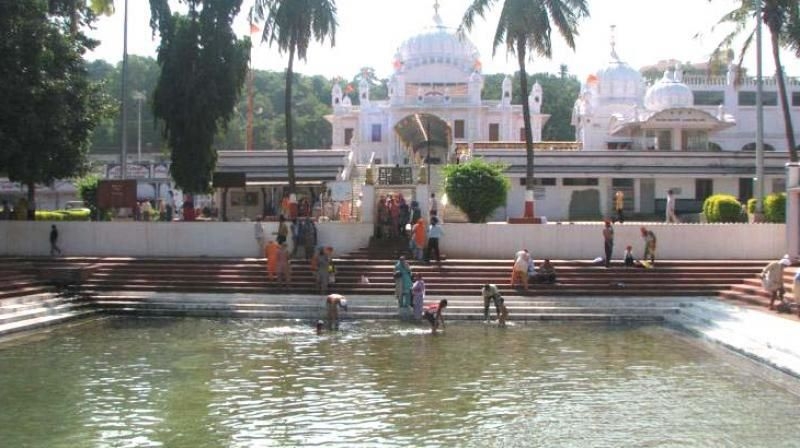 During his all four Udasis (Travels) in four directions, Guru Nanak Devji emphasized through his sermons on the purity of all the elements of which the human body is made of. He told if we keep the environment pure, our body too will remain pure, and thereby mind and soul will also remain positive.
Holy men who take birth on this earth establish tenets for the betterment of humanity and the best tribute to them remains in following their teachings conscientiously. Guru Nanak Devji's teachings are very practical and lead to a perfect way of life. We can discover that today there are many of his true followers who have dedicated their lives for environment conservation.
Guru Nanak Devji during his stay in Sultanpur Lodhi had immersed himself in river Kali Bein for three days and when he emerged, he gave the best definition of God in the form of Mool Mantra.
The same river Kali Bain which merges into river Beas had become fully dried due to the negligence of people and government both. It was full of debris and garbage of late. One true follower of Guru Nanak Devji Sardar Balbir Singh Seechewal of Nirmala sect, took cudgels upon himself to cleanse the said river and to restore its old flow of water. He single-handedly set out on its restoration and later he was joined by many people who participated in the noble cause.
Seechewal was given Padma Shri for this gargantuan effort.
Baba Sewa Singhji of Khadoor Sahib is another Padma Shri awardee who has dedicated his life to environmental protection. He got hundreds of thousands of trees planted in and around the area in Khadoor Sahib in the Taran Taaran district of Punjab. He has created a mechanism through which all the planted trees are adequately watered and nurtured. Anywhere in India, if he is asked to provide Sevadars (Volunteers) for environmental jobs, he happily sends them.
There are hundreds of people who have dedicated their lives for the protection of the environment because their revered Guru Nanak Devji had taught them to tread this path. When the whole world is celebrating the 550th birth year of Guruji, while following his other teachings, contribution in the noble cause of environmental protection will also be a perfect homage to him.