By his surprise visit to Ladakh, Prime Minister Narendra Modi has demonstrated stellar and strategic leader traits par excellence in the modern Indian context.
The Surprise of his visit was absolutely total. External agencies and adversaries were kept in the absolute dark. And, his domestic critics and even his admirers or followers knew about his visit only when the visual media covered it in their "Breaking News" coverage hours later.
Modi's credentials as a pre-eminent performer or outstanding or immense hardly need any elucidation.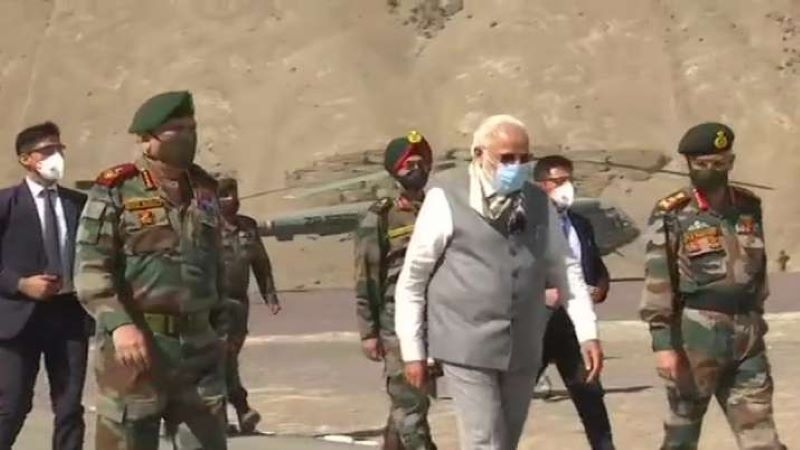 But what next is a million-dollar question? By visiting Ladakh, Modi has certainly sent a strong signal to China that India would not surrender an inch of its territory but also reassured the local population and boosted the morale of troops. Nonetheless, pressure needs to be built up marshaling all resources – both external and internal – to counter Chinese "Expansionist Designs".
As per media reports, Modi has advised the military leadership to exercise restraint on the borders and refrain from initiating any escalation from their side; but should definitely retaliate to any aggression.
By doing so, Modi has kept the window open for peace, which any worthy statesman must do!
Where, when, and how to face the innumerable challenges on all fronts is an extraordinary "strategic jigsaw puzzle" to resolve? The resolution of the 'Jigsaw puzzle of Grand strategy or Higher Direction of War" is not simple. It needs a very high order "Chanykya Skills".
Of course, few hawks among academic security fraternity to former diplomats and air force senior officers have been advocating the adoption of proactive offensive strategy instead of defensive reactive strategy.
The summary of comments of experts includes: be prepared for prolonged military confrontation or strategic stalemate in Eastern Ladakh; limited war; two-front limited war; economic war; and, soft-ware offensive. Hawks believe that India must employ air force to achieve air dominance/ superiority over Indo-Tibet borders by virtue of the edge they have. Others believe naval forces must deter Chinese misadventure on the land frontiers with a naval riposte on the high seas particularly approaches to the Malacca straights. Episodic or myopic commentary cannot suggest the right options to adopt on various fronts.
In reality, Modi-led NDA government is facing extraordinary threatening multiple front challenges to include: COVID-19; internal negative rivalry; Indo-Tibet border; Indo-Pak border; and terrorism fronts.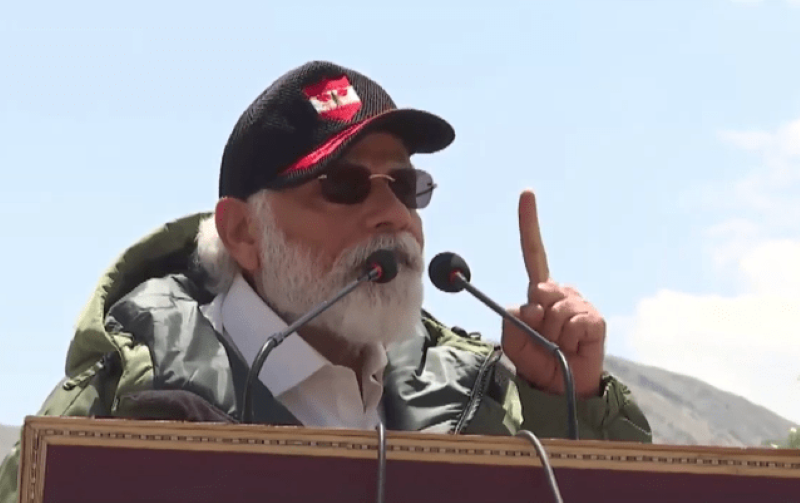 Surely, such complexity and uncertainty demand equally extraordinary reviews that go past beyond traditional prescriptions. Modi-led NDA cannot adopt a one-faulty initiative on any front, particularly on the Indo-Tibet border confrontation with China. Political sagacity and maturity of the very highest order is required to resolve the multiple crises successfully with the least adverse fallout on the national security interests.
Most importantly, Xi Jinping's expansionist designs to reclaim and spread its "Middle Kingdom" aura globally may ultimately end up in "Imperial Overstretch" which was the root cause for the ultimate collapse of many "Great Kings of Leaders" of the past. Few examples include Hannibal, Alexander, Genghis Khan, Kaiser, Hitler, British Empire, Soviet Union, and even the USA or yesteryears – the sole Super Power in the aftermath of the Cold War between 1990 and 2016.
China's public relations spokespersons may claim that they have only two unresolved territorial disputes out of 14 neighbors, but there are no takers for their fraud claims. In reality, China is in confrontation with the USA over the "Freedom of Navigation" in South China Seas and trade war, Japan over Senkaku Islands, South Korea over maritime boundary, Philippines, Indonesia, Borneo, Malaysia, Vietnam, and Taiwan over territorial issues concerning island and EEZs.
On the diplomatic front, China has very few friends – North Korea and Pakistan. Many African and Latin American countries who were recipients of Chinese aid in the past are in dire financial distress unable to pay back their loans and may soon turn against them. Xi Jinping's proactive offensive initiatives in various nations are being viewed with circumspection and resulting cumulatively in a backlash. Sooner than later China may likely end up isolated on the diplomatic front except for few.
Be that as it may, by the criteria of "Stellar leadership" traits – "keen sense of what's ahead. They study. They learn. They listen. They remain aware of what others are saying, writing and thinking" - Modi has demonstrated an abundance of leadership skills.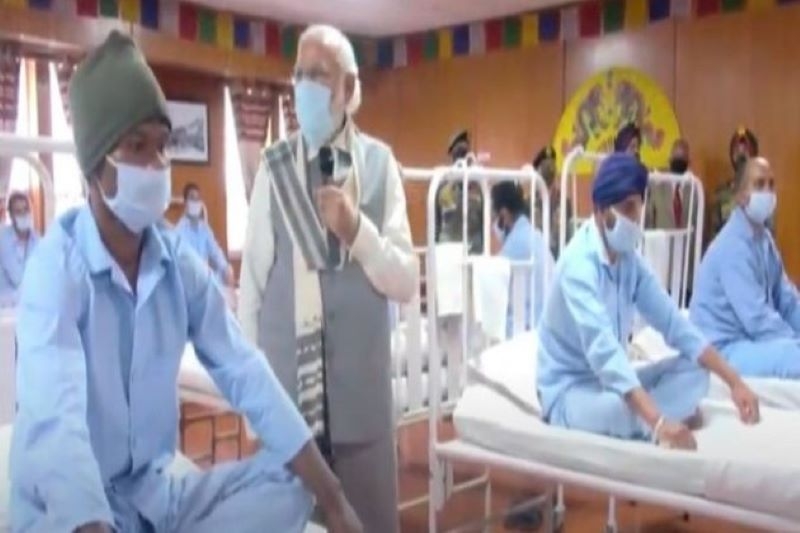 Most importantly, admirable and outstanding are his physical endurance capabilities to withstand the medical health hazards of "High Altitudes". Modi landed at 7 A.M. in Leh. It means that he must have left his residence at 4.30 A.M. As per medical advice, on entry into high altitudes even physically fit young soldiers are required to undergo 7-days routine. For a 69-years old man, Modi has demonstrated remarkable resoluteness to face tremendous odds against nature.
Modi spent the next 6 hours to gain firsthand knowledge of the prevailing military situation listening to the briefings of the CDS and GOC 14 Corps and to understand and appreciate the operational preparedness state and the future course of plans from the military point of view.
To boost the morale of the troops, he laid wreaths at the Memorial and visited injured soldiers recouping in the Military Hospital.
Finally, he gave a stirring speech in his address to the troops in which he not only avowed solidarity with them, but also sent the message globally that the days of "Expansionism are over and the days of "Development" must guide the mankind's course – statesman like a rallying call for the world leaders.
Throughout his address, Modi demonstrated a favorable view of events and conditions and the expectation of a positive outcome – highly optimistic and encouraging. He reminded the troops that he was with them to face the challenges that lay ahead of them. At no stage, he was negative-minded or hyper-critical about adversaries. Stellar leaders are purpose-driven, mission-minded, confident personified, steadfast, consistent, dependable, trustworthy, etc.
In his address to the troops, Modi was also appreciative and thankful to the troops for their courage and valor to face tremendous odds and guided them on the path of sense of right and wrong in pursuit of national security interests. His interactions with the soldiers after the address and in the military hospital clearly reflect his humble posture and also soul-stirring to spectators and followers.
In sum, Modi and the wise councils supporting him are sending the right signals to China to dissuade and deter from undertaking any more misadventures on the India-Tibet border whilst at the same time leaving the window of peace for China to de-escalate the situation. After all, Modi too has the Air Force to strike back in a "localized War" and the Navy, as the "Brahmashtra" to strike where it hurts most in the Indian Ocean Region particularly in the seas or the Great Channel approach to the Malacca Straights South of the Great Nicobar Islands if China dares embark on a showdown on the land frontiers.