As India begins to implement lockdown measures, numerous businesses across verticals have forced to temporarily stop their operations. The country, grappling with the pandemic has come to a standstill. However, every cloud has a silver lining. Technology-based industries that rely on digitization are flourishing. One among them which is becoming increasingly popular is the ed-tech industry.
With the lockdown resulting in schools and colleges closing, students and teachers alike have turned to ed-tech platforms to help maintain the academic momentum. Online learning in the Indian market has gained tremendous traction in recent years. Aside from just academic content, they also enable students to gain skills and even prepare for competitive examinations. But there are two sides to every story. E-learning too has its fair share of cons than it does have pros.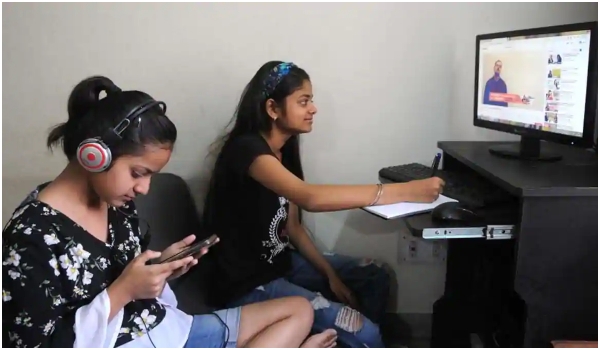 The online method of learning to say is not without issues. Experts in the field point out that there is intense requirement of self discipline since responsibility is entirely upon the students to complete the work and studies on time. Lack of social interaction or personal connections with peers, students and teachers may also affect personality development to a great extent. The students also require good time management skills or else they might fall far behind since there is more freedom than one can handle. There are criticisms that students have increased workload but little practical experience while learning online.
The point to be duly noted is that we live in an ever-changing world that is ripe with new possibilities. During this unexpected crisis of fight against the virus, although there need not be a compromise on health of the student, the same need not be with their future. An important part of attending school or college is the peer to peer interactions and socialization. These face to face interactions on a regular basis are necessary for one to maintain a healthy social life. Unfortunately, online learning takes away this element. Despite technological evolutions making online classes as interactive as possible, actual face to face interaction is key in the longer run.
Further, the e-classroom environment today lacks individual attention. With several students, a teacher might not be able to dedicate that kind of attention to a single student. Also, the flexible timings and schedule of online classes call for utmost self-discipline and time management skills that some students might lack. Since there is unlimited freedom, students may drop behind if unable to manage time and follow a routine.  
One of the biggest drawbacks of online learning is that though students can get access to a personalized learning experience, the application time limit backed by robust internet connection, especially in rural areas of the country is rarely seen. Meanwhile, every student has different needs and learning patterns and in a e-classroom environment, it is not possible to cater to each one of theirs. Online learning also offers a customized learning experience for every student. With technology advancing to an unimaginable extent, websites and ed-tech platforms are offering customized courses for students that are tailor-made to suit their requirements, hence, breaking the universality!
This stream of education has witnessed students sleeping in front of the desktops after marking their presence online. Should we call this 'the technological upgradation'? The sole base of individual development is education. If education, learning is not that firm, it is matter to worry about the youth, the future of India.