"Minimum Government and Maximum Governance" was the promise Modi repeatedly made during the electioneering in 2014. Fed up with decades of bureaucratic stranglehold, licence/inspector raj and official apathy, people saw a ray of hope for deliverance and cast their votes in his favour. More than half of his tenure is already over; do we see a change? It is time for an appraisal.
Minimum government refers to a state or practice wherein the people are subjected to minimum official intrusions, thereby allowing them to pursue their objectives with least intercessions and restrictions. On the other hand, maximum governance implies creation of an enabling environment through a transparent, stable and liberal policy regime for smooth development of social, economic and human aspirations.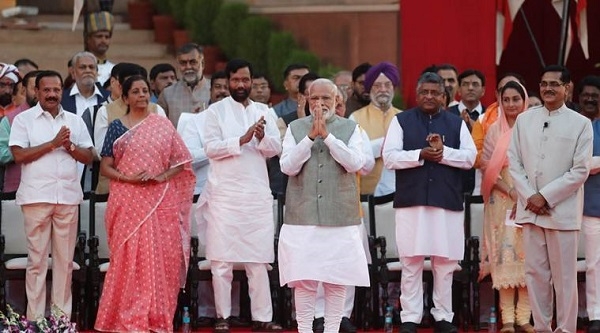 Minimum government entails maximizing productivity of the government while minimizing its size: it is the quality of the government machinery that matters and not its magnitude. In fact, larger the government, more intense is administrative tyranny. In addition to lack of accountability and reduced efficiency, large administrative set-ups are a drain on the exchequer as they consume considerable resources in salaries, perks and pensions.
Therefore, trimming of the administration is a prerequisite for achieving the goal of minimum government. In this context, the performance of the present government has been rather dismal.
Unwieldy and Top Heavy
Modi's ministry is too large for efficient functioning. A number of ministries are superfluous and redundant. They need to be abolished. In addition, many ministries having analogous functions are working at cross purposes in watertight compartments, thereby losing synergy and productivity.
The same applies to the bureaucracy. "The bureaucracy is expanding to meet the needs of the expanding bureaucracy" is an old adage. Each ministry/department is overpopulated with secretaries and additional secretaries. There are close to 100 secretary level officers working at the centre. Some ministries like the home, defence, finance and foreign affairs have multitude of secretaries and additional secretaries. Most appointments have been upgraded without any justification. As the job content has not changed materially, functioning has become sluggish.
The whole bureaucratic set-up is highly bloated. Many departments hardly deserve secretaries at the helm. Take the case of the Department of Ex-servicemen Welfare. It is manned by one secretary and two joint secretaries whereas a single joint secretary can easily handle the work. Emergence of multiple tiers has increased paper work. Since every link in the chain wants to justify its existence, decision making has becomes a casualty.
Since IAS is considered to be the trend setter, other services follow suit. As pay scales decide inter-se parity of appointments, there is a competition amongst all the services to create maximum number of senior appointments. In several cases, indulgent political leadership has upgraded tens of appointments in a single stroke without any organizational considerations.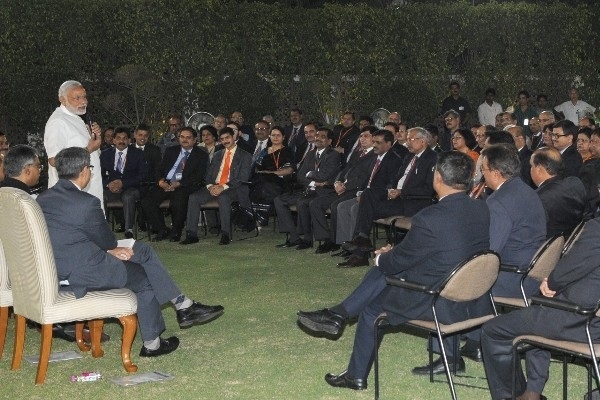 Some states have dozens of Directors General of Police (DGP). It needs to be recalled here that the undivided Punjab used to have one Inspector General of Police and a few Deputy Inspector Generals. Today, each part (Punjab, Haryana and Himachal Pradesh) has a glut of DGPs, Additional DGPs and IGs. State governments upgrade multiple appointments en-masse to accommodate chosen incumbents without job considerations. One DGP may be asked to look after the purchase of 100 computers, the second one assigned the task of purchasing furniture and yet the third one may be overseeing police lines. The same is true of the central police forces and the para-military forces. Proliferation of top brass has been of ridiculous proportions.
With a view to retain parity, the defence forces have also resorted to creating a large number of senior appointments. All higher headquarters have become highly top-heavy and overstaffed. A job done earlier by a Brigadier is being carried out by a Lieutenant General now. Further, he has a Major General as his deputy and two to three Brigadiers to head different sections. Thus, a Brigadier has been substituted by two General Officers and two/three Brigadiers. By rampant proliferation of top brass, the services are harming their own cause.
Cadre Review
Cadre review is a much abused stratagem. Every cadre review results in swelling of the higher hierarchy. As per the monograph issued by the Department of Personnel and Training – "The main purpose of a cadre review is to restructure a cadre in such a way as to remove the deficiencies which might be existing at the time of the constitution of a service or have crept in subsequently and ensure that the cadre structure satisfies the functional, structural and personnel considerations."
Further, the monograph states that a cadre review provides an opportunity to overcome various bottlenecks, remove existing distortions and bring about rationalisation of cadre structure. Quoted objectives include estimation of future manpower requirements; planning recruitments; and to restructure the cadre with a view to harmonise the functional needs with the legitimate career expectations of its members to enhance the effectiveness of the service.
Two points need to be flagged here. One, the personnel aspect is secondary to functional and structural aspects. It implies that organisational interests remain the supreme concern and cannot be sacrificed for the sake of personnel ambitions. Two, career expectations and aspirations of the members must be legitimate. It is a totally illogical and absurd demand that every member should rise to the top. All services have pyramid-like structures, albeit some are steeper than others but the posts at the top are limited.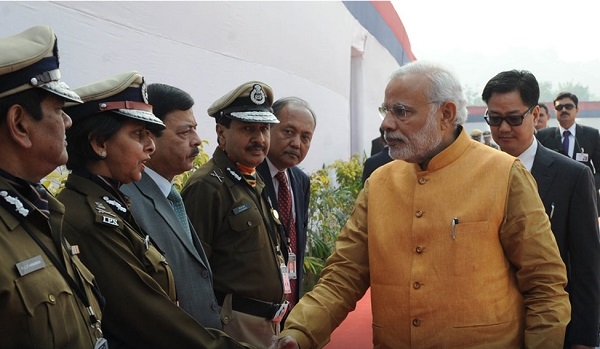 Cadre review of Group `A' Services is undertaken every five years. Unfortunately, instead of managing the cadre to suit the changing organizational requirements, cadre review has come to be identified with the sole objective of upgrading maximum number of posts in the service. It is a single point agenda. Other important aspects like training of the functionaries receive little attention. Worse, upgradation of posts is neither need based nor warranted. On the contrary, it leads to serious functional distortions and makes the service dysfunctional, while causing immense drain on the exchequer. Regrettably, for the beneficiary functionaries, self-interest takes precedence over ethics, probity and righteousness.
Non Functional Upgrade Scheme
Bureaucracy has the flair for inventing ingenious ways to feather its own nest, without any pangs of conscience. Non Functional Upgrade (NFU) scheme is a brainchild of bureaucracy's selfish superciliousness. The stated purpose of NFU is to 'alleviate stagnation in the civil services'. It is by far the most blatant loot by the ruling officialdom anywhere in the world. There is no international precedent for such a scheme. NFU is a malady of epidemic proportions and has the potential of plaguing all organs of the state and devouring them to hollowness. It totally disregards basic tenets of financial prudence, organizational hierarchy and responsible governance.
NFU implies that whenever any IAS officer of a particular batch is promoted to a specific grade pay in pay bands PB-3 or PB-4, grant of higher pay scale on non-functional basis should be granted to the officers belonging to batches of 49 'Organized Central Group A Civil Services' senior by two years. NFU is presently available up to HAG level.
The domino effect of such a devious scheme is already discernible. To start with, NFU was meant only for 49 'Organized Central Group A Civil Services'. However, Indian Police Service and Indian Forest Service were soon added to the list of the beneficiaries. NFU undermined the status of the defence forces and the Central Armed Police Forces (CAPFs) with disastrous effect. Citing higher pay scales under NFU, most civilian officials refused to obey their senior uniformed officers.
The armed forces and CAPFs felt aggrieved and approached the courts for justice. In September 2015, Delhi High Court declared CAPFs as organised services, thereby entitling them to financial benefits under NFU. The armed forces appealed to the principal bench of the Armed Forces Tribunal in New Delhi and obtained a favourable verdict in December 2016. The case is pending in the top court.
Mala fide schemes like NFU tend to acquire epidemical characteristics. As stagnation impacts all, NFU may soon afflict other government services as well. In addition, demand will also be raised to apply NFU to HAG+ and Apex scales as well. Stagnation at HAG will be the brazen excuse. It is indeed a chaotic and scary scenario.
NFU delinks promotions from career progression, thereby completely abolishing the merit based selection system. Financial remunerations must relate to the job responsibilities, span of control and challenges of decision making. Pay cannot be delinked from the job being performed, with officers claiming entitlement to the higher pay scales without performing the corresponding functions. NFU is damaging the structural edifice of all services. Through promotions to entire batches, it is bloating the central services and making them more cylindrical in nature.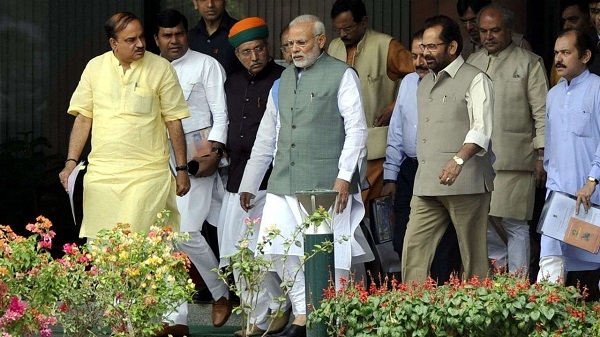 The Way Forward
Modi government is trying to achieve the impossible – minimum government with unduly large officialdom. Use of technology to monitor functioning of the bureaucracy and to keep a check on the movement of files is a significant step. However, far more stringent measures are needed to achieve the objective of minimum government. Here are some suggestions:-
• Amalgamation of analogous ministries to ensure synergy in functioning. Abolition of superfluous ministries and departments.
• Reduction in the strength of the council of ministers. A number of ministers of state can be assigned to each cabinet minister to share the workload.
• No ministry should have more than one secretary. Departments can be headed by Additional Secretaries and Joint Secretaries.
• No state should have more than one DGP. There should be a cap on the number of ADGPs and IGs that a police force can have.
• The number of top level posts in the central police forces and the paramilitary forces should be drastically curtailed.
• The armed forces must revert back to the old time-tested pyramidical structure. The number of appointments of General officers must be radically reduced.
• Scrap NFU for all services. NFU is a nefarious master stroke in skulduggery, which only the Indian bureaucracy can be expected to devise. It is an open loot of the nation by a scheming and unethical bureaucracy.
It is a well known principle that 'work expands so as to keep the expanding bureaucracy occupied'. It is a vicious cycle. And, expanding work is antithesis of minimum government.
Therefore, trimming of bureaucracy (including the top brass of the uniformed forces) is an escapable requirement. Understandably, it is a tall order. But then, reforms can never be initiated by the weak. Only bold and dynamic leadership can stem the rot created by this hydra-headed administrative monster. Or else, minimum government will remain a pipe dream.