Like nationalism, secularism is also an article of faith for every Indian soldier. The army has proved its secular credentials repeatedly during the last seven decades of Independence. It has been called for aid to civil authority to maintain law and order on numerous occasions. Not once has any finger been raised at its fair and just conduct. Even today, all citizens under duress demand presence of the olive green. Their faith in the neutrality of Indian soldiers is complete. Therefore, when false aspersions were cast on the secular credentials of the Indian army in the Malegaon blast case, every soldier cringed in disbelief.
In a country infected with the virus of factionalism of all hues, it will come as a big surprise to many to learn that religion is a unifying factor for the army and not a divisive one. Many wonder as to how the army maintains its cohesion and unity despite the fact that it is ubiquitous and draws soldiers from all segments of the society. When told that Indian soldiers are very religious by nature, they find the dichotomy to be bewildering. Religious soldiers being secular? Their scepticism is quite understandable. But then, the Indian army is quite an exception. Read on.
Sarva-Dharma Sthal at Gurudongmar (North Sikkim) at 17,800 Feet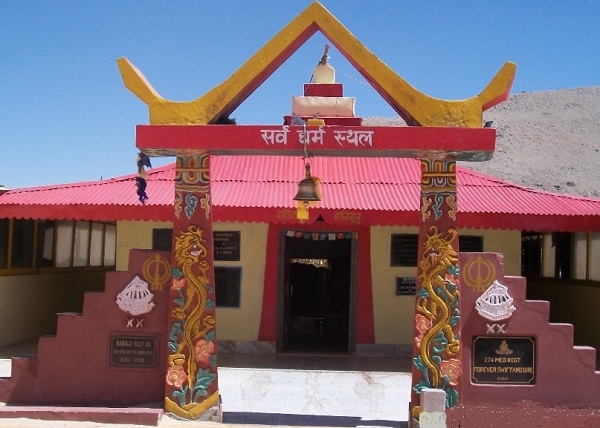 Sarva-Dharma Sthal at Gurudongmar (North Sikkim) at 17,800 Feet
To comprehend the issue, it is essential to understand that the army thrives on traditions and conventions. Its ethos are based on a culture of synergistic functioning and mutually accommodative demeanour for the defence of the country. Being a highly structured and dynamic institution, it has to develop and follow well laid down norms for its continued sustenance. Norms are unwritten rules. Norms can be descriptive (what to do or Dos) and proscriptive (what not to do or Don'ts). Norms get evolved due to precedents and conventions set over a period of time. A few examples are discussed below to illustrate the point.
"A commander has no personal religion; his troops' religion is his religion" is the norm all officers swear by. It does not mean that a commander cannot follow his own religion. It implies that a commander does not display his religious affiliation in front of his troops and his own religion remains confined to his personal domain. He identifies himself with his troops fully and participates enthusiastically in every religious function that his troops celebrate. Some non-Muslim officers commanding predominantly Muslim troops keep 'Rozas' during the month of Ramadan. That is their way of showing solidarity with their troops. Similarly, Muslim officers attend functions in temples and gurudwaras with their Hindu and Sikh troops.
No religious pictures or other symbols are ever displayed in any office. Similarly, 'tilaks' or other religious signs are not allowed to be worn with uniform or in social interactions. It is a proscriptive norm in the army that religion and politics are never discussed in messes and social interactions. The aim is to keep all potentially divisive and contentious issues out of public domain. Similarly, no jokes with religious overtones are ever cracked.
Moulding of Attitudes
Soldiers have to function in environments of extreme privations and risks. Serving in remote and uncongenial areas makes soldiers highly god-fearing. They seek divine protection and this protection is welcome from any god of any religion. 'My god versus your god' is a pastime of people who are well ensconced in the secure and comfortable environment of their homes. However, when threat to life looms large, religious differences are forgotten and prayers are sent up to any god who cares to listen. It is an amazing transformation in human psyche.
Siachen Baba (OP Baba) Shrine at Siachen Glacier Snout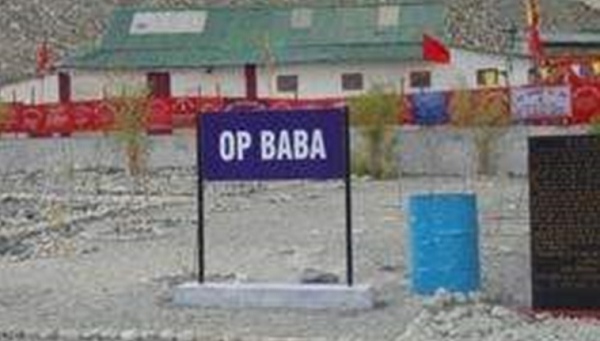 Siachen Baba (OP Baba) Shrine at Siachen Glacier Snout
Siachen glacier is the highest and most hostile battlefield in the world. A large number of casualties are suffered due to enemy action, low temperatures (up to minus 30 degrees), shortage of oxygen, intense ultra-violet rays, protracted snow blizzards, avalanches and crevasses. At the base of the glacier, there is a shrine of Siachen Baba (popularly called as OP Baba). It is a multi-faith temple. Although its origin is shrouded in mystery, soldiers have an unwavering faith in this 'guardian deity' for protection against vagaries of nature and enemy hostilities. Every soldier, whatever be his religious beliefs, visits the shrine before getting inducted into the glacier. No one knows, and no one wants to find out as to which religion Siachen Baba belongs to. It is a most gratifying sight to see prayer flags of all religions fluttering side by side in icy winds in the shrine. Self-preservation obliterates all differences.
The above is not a solitary example. At Khardung La (highest motorable road in the world at 18,380 feet), there is a temple of Khardung La Baba. At Chang La, there is a temple dedicated to Chang La Baba. Again, these shrines do not carry any religious tags. Every soldier bows and says his prayers to seek divine protection.
Even in peace locations, the army has many multi-faith shrines, called 'Sarva-Dharma Sthal'. While sinking shafts for the nuclear tests, perhaps the first ever multi-faith shrine was raised by 113 Engineer Regiment at Pokhran in early 1980s. All troops, irrespective of their personal faith, prayed jointly before the start of their shift for the success of the nationally important task. With divine benediction, the regiment successfully wrote the history of the country without a single mishap.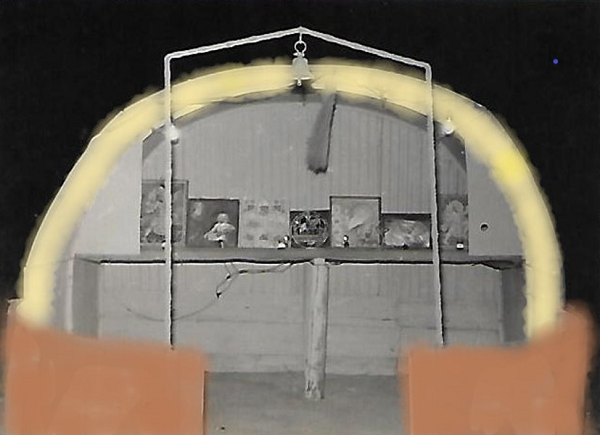 Sarva-Dharma Sthal at Pokhran Nuclear Test Site
Ethos of Respect for all Religions
Respect for all religions is ingrained in every recruit right at the time of his enrolment. Desecration of any place of worship is an act totally repugnant to Indian soldiers. Commanders keep an eye on likely roguish elements. Deterrent punishment is meted out for demeanour considered offensive to any religion. When my regiment came across a deserted mosque in the captured Pakistani territory in Sialkot sector in 1971, utmost respect was shown to the holy place. Our Muslim Havildars were asked to gather copies of the holy book and preserve them reverentially.
It is a norm in the army that all religious festivals are celebrated jointly as unit functions. At Janmashtmi function, activities pertaining to managing footwear of devotees and distribution of 'prasad' are undertaken by non-Hindu soldiers. Similarly, these tasks are performed by non-Sikh troops on Gurpurab celebrations. It is heartening to see non-Sikh soldiers dressed up as traditional volunteers to assist the organizers.
In all units having multi-faith troops, it is mandatory for the religious teachers of all faiths to participate in every religious festivity. For a Hindu function, both Gyani and Maulvi are invited to address the congregation. Similarly, Pandit and Maulvi address Sikh devotees in a gurudwara. There cannot be a more satisfying sight than to see three different religious teachers sitting on the dais and sharing common bonds. The basic thrust of all discourses is to highlight unifying aspects of all faiths and to exhort all to be good human beings. In addition, it is unambiguously emphasised that 'to fight jointly for the defence of India is every soldier's supreme Dharma; and that everything else is secondary'.
Finally
Devious efforts are being made by inimical foreign powers and anti-national elements to sow seeds of distrust and dissonance amongst the soldiers. However, the army's edifice of religious harmony is too resilient to be threatened by phoney media posts and seditious rumour-mongering.
Religious intolerance has been the root cause of almost all civil strife the world over. It is time all countrymen appreciate this basic fact. Although religion is a matter of individual faith, emulation of army's ethos of promoting jointness through religious unison will go a long way in promoting mutual understanding amongst disparate segments of the society. For, religious dissentions cannot be allowed to weaken the fabric of national unity by breeding fissiparous and sectarian forces.