-Siddhi Somani
One life.. one God gift.. one vision.. and she changed the whole world for seven notes! Wondering while to whether believe in miracles or not, India discovered one of the prodigious miracle in the world of music, Lata Mangeshkar! She enthralled millions of hearts all over the world then, faced hurdles throughout, yet inspires, appeals lakh of people and makes few to lead lives.
She was not really influenced by the external influences, music was from within and Lataji is full of it. Celebrating 91 years of her existence, going through her music till date makes one feel the unspoken expressions, soothes mind and makes it whole flow from heaven to the soul.
Having her first break in year 1949 she immediate, made the world fall for her voice, singing 'Ayega ane wala, ayega..", a piece of romance composed by Khemchand Prakash. The 19 year newly named 'nightingale' was a young achiever then sounding as same in her following two star performances, 'Andaaz' and 'Barsaat'.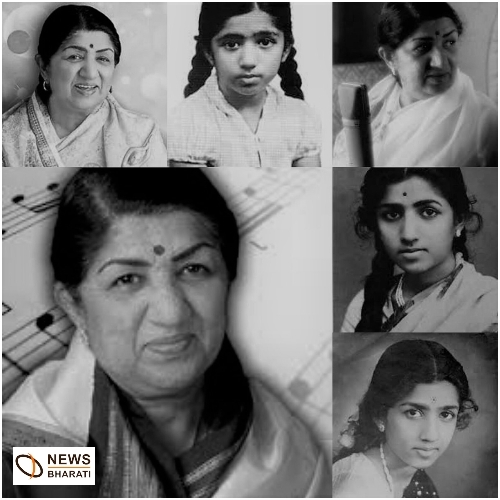 The requirement for the stardom somehow forced the lady to forgo her childhood too soon. Following her father's, Master Dinanath's sudden demise and the unsound financial conditions, Lataji at the age of 13, decided to play small roles in Hindi and Marathi film industries. Although she has no bit love for acting, she set an example then for the modern, young women to take up valid occupations for survival and be independent.
Taking several acting assignments for money, according to Lataji, her basic struggle was to work for what she never adored! "Acting was never my job and I never liked it. But I did that thing for my family to have couple of meals a day", she confessed in one of her interviews. Later her drive for life was made easy by Music Director Ghulam Haider. Just when, she was feeling disheartened by multiple rejections, she set her name for a big break in film 'Majboor'.
Lataji strived to give a good life to her mother and five of siblings, encouraging them to take up the education and later jobs they preferred. She had to struggle to make her family financially comfortable and never let them feel the absence of head of their family. She traveled all the way from her birth place, Indore to Kolhapur for money and later to Mumbai for her career, making good out of whatever she was offered with.
Further her life went a bit easy except for some opinion differences with Raj Kapoor, S D Burman and later Asha Bhosale, her little sister. Trying to imitate Lataji, Asha Bhosale had started slipping off the industry until she changed her singing style to cabre and western solace. Tough Lataji never liked her sister to imitate her, she has always been supportive towards Ashaji's career, making her what she is today!
Amidst all this, Lataji has remained the same person, nurturing her principles, values and merits towards music, her life. She still believes in being a student and being her own voice, revitalising other artists to be their own. "Rahe na rahe par hamari avaz to hamesha rahti he", she sternly believes, not out of disdain but out of gratification for her god gift and comfort, joy she gave away to the world.
Not being scared of the industry and the black foots involved, Lataji remains a syllabus for those striving to sustain, survive for fame and name. The lady stands to be a phenomenally successful person, not only as a singer but as a warrior too. Hers is a remarkable story of a little girl who took life head on at the age of 13. Living her life on her own terms, she proves to be an inspiration to a lot of modern women. Raising a lovely toast for a life traveler, a free musical spirit!