Sydney, Jan 12: All-rounder Ravindra Jadeja has been now added to the list of India's injured cricketers. He has been ruled out from the last and final Test against Australia that will take place on January 15. He will be travelling to India to recover from a left thumb injury.
He suffered a blow to his left thumb while batting on Day 3 of the third Border-Gavaskar Test that concluded on Monday. He later went for scans and the results have shown that he has dislocated his thumb. However, he sustained the injury while batting at the SCG. He was even prepared to gout in such a condition. There was no need as Hanuma Vihari and Ashwin pulled off an incredible draw.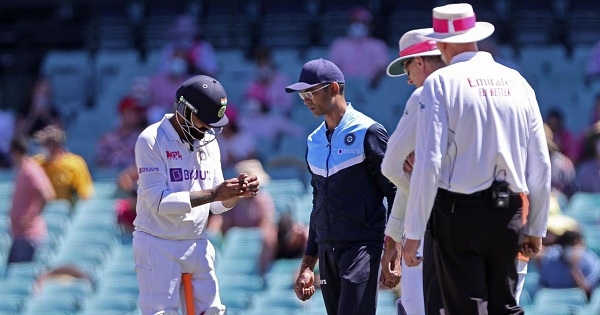 The BCCI informed that the all-rounder will now consult a hand specialist in Sydney before he returns to India and then continues his rehabilitation at the National Cricket Academy in Bengaluru for further management of his injury.
Having said that, there few other players who have suffered injuries during the third Test including Vihari and Ashwin. They battled through the pain to draw the match even when it seemed like the ball was in Australia's court. Jadeja's exclusion is not the only injury that has hit the Indian team ever since they arrived in Australian. While there's no official word on the duo yet, here's a list of the injured Indian players.
Probable players to be ruled out:
Hanuma Vihari - Vihari hurt his hamstring while batting during the fourth innings in Sydney. Partnering with Ashwin, Vihari played a significant inning through the entire final session to clinch a remarkable draw for India, despite not being able to run between the wickets, making a 161-ball 23.
R Ashwin - On Monday, the offspinner woke up with a "tweak" in his back that had left him in "unbelievable pain" and he could not even bend to tie the shoelaces. Even in such pain, Ashwin joined Vihari in the 89th over with more than a session left for India to save the SCG Test.
Ruled out:
KL Rahul - He had sprained his left wrist while batting in the nets at the MCG during Team India's practice session. The BCCI release had said that he would undergo rehabilitation at the NCA and require about three weeks time to recover completely and regain full strength. It means that he might not be present for at least the start of India's four-Test home series against England (deciding factor for ICC World Test Championship) scheduled to begin on February 5 in Chennai.
Umesh Yadav - He had sustained a strain in his left calf muscle on Day 3 of the second Border-Gavaskar Test in Melbourne. He felt it in the middle of his fourth over on the third day of the MCG Test and took no further part in that game. He was replaced in the squad by Navdeep Saini, who was handed a debut at the SCG.
Mohammed Shami - A big blow came when the fast bowler suffered a fracture to his right forearm during the first Test in Adelaide and was ruled out of the remainder of the tour. He, too, had sustained the injury while batting during India's second innings. After being taped on his right forearm Shami decided to bat on, but then signaled he could not continue and didn't return to bowl in the fourth innings either.
Ishant Sharma - Ishant Sharma was not part of the original squad to Australia announced in late October after he sustained an abdominal muscle tear during the IPL. While he was expected to return to fitness in time for the Australia Tests, the BCCI said in a statement in November that Sharma still had to "build up his workload", ruling him out of the tour.
Besides this, captain Virat Kohli is not part of the squad as he on paternity leave.