Michigan (US), Oct 23: In yet another attempt to spread blatant lies, Vijaylakshmi Nadar, the so-called Bureau Chief of the India observer has once again tried to defame PM Narendra Modi and his leadership. This time, in a video, she has spoken about how India is being destroyed through "an extremist authoritarian regime" run by PM Modi.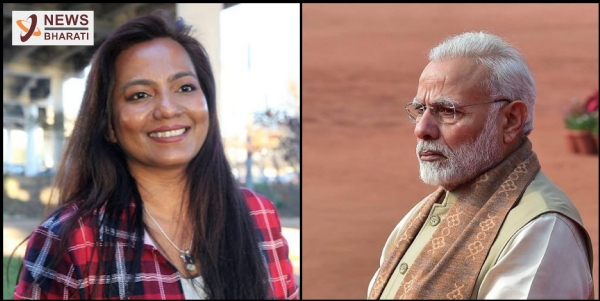 She has also specifically targeted the Hindu groups of the US who are trying to get rid of Hinduphobia across the country. In a scathing attack, she has said, "India has been taken over by an extremist authoritarian regime headed by Prime Minister Narendra Modi since May 2014." She has accused him that attempts are on to cover up the extreme degradation of the country and its Democratic institutions. Further, she has accused PM Modi in ensuring that the international community, as well as the Indian diaspora in the US, keeps the focus away from all that is wrong in the country."
Nadar, being a Hindu herself, said, "As a born Hindu myself living in the US, I feel compelled to reveal the larger game plan of not just the Indian government and the Modi, but also his supporters in the US". She has also further accused that PM Modi is trying use Hinudism in a wrong manner to spread extreme hate against the minorities.
Also Read: Vijayalakshmi Nadar the icon of modern anti national journalism?
"Modi and his ministers are using Hinduism to spread extreme hate against the minorities, whether it's the Muslims, Christian, Sikhs or Dalits. The heat is being perpetrated to enable the government to get away with mass scale corruption and looting," she added.
Making wrong claims, she said, that PM Modi and his supporters propagate the Hindu to a philosophy which is nothing but "a saffron terror group" and not related to Hinduism. "Modi supporters who have lived in the US for decades are pushing the radical Hindu tour aggressively in every city and state in the US not endorsed by most Indians, especially Hindus," she said.
Stuttering throughout her hate speech, she said, "The US needs to wake up to the prospect of harboring Hindu tour without being aware of it. The US needs India to keep a check on countries like China, Pakistan and Afghanistan, but a terribly weak, cruel, arrogant narcissistic Prime Minister who's weakening his own country, destroying the progress gained over 70 years in just seven short years cannot be possibly anybody's ally."
Also Read: Pieter Friedrich, from being ready to work as a security guard to an 'expert'
This is not the first time she has tried to spread hatred. Her deplorable Facebook post on Home minister Amit Shah has shown the ugliness of her dirty mind. In the post, she had said, "looks like the lipoma surgery that Mota Shah went in for a few months back has become full-blown cancer. Astrologers predicting ill health till October, which I hope ends conclusively. Some deaths can indeed be hastened and celebrated too in the larger interest of humanity."
Nadar being a journalist has tried to put out such accusations that does not have any foundation to it. However, with India being on its way towards growth and development, time will tell whether these accusations are true or remain as nonsensical as her claims.