Breaking every barrier that comes in her path, turning all harsh taunts comments into applauses, showing society and life that she is not going to give up easily, she proved herself in every step at every point and emerged as the role model for others by becoming the first transwoman to being conferred with prestigious Padma Shri award. Yes, we here talking about the transgender woman Matha B Manjamma Jogati, a member of the transgender community and the renowned practitioner of Jogati Nritya, who received the prestigious award on Tuesday in recognition of her efforts in bringing respectability to Jogathi Nritya and her transgender community in Karnataka.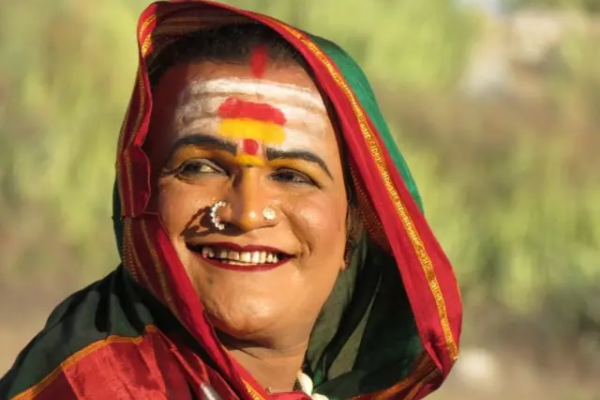 It was a great moment as transgender folk dancer Manjamma Jogati received the Padma Shri honor for her contribution to the arts. That day will remain etched in everyone's memory forever when she won people by greeting President Ramnath Kovind in one unique gesture that made him break into a wide smile. The big rounds of applause echoed through the prestigious venue when the speaker announced the 'Manjamma Jogati', a lady draped in a saree bowed down and worshipped the stage before she could step onto it. She then went up to the President and took off the President's Drishti by waving her saree pallu thrice, then breaking her knuckles on the floor. The video took the internet by storm and garnered millions of views in a matter of hours.
Talking about it, Manjamma, in her characteristic simplicity, says, "That's what our culture has given us." It is a ritual and an inheritance. That's how we mark any auspicious function and 'bless people' in Uttara Karnataka".
Manjamma's life as a Jogathi started a long way back when, in 1985, Manjunatha Shetty started to identify herself as a woman and began behaving like a girl from her teens. Following her behavior, her parents took him to a temple in Hospet and got him to perform Jogappa, a ritual in which the devotees are believed to get married to a god or goddess. It was at this time, she became a Jogathi, abandoning her male identity and becoming a transwoman on being initiated into the service of the deity at the Huligemma temple at Hospet in the Ballari district of Karnataka.
Even after that, her parents grudgingly accepted this transformation of their male child. However, their attitude towards Manjamma changed thereafter, which troubled her deeply. Seeing that unacceptance and everyday tension, she attempted to end her life by consuming poison. In her autobiography, Manjamma has said, "My father did not accept me. When he saw me wearing a saree, he could not tolerate me. I suppose he could not see his son like a daughter and his whole attitude towards me changed…. I decided that it was better to die than to live with this sort of tension."
This was when she began her lone journey begging on the streets draped in sarees. It was a difficult journey, indeed. During that time, she is sexually abused multiple times. Tired of this, she once again decided to kill herself but came across a father and son who taught her to dance, which gave a new start to her life. She was introduced to Kallava Jogathi, where Manjamma learned the dance form Jogathi Nrithya (a folk performance of Jogappas) and started performing across the state. After Kaalavva's death, she took over the troupe and the dance became more popular.
From then on, there has been no looking back, with her having performed with multiple troops at countless platforms, even opened the pursuit of the art to non-transgenders and non-Jogatis and anyone who wishes to learn it.
Reminiscing her first stage, she says, the first plays they did were for a meagre 50 'Ser' of corn. "We performed all night, from 8.30 pm till daybreak. Then it became Rs 150-200, which now gets us Rs 30,000–Rs 40,000, " she says.
In 2006, she was awarded the Karnataka Janapada Academy Award, and, 13 years later, in 2019, she was appointed president of the institution. In 2010, the Karnataka government honored her with the annual Kannada Rajyotsava award.
.
.