New Delhi, Nov 30: With the Winter Session in Parliament starting on a stormy note, a dozen members of Opposition parties in Rajya Sabha were suspended from the session on the very first day following a motion brought in by the government.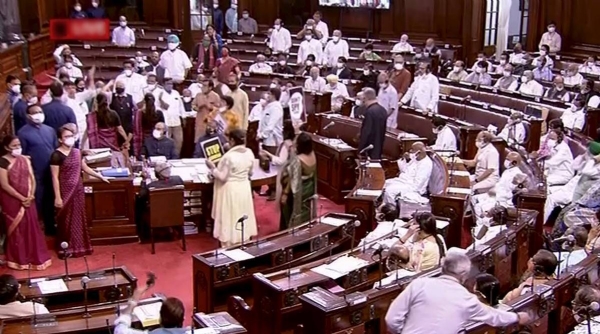 The members were suspended for unruly conduct towards the end of the monsoon session in August when marshals were called after Opposition members stormed the Well of the House during the passage of the General Insurance Business (Nationalisation) Amendment Bill, 2021.
The suspended members comprise six from the Congress, two each from Trinamool Congress and Shiv Sena, and one each from CPI and CPM: Phulo Devi Netam, Chhaya Verma, Ripun Bora, Rajamani Patel, Syed Nasir Hussain and Akhilesh Prasad Singh of Congress; Dola Sen, Shanta Chhetri of Trinamool Congress; Priyanka Chaturvedi, Anil Desai of Shiv Sena; Elamaram Kareem of CPM; and, Binoy Viswam of CPI.
The official notice said, "This House takes cognisance and strongly condemns the utter disregard to the authority of the Chair, complete abuse of rules of the House persistently thereby wilfully obstructing the business of House through their unprecedented acts of misconduct, contemptuous, unruly and violent behaviour and intentional attacks on security personnel on the last day of 254th Session of Rajya Sabha i.e. August 11."
Also Read: Black Day for Parliament? Marshals choked and assaulted by CPI-M, Congress and Shiv Sena MPs
In August, the House had begun a discussion on 'farmers' protests against farm laws on the last day of the session, when opposition MPs had climbed on the officials' table, waved black cloth, and flung files and papers in the House. They had also manhandled the security personnel.
Also Read:'All sacredness of this House was destroyed': Emotional Venkaiah Naidu after Congress leader stands on table, throws files
The Opposition had denied such allegations and claimed that the marshals misbehaved with the female MPs. However, according to the video, the leaders of opposition's unruly behavior led to the ruckus in the Rajya Sabha. The opposition leaders not only disrupted the working of the house but also assaulted Marshals on duty.
Following this, Vice President and Rajya Sabha Chairman Venkaiah Naidu had said that action will be taken against members of opposition parties who created a ruckus during a short-duration discussion on farm issues.