Many of us believe that Himachal Pradesh is famous due to its tourist destinations. However, Himachal Pradesh is home to several heritages in terms of culture. One such heritage is
Yulla Kanda
. Did you know that is home to the world's highest Lord Krishna temple which is located in the middle of the lake?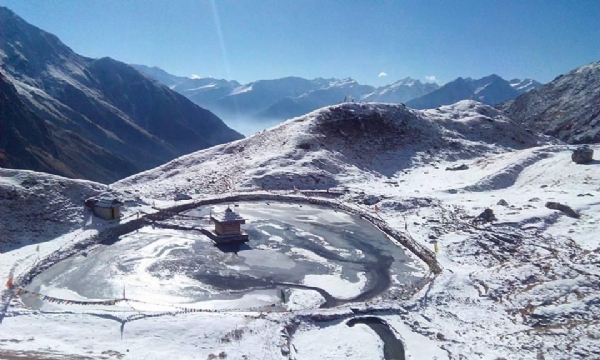 About the temple – Not just the temple, but the lake itself is said to be have been created by the Pandavas during their term in exile. Post the lake, the construction of the temple started. The most unique and striking feature of this ancient temple is its height above sea level, 12,000 feet - which makes it the highest temple of Lord Krishna in the world! In addition, one more prominent point about the temple is that people can come and offer prayers to Lord Krishna irrespective of their religion or caste. The place is welcome to anyone and everyone who pleases to come seek Lord Krishna's blessings.
It is believed that the Bushahr ruler - King Kehri Singh of Bushahr estate, had started the festival of Janmashtmi, which is celebrated with immense triumph and joy in the region. The temple is believed to be related to the state of Bushahr. As per the belief, a traditional cap of the Kinnaur region is inverted and put in the lake flowing along the temple at Yulla Kanda.
According to some beliefs, if the cap floats across the river to the other side without getting immersed, the destiny shall be with you and the coming year shall bring you peace, joy and harmony in your life. If the cap fails to make it to the other side, consider that the next year might not be the best one for you.
People from all over Kinnaur and other parts of Himachal Pradesh visit this holy lake during the
Janmashtami
festival. People who come from the villages of Kalpa and Pangi, go through arduous trek via Kashang Pass (4,800m) to reach this lake. One can also approach Kafnu village via Listigarang Pass (4,680m) located towards North-West of Yulla lake. From Kafnu one can further continue the trek towards Bhabha Pass, a gateway from Kinnaur to Spiti.
Also Read | Rani ki Vav - A flamboyant architecture built by Rani Udayamati in the 11th century
This is also a great spot for trekkers, and is best for beginners, as its difficulty level is moderate, and duration is short. The trek to this temple begins from Yulla Khas - which is a small village located on the slope of hills. Yulla Khas is 3 km away from the village of Urni. The trek gives you a chance to spend time exploring the breathtaking beauty of the Himalayas. The trek takes you across forested regions, meadows, snow-clad mountains, and then finally leads you to the lake. Here, you spend time gazing at the stars in the night sky. The trek is about 11 km long. The duration of this moderately-difficult Yulla Kanda trek is about 3 days and 2 nights.