Kurnool, February 27:
Raising it's voice straight up against the unauthorised construction of a Church in the state of Andhra Pradesh, the Legal Rights Protection Forum has written a letter to Revenue Divisional Officer today seeking required action against the
Church
.
This is probably after a few complainants of Jillela Village, Kurnool District approached the Sub-collector, Kalpana Kumari seeking action against
Church construction
in their village. As revealed by the LRPF, despite objections from farmers of the village, the pastor attempted to construct Church in an agricultural land, without permissions.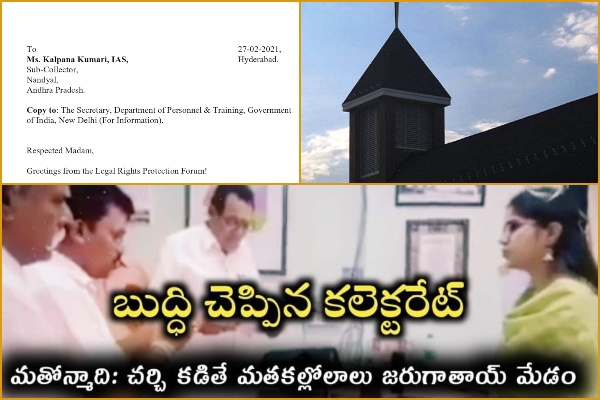 "India is a Secular Nation and the people i.e. Hindus,Christians or Muslims have the right to construct places of worship and use them", Kumari had said then. In response, the letter by Legal Rights Protection Forum read (Section 3(1) of the Andhra Pradesh Agricultural Land (Conversion for non Agricultural Purposes) Act, 2006), "No site shall be used for the construction of a building intended for public worship or religious purposes without the prior approval of the Collector of the District who may refuse such approval if, in his opinion, the use of the site for the proposed construction of the building is likely to endanger public peace and order, after giving an opportunity to the applicant to show cause against such refusal".
It further said that the construction is unauthorized and having no permissions from concerned public authorities. "It appears that the said construction took place in an Agricultural land, which is another violation of rules", it added.
According to the section 3(1) of the Andhra Pradesh Agricultural Land (Conversion for non Agricultural Purposes) Act, 2006, no agricultural land in the State shall be put to non-agricultural purposes, without the prior permission of the Competent authority. Section 3(2) further says, "An application for such conversion of the agricultural land for non-agricultural purposes shall be made before the Competent authority in the form prescribed along with conversion tax.."
Christian groups have blatantly used this episode on social media ridiculing Hindus and with titles that say "Hindu religious fanatics snubbed by district collector".
This has hurt the sentiments of all Hindus
. While the people from Christianity have gone ahead with unauthorised church construction in violation of multiple rules, it is unfortunately the Hindus who are left to feel guilty.
.
.