New Delhi, March 02: In a recent update to the Harsh Mander case, the Legal Rights Observatory (LRO) in a letter to CJI has alleged Harsh Mander's CES of getting a privileged hearing due to the interference by Retd Chief Justice of Delhi HC AP Shah. "Sent letter to CJI n Registrar Supreme Court of India seeking a rapid inquiry into the role of Retd Chief Justice Delhi HC AP Shah's role in giving a privileged hearing to @harsh_mander's @CEStudies court suits filed in various courts n reminder to Sep 20 in @HRLNIndia Retd Judges matter."
LRO also has sought an inquiry into the role played by CEStudies treasurer Niranjan Pant (retired deputy CAG) and one of the members is Keshav Desiraju (retired health secretary) into facilitating CES malpractices in the government machinery.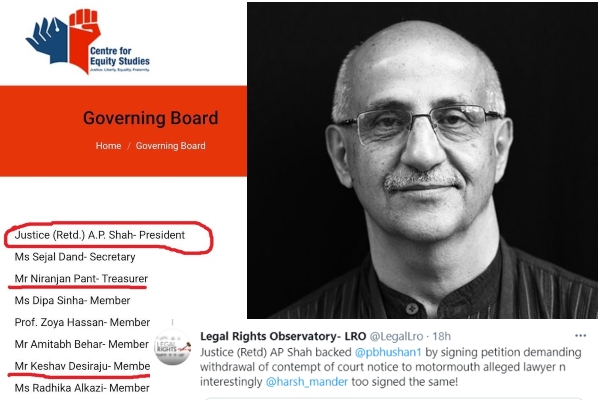 Also, the National Commission for Protection of Child Rights has called upon the Indian government to start an inquiry into the foreign links of this so-called human rights activist. "Former civil servant and professional agitator Harsh Mander received foreign funding for his charities, which he later diverted to fund the protests against the Citizenship Amendment Act (CAA)", alleges India's federal child rights watchdog.
Mander runs a social justice think-tank called the Centre for Equity Studies, and two children's shelter homes. The report states that the NCPCR has alleged that Mander has concealed his multiple sources of funding through several private investors.
"It is recommended that the Economic Offence Wing (EOW) of the Delhi Police, which is a specialised investigative agency in such matters, may examine the multiple sources of funding being given to these Homes and the use of the same. The accounts of these homes need to be audited and investigated for the above-mentioned financial irregularities", states the NCPCR report.
ALSO READ- FIR against Harsh Mander's NGO for linking funds from Islamist org accused of terror funding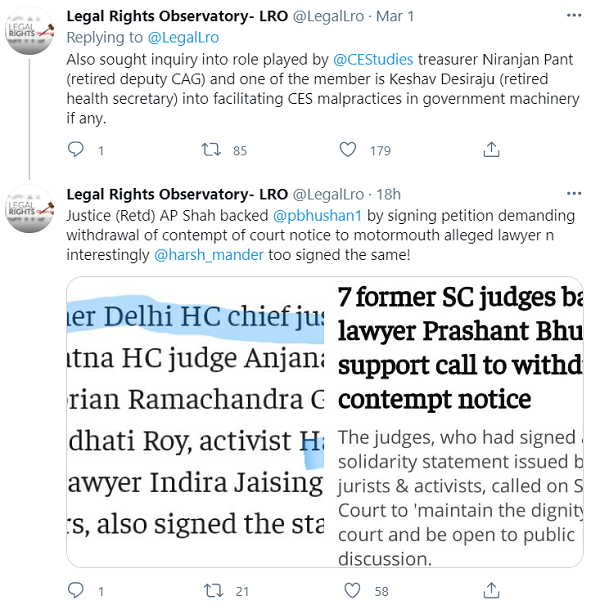 The most serious accusations levelled by the NCPCR are that the money meant for two children's shelters- Khushi Rainbow Home for girls and the Ummeed Aman Ghar for boys was allegedly diverted to fund anti-India entities. What is more shocking is that there are claims that minors from these facilities were forced to participate in protests against the Citizenship Amendment Act (CAA).
ALSO READ- Bhopal Police files FIR against Shibu Thomas for defaming India by circulating fake plot of Christian Persecution
"During our investigation, we met several residents at these shelters who told us that they were sent to protest against the CAA last year and asked to chant anti-government slogans", a senior NCPRC official claimed. "After reading the documents received from the organisation, the Commission discovered that besides the parent organisation – the Centre for Equity Studies – there were several other sources of funding for these two homes, including from other private organisations and the state government," the report by the NCPCR says.
ALSO READ- Unmasking Christian missionary NGO's conspiracy to defame India internationally!
Earlier, the LRO had exposed the deep nexus between European Catholic Church and anti-India activities in India. An investigation by LRO had revealed that the NGO of anti-India activist Harsh Mander, who is also famous for hounding PM Modi when he was CM of Gujarat with false cases, received crores from French and Danish Catholics, presumably to fuel unrest in India as witnessed in the Delhi anti-Hindu riots of February 2020.
.
.