Pune, March 02: The Legal Rights Protection Forum (LRPF) in a letter to the Ministry of Mines has sought urgent intervention and necessary action against illegal construction of Church and erection of Cross by encroaching Mining Hill at Edlapadu village, Guntur by a Christian Organization.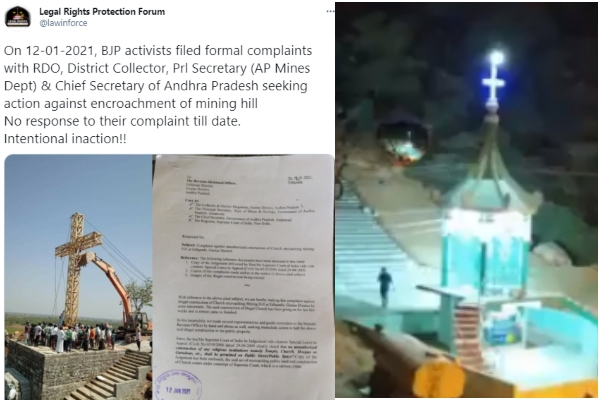 LRPF requested removing the illegal structures constructed at the encroached site, imposing penalty to Church Organization who committed this crime and to order Departmental enquiry and action against concerned public authorities who intentionally ignored this huge fraud even after making several complaints.
According to the LRPF, the said construction of the illegal Church started a few months back and was noticed by villagers who made formal complaints with the Mandal Revenue Officer in the month of January. Following no response from Mandal Revenue Officer, locals wrote to Revenue Divisional Officer seeking action in this matter but there is no response till date.
The intentional inaction of the concerned public authorities has led to the state where they had installed a huge metal cross of nearly 2.5 tons weight on the top of the mining hill. "It shows the utter irresponsibility and negligence of the concerned officials and moreover raising doubt among the public that they got compromised with Christian organization", letter by LRPF read.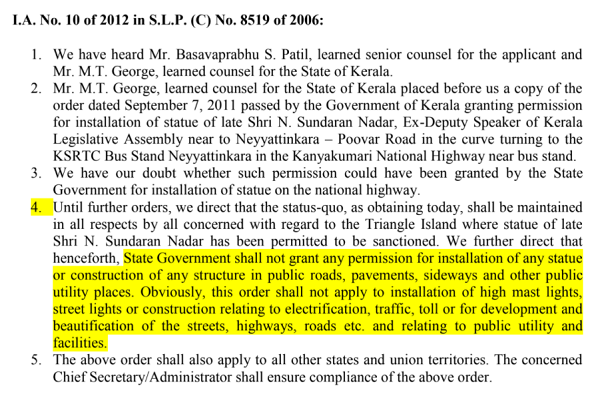 This is after the Supreme Court of India its Judgement vide citation- Special Leave to Appeal (Civil) No:8519/2006 dated 29-09-2009 clearly stated that no unauthorized construction of any religious institutions namely Temple, Church, Mosque or Gurudwar, etc, shall be permitted on Public Space.