Malad, June 10: 11 people died, and 7 were injured, when a portion of a ground floor + 3 storey-residential structure fell on an adjoining ground floor+1 structure in Mumbai's Malad area late on Wednesday night. The dead include eight children. The city was hit by heavy monsoon rains the entire day and the officials said the incident occurred at 11.52pm.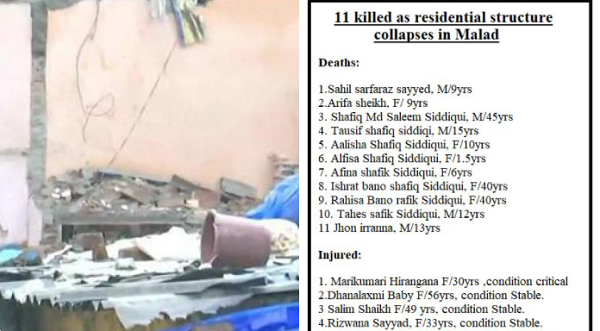 BJP National Secretart Sunil Deodhar however said that the Malad construction was illegal and that those Muslims who died & injured are victims of corruption and vote bank politics of Congress and Sena. "These have blood on their hands and Mumbaikars must use EVMs in upcoming BMC Elections & teach them a lesson", he tweeted.
The collapsed structure is located inside New Collector's compound in Malad West. Brihanmumbai Municipal Corporation (BMC) confirmed on its Twitter handle that residents from the affected structures were being evacuated. BMC disaster management cell said all 11 deceased have been identified.
According to the reports, 18 people have been rescued. The injured have been shifted to BDBA hospital where the condition of 30-year-old Marikumari Hirangana is said to be critical while the other six are stable. Search and rescue operations are on to locate anyone trapped under the rubble.
.
.