New Delhi, June 11: As a gesture of solidarity and close cooperation, India's Ambassador to Nepal VM Kwatra today handed over the medical equipment including ventilators and ambulances to General Purna Chandra Thapa, Chief of the Nepali Army. This is probably a day after Nepal`s new Deputy Prime Minister and Foreign Affairs Minister, Raghubir Mahaseth on Wednesday sought India`s support for Covid vaccines.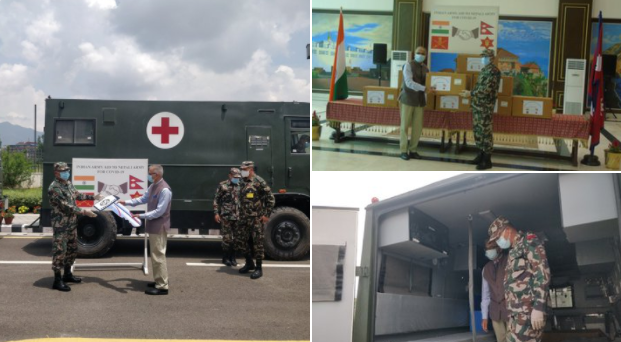 He made the request to Indian Ambassador Vinay Mohan Kwatra, who paid a courtesy call on him and handed over the congratulatory message of Indian Foreign Minister, S. Jaishankar, Nepal`s Ministry of Foreign Affairs said. Mahaseth, who was appointed on Friday by Prime Minister K.P. Sharma Oli in a rejig, and the Indian envoy discussed various matters of mutual interests, including the supply of vaccines, the ministry said in a short readout.
Besides other regular issues, the meeting was focused on importing vaccines against Covid from India, said, officials. India and Nepal hospitals continue to be overwhelmed and lacking in oxygen supplies and sufficient beds, equipment and supplies for the surge in patients. Lockdowns and other protective measures are slowing the rates of infection in both countries, but shortages of equipment and supplies persist.
Meanwhile, Project HOPE and partners have distributed 150 oxygen concentrators, 8000 oxygen masks, 227000 units of PPE, 3250 pulse oximeters, and other supplies in 5 Indian states: Karnataka, Telangana, Maharashtra, Madhya Pradesh, Odisha. They also have developed an innovative program aimed at pediatric COVID-19 patients to improve protection and clinical care for children in 28 Indian health facilities.
Over 750 Nepali healthcare workers have been trained on COVID19 Acute Care, with several more sessions planned in the coming weeks. In Nepal, hospital beds, 100 oxygen tanks, 84 oxygen concentrators, temporary hospital tents, and 8000 units of PPE have been distributed.
.
.