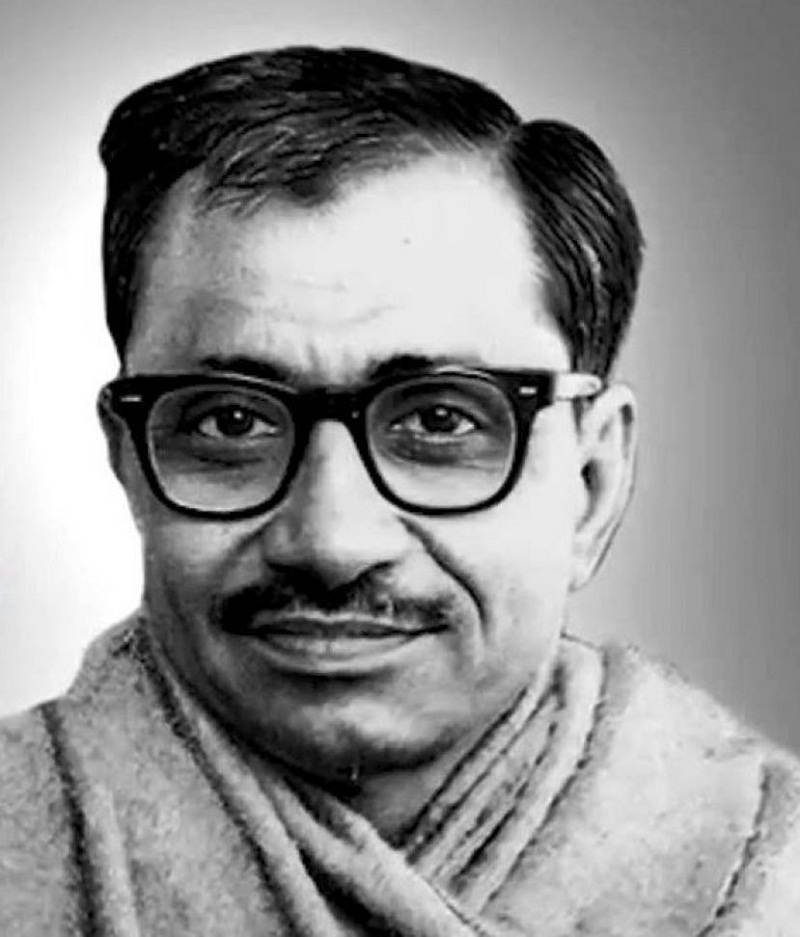 "If I could get two or three more Deendayals, I will change the entire political map of Bharat", so said Dr. Shyama Prasad Mookerjee the founder of Bharatiya Jan Sangh the earlier Avatar of the present day Bharatiya Janata Party in the initial days of the new party he floated as an effective alternative to the Congress party in the 1950s.
Pt. Deen Dayal Upadhyaya is best known for the most valuable treasure gift not only to we Bhartiyas but to the entire world community. His treatise on 'Integral Humanism' or "Ekatma Manav Darshan" has all the solutions to the present multi-faceted problems the people of the world are confronted with. But ironically, very few are well aware of the contents of the thesis and more so, many are even ignorant about the personality of such a great son of Mother Bharat.
Besides being the strong protagonist of 'Ekatma Manav Darshan", Deen Dayal Upadhyaya was an eminent thinker, economist, writer, editor, political scientist, journalist, philosopher and social worker and an active politician. He was one of the leading figures who built the Bharatiya Jan Sangh in those days of utter neglect, apathy and even socio-political isolation of any other political thought that would challenge the Congress and its Nehru-Gandhi leadership. But firm as he stood committed to the ideology he subscribed as his life mission, Deen Dayal did not budge and succeeded in phenomenal growth of the Jan Sangh in the 60s. His historical rise as All India President of the Bharatiya Jan Sangh in 1967 was considered as important turning point in the political history of post-independence Bharat.
The way he and his colleagues – L. K. Advani, Atal Bihari Vajpayee, Sundersingh Bhandari, Nanaji Deshmukh and others – toiled for gaining firm footing for Jan Sangh and expanding its wings to national level had prompted Dr. Shyama Prasad Mookerjee to say that "if he were to get two or three more Deen Dayals he would change the political map of entire Bharat".
Deen Dayal was born on September 25 at a small village called Chandrabhan now called as Deen Dayal Dham, situated at 26 km from Mathura in Uttar Pradesh in 1916 in a poor but religious and devout family. His Father Bhagwati Prasad was a well-known astrologer and mother Rampyari was a devout lady. Unfortunately he lost his parents at the very tender age of 8 and he was brought up by his maternal uncle.
From the childhood he was a brilliant student and did his post-graduation with gold medal from the university. He came in contact with the Rashtriya Swayamsevak Sangh (RSS) pracharak Bhaurao Devras and became its full-time dedicated 'Pracharak'. Later he was 'given' to build Bharatiya Jan Sangh along with other leaders and worked under Dr. Shyama Prasad Mookerjee.
After the mysterious death of Dr. Mookerjee while he was detained and incarcerated in Srinagar Jail under the Sheikh Abdulla Government for his 'Satyagraha' against the separate status to J & K, the onus to build the organizational and party network of Jan Sangh fell on the shoulders of Deen Dayal. He carried out this task silently, patiently and with great perseverance. He was elevated to the post of National President of Bharatiya Jan Sangh in its plenary session in Kerala in 1967. But alas! Before he could consolidate his philosophy of 'Ekatma Manav Darshan' and 'Antyodaya' he was mercilessly done to death at Mughalsarai Railway Station on February 11, 1968. His body lying unidentified at a lamp post in the station yard, was identified by one of the BJS activist. His demise came as a great shock not only for the BJS but for the entire country. However, his ideology of 'Ekatma Manav Darshan' and 'Antyodaya' continue to guide the present BJP and its policies of welfare.
Acknowledging his contribution to the fields of politics, sociology and economics, former BJP President and his long-time colleague L K Advani said in his biography 'My Country My Life':"Bharat after Independence has produced few leaders who were also political philosophers. Deen Dayalji was one of the few, and the finest".
Pt. Deen Dayal Uadhyaya had very clear-cut ideas about nation, nationality and nationalism. He contested the Communists and socialist and the Congress on their ideology of secularism that made distinctions and discrimination of religious lines in practice. He believed in principles of "Dharma" that held the society together and guided it in times of crises since aeons. He believed that the English word 'Religion' that replaces 'Dharma' was not the correct synonym. "Religion means a creed or a sect and it does not mean Dharma", he would say.
Dharma, he would say, was very wide concept which concerned all aspects of life sustaining the society. In Bharat the Principles of Ethics are termed as Dharma i.e. the Laws of Life. He believed that the fundamental principles of Dharma were eternal and universal and their implementation may differ according to the time, place and circumstances.
Every nation has a goal or a life mission or an ideal and it revolves round the concept of Motherland, he said. "A Nation is a group of persons who live with 'A Goal', 'An Ideal', 'A mission, and look upon a particular piece of land as the Motherland. If either of the two – the Ideal and the Motherland is missing, then there is no nation", Panditji used to say.
The root cause of the problems the country and the society was facing was the neglect of its National Identity which in his opinion was essentially "Bharatiya" irrespective of religious affiliations and practices. With the exit of the British, we have strangely adopted all those characteristics against which we stood during the freedom struggle. But after independence westernization has become synonymous with modernization and progress, he used to lament.
Deen Dayalji was not opposed to universal ideas of western science and used to insist on their adoption for the development and welfare of the people. He said, "Western Science and the Western Ways of life are two different things. Whereas Western Science is Universal and must be absorbed by us if we wish to go forward, the same is not true about the Western Ways of life and values."
Similarly, he was very clear about our culture and cultural identity as 'Bhartiya people. Giving stress on culture he said that independence can be meaningful only if it becomes instrument for expression of our culture. This is necessary and important for us to think of the principles of 'Bharatiya Culture', he would insist. Our cultural identity is directly linked to our National Identity, he used to say.
The basic characteristic of Bharatiya Culture according to Deen Dayalji is that it looks upon life as an "integrated whole" and not in fragments as the western culture perceives. There is diversity and plurality in life but we have always attempted to discover the unity behind them, he would point out accepting the presence of diversity.
Great social thinkers of the west like Hegel put the theories of thesis, anti-thesis and synthesis; Karl Marx used them as the basis of his analysis of history and economics and presented his theory of dialectical materialism; while Charles Darwin considered the principle of 'Survival of the fittest' as sole basis of life. But we in Bharat identified and saw the basic unity in all forms of life – animate and inanimate, he would emphasize.
He gave an example of a seed to justify his assertion. The seed as a single unit finds expression in various forms like, the root, the trunk, the branches, the leaves, the flowers and the fruit. Though all of them have different forms and properties and colours, still we recognize their relation of unity with each other through the seed. Therefore, unity in diversity and expression of unity in its diverse forms has remained the fundamental thought of our Bharatiya Culture.
Therefore, in Bharat, the society and social thinkers have thought of four-fold responsibilities of catering to the needs of the body, mind, intellect and the soul with a view to achieve the integrated progress of the individual. The four-fold aspects of Bhartiya social life revolving round the concept of 'Dharma, Artha, Kama, and Moksha' are inborn in the human being and satisfaction of these in integrated way is the essence of Bharatiya Culture, according to Deen Dayal Upadhyaya.
It is this thesis that has formed the bedrock of his philosophy of 'Ekatma Manav Darshan'.