There are several architectural wonders in India, which will leave you wondering how could these structures have been possibly built. One such architectural wonder is the temple we will explore today. The
Brihadisvara Temple
, which is part of a group of Chola era temples is also voted as a
World Heritage Site.
Each of "
The Great Living Chola Temples
" is built in the signature Tamil architecture style, with high walls, a fort-like entrance, a moat, long corridors, and paintings of Shiva on walls. Even though it has some similar elements as the other temples, the Brihadisvara Temple stands out when it comes to its
size and the enigmatic way in which it has been built
.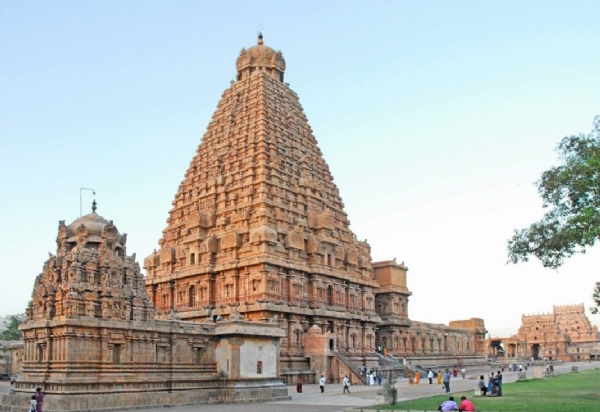 The architectural mystery of the temple - Historians and archaeologists have wondered for several years about how exactly the temple was built. There's no granite to be found nearby for at least 50 miles. Yet, the temple is made of 130,000 tons of granite, often huge giant pieces of it which would be impossible for any human to move. There is no binding material, only interlocking stone. Also, it is intricately carved, which is a difficult feat considering granite is such a hard material. Another major attraction of the temple is its 216-feet-tall tower that is built above the sanctum of the temple, having zero degrees inclination. There is also a huge Nandi right in front of the temple - which is carved out of only one piece of stone.
While speculating how the temple came to be, several theories have been floated around, (most of which are incorrect). The temple is that impressive that early observers made up theories about its construction. Theories like aliens, magic, and Lord Shiva were all considered. But the truth is that the temple was built with forced labour of thousands of captive elephants. It took over 1,000 elephants to lug large slabs of granite to Thanjavur from 50 miles away. The workers used a clever method of ancient engineering to cut the rocks. They made small holes in the rock, then placed wooden plugs inside the holes. When it rained, the water expanded the plugs, causing the rock to break.
Brihadeshwara Temple is also the first all-granite temple in the world. When the temple was built in AD 1010, it was the tallest temple in India back then, and it took only 7 years to complete. The topmost structure of this temple, called Vimana, weighs around 80 tons, and no one knows how the builders got it up there. According to tour guides another famous legend here is that Hindu sages recited a Vedic mantra which resulted in the stone being levitated to the top of the tower. There are many musical pillars, which make various sounds when taped at the temple.