Atmanirbhar Bharat, the Vision to Make India Self–Reliant with more focus on local manufacturers and service providers. But who was the person to introduce the concept, Atmanirbhar Bharat?
Congress says Indira Gandhi was the first person who wanted India to become Atmanirbhar while BJP says it was Narendra Modi who initiated. However, in reality, neither Gandhi nor Modi came up with the idea of India being self-reliant. It was our 2nd Prime Minister, Lal Bahadur Shastri, who started to implement India's being self-reliant. He must not have coined the word 'Atmanirbhar' but with his revolutionary ideas, India started to become 'Atmanirbhar'.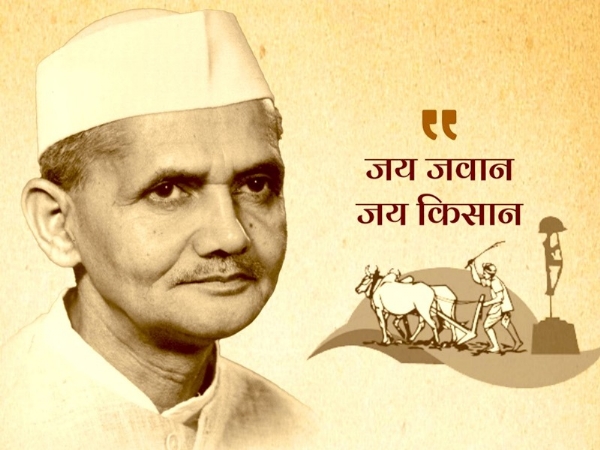 It all started in 1965 when Shastri took over the prime ministership after Nehru's demise. At that time, India was engaged in a war against its neighboring country, Pakistan. It did not end here because, on the other hand, the US, who was the main supplier of food to India, had threatened to cut supplies of wheat if India didn't stop the war. India was facing a huge shortage of food and was dependent on foreign exports.
At that time, Shastri, in order to overcome the food crisis, appealed to his countrymen to skip food a day per week to save food grains. Such was his commitment that he started observing fast along with his family. People even cooperated with him and gave up on a one time meal when the country was facing a shortage of food. He, not being an imposter, implemented giving up on one meal with his family first. It was once known as a "Shastri Vrat" (Shastri's fast) in India.Underlining the need to boost India's food production, Shastri brought agriculture to the attention of the Planning Commission. This was the time when he came up with the famous slogan, of 'Jai Jawan, Jai Kisan'. This had encouraged people to take up farming. As a result, the food crisis ended. Shastri's slogan, "Jai Jawan! Jai Kisan!! reverberates even today through the length and breadth of the country. It was not merely a slogan, but reflected India's aspirations.
Shastri was the one who brought awareness and started the Green Revolution in India. He aimed at raising the rural economy and encourage it just like industries. It turned India into a food-surplus economy. Imported high yielding varieties (HYV) of seeds and new technology were adopted to produce rice and wheat in gargantuan quantities. Poverty and hunger were reduced through subsidised wheat, rice, and sugar, while farmers began enjoying higher and more stable incomes. This masterstroke proved to be a useful measure and was a pioneer in helping the then Indian government to independently produce necessary crops in the country instead of depending on foreign exports, which were often misused by foreign nations to blackmail India to serve their political purposes and get dominated by those nations. He made India self-sufficient in food grains. If there had been no Green Revolution, India would have needed five times more land to produce the same amount of wheat today!
It is not only the Green Revolution but the White Revolution that is also regarded as Shastri's biggest contribution to the Indian economy. He promoted the White Revolution by supporting the Amul milk cooperative of Anand, Gujarat, and creating the National Dairy Development Board, a national campaign to increase the production and supply of milk. India moved from being an importer of milk to being an exporter. The main reason to promote White Revolution was the national campaign to increase the production and supply of milk. The nationwide movement to promote India's milk and food production brought a drastic change in the economy of the country. It was a stepping stone towards being a self-sufficient nation. It was his efforts that India is now the highest producer of milk in the world.
When India was attacked By Pakistan, Shastri not only brought back the lost glory by winning the war but also rekindled the pride of forgotten people, especially, farmers. Showing real leadership, he helped India navigate through probably in the most crisis-ridden period. Apart from this, Shastri was also trying to make India self-reliant in the nuclear energy sector. In order to strengthen Indian Army, he was going to perform nuclear tests and make India a nuclear power in collaboration with nuclear scientist Homi J. Bhabha. He immersed himself in Gandhiji's initiative of boycotting foreign products and services. Promoting it among the indigenous people, he helped make this movement successful.
Truly, in his 18-month tenure as Prime Minister, he brought an immense change in the country and his pragmatic approach even pushed our economy further. He had won everyone's heart and respect with his honesty, sincerity, and passionate dedication to serving the country that was facing a crisis. However, he passed away in Tashkent, Uzbekistan on January 11, 1966, the day after signing a peace treaty to end the 1965 Indo-Pakistan War. He was then cremated at Vijay Ghat, Delhi, and a memorial was built at that place. Shastriji was the first one to be awarded the Bharat Ratna Award posthumously. His outstanding contribution to the nation can never be forgotten. He was such a great statesman who was never given the honour he deserved. It is the misfortune of this country that Indians are so obsessed with political glamour that a simple-looking but exceptional personality is forgotten!
.
.