Panaji, Jan 21: All India Trinamool Congress is trying its best to get a majority in the upcoming elections or atleast inroads in Goa. It is still quite unclear what would be the party's fortune in this election. But there is one new thing that they have introduced and that is a Card. The new digital property they have come up with this time around is "Yuva Shakti Card".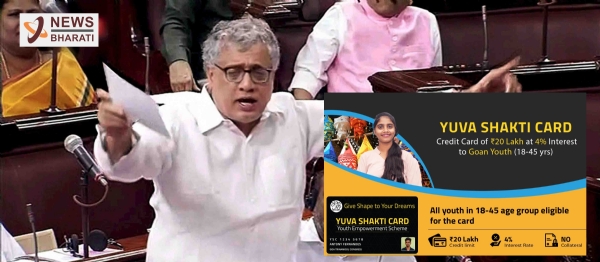 The idea is to give people loans at 4% interest rate. For that, an individual has to register on their website. He/she will have to feed his/her mobile number as well as the location of residence in Goa. After which, the registered individual will receive a call from TMC asking to join a whatsapp group. The group gives further information needed if any. Now there are a couple of problems with this. One is practical, which is that nobody in the group seems to have received this card, which is essential to receive the loan money.
Second, and more important aspect of it is that it asks people to share their contact number. Which essentially means that you have to compromise on your privacy. Now it might be a seemingly obvious and minor ask for TMC to get a contact number from people.
But the irony is that it was TMC's Rajya Sabha MP Derek O'brien who had opposed the Aadhar bill. The reason given at that time for opposing the bill was that, this bill would require people to possess aadhar card, which would require people to submit their contact details, which would mean invasion of their privacy.
Honorable MP, Derek O'brien was vehemently opposing a bill which would allow the government to take informationation of its citizens, the government which can change every 5 years. Because he was arguing that the government will have too much control over people's lives after having so much private information.
That very same person now seems to be more than OK with his own party getting that 'private' information of people. So, is he in essence arguing that his party, that is TMC, is bigger than the state of India itself? Or more important than the state of India Itself? If the answer to any of those questions is yes then that is precisely the model which the USSR used and the PRC is using now. Communist parties in both these countries used to be and are the most important institutions. In China today, the PLA's main duty is not to defend China, but to defend the CCP. Is that the kind of system which Derek O'brien and his party want? If yes, that would be a very cruel joke not just with the people of Goa, but also with the people of West Bengal, who elected the current CM Mamata Banarjee in 2011 to end 34 years of communist rule in WB. If the party which promised to be an alternative to the Left itself becomes the left then that is quite a sad state of the story for the Bengali people.
Apart from these two problems, there are two more questions as well. One is Moral and the other is financial. The Moral question is, whether it is ok to give digital sops during or before elections. We have all seen parties claiming to give pressure cookers, Mobile phones, Cycles, etc. before an election. Almost all the parties do that. Anyone with a little financial sense would oppose it, but anyone with even an iota of morality would understand that this defies all morals totally. Policymakers, or people trying to be policymakers are trying to woo people and especially poor people with freebies and sops like these is in a way against democracy and its core principles. And yet today, we see a political party, not even a government, saying that it will give people money. Their way of doing this is more modern and more techno-savvy than others, but in principle is it moral?
The Financial question is if a political party should promise any monetary loan? How is this not an old system of money lending? Today, when we might be just coming of the NPA problem in the banking sector, where even cooperative banks are coming under RBI's jurisdiction, where NBFCs (Non banking financial companies) are trying to make the money lending process easier and simpler, should a political party be involved in the process of money lending?
These are the questions which TMC has to answer.