Naga Freedom fighter and social reformer Rani Maa Guidinlui with her followers
This is an incident of the early 1980s. I was at Guwahati in Assam engaged in organizing the Vidya Bharati school work. One day, the then Kshetra Pracharak who later became the Sarsanghchalak of RSS, Sri Sudarshanji telephoned from the airport. I picked up the receiver. He said: "Rani Guidinlui had an accident and is being shifted to Guwahati Medical College (GMC). Please arrange an ambulance for her and see that she gets admitted to the medical college as soon as possible.
I contacted Ghanashyam Das, an ABVP activist who was pursuing his medical studies at the GMC and we arranged the ambulance and brought her to the GMC. But unfortunately by then, the advisory from the Nagaland State Government had not reached the GMC authorities and hence there was a bit of neglect and carelessness on their part. When we insisted and gave her introduction to the attending doctors, one of them exclaimed "Oh! Is she the one whose name we read in the history books?" We replied in affirmative and it was only then the GMC staff got into action and removed her to a special room and the treatment started in time. By then the Nagaland Government communication also had arrived and everything got properly underway.
A couple of days later, Shri Krishna Chandra Gandhi, Vidya Bharati's senior national organizing secretary happened to visit Guwahati, and when I mentioned to him about Rani Maa's condition he expressed his desire to meet her. So we went to see her at the GMC and when I introduced him to the ailing old lady, to our surprise she said, "Oh! Gandhi! I know him but never met him".
Obviously, she was referring to M. K. Gandhi, who played an instrumental role in taking the message of freedom to every nook and corner of the country, and people like Rani Maa who never met him were also inspired by his message and plunged into the freedom struggle with all their might and resources.
Very few people in India may be knowing about this great freedom fighter, religious and social reformer and active associate of Akhil Bharatiya Vanavasi Kalyan Ashram and Vishwa Hindu Parishad who worked relentlessly to kindle the flame of patriotism among the Naga tribes in Nagaland. She even had to risk her life while fighting with the Christian missionary-sponsored separatist organizations and their anti-India agitations in Nagaland during the 1970s.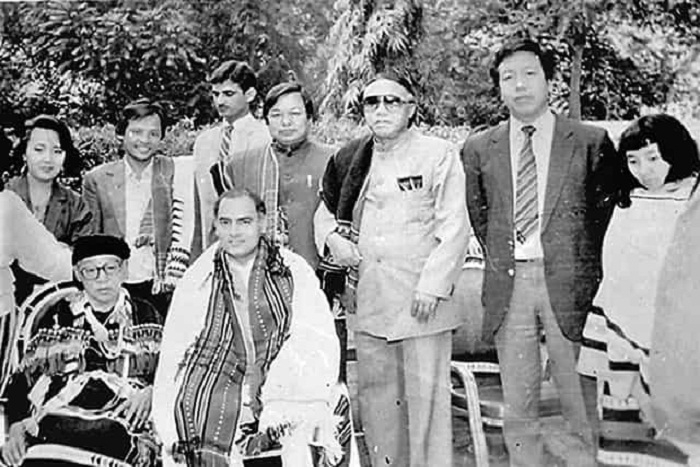 Rani Maa with former Prime Minister Rajiv Gandhi during his visit to Assam. He was flanked by N. C Zeliang, a prominent leader of the Heraka Association.
Born on January 26, 1915 in Rongmai Naga Janajati in Lunkav village of Tamenglong district of present=day Manipur state she took up the cudgels with her spiritual and political mentor Jadonang to secure the identity of her clan and culture. She assumed a lead position in uniting three major Naga tribes of Jeliang, Jeme and Rongmai and formed the Jelianrong Heraka Association. These Naga groups are spread over the territories of Assam, Manipur, and Nagaland states. Heraka is a Naga word that means "pure".
Jadonang first launched this Heraka movement and after he was caught and hanged to death by the British on 29th August 1931 for opposing the British rule she assumed the responsibility of this movement which was basically a socio-religious movement. This movement was more active in the Jeliangrong areas in the 1920s.
The British government had started collecting taxes forcibly from each household of the Naga society and forced them for rigorous working. Therefore, the main objective of this movement was to create awareness among the Nagas against this inhuman practice of the British and also to make them aware about the religious designs of the Christian missionaries.
Under the inspiring leadership of Jadonang, Guidinlui took active part in the freedom struggle at the tender age of 13. After his death, she did not stop her participation in the freedom struggle. It became her life mission. She used to say that "loss of dharma is loss of culture and loss of culture leads to loss of identity". With her caring attitude and love for all she soon became popular as "Rani Maa" among her followers.
Rani Maa tried to convert this movement into a nationalist movement and her efforts were like those of Gandhi's efforts to involve common people in liberation of our motherland. She appealed to her people to stop paying taxes to the government. She was later arrested in a battle of Hangrum village in Assam's North Cachar Hills district. Her army could not withstand the mighty British army and she was caught and incarcerated for life on 18th March 1932. She was sent to the Shillong and latrere to Jorhat jail in Assam.
It was only after the visit of Pt Nehru to Assam he came to know about her bravery and called her 'Raani' (Queen). He ordered her release after Independence. Following her release she committed her to the welfare of her people and had to engage herself in an armed struggle with the Christian Nagas fighting for independent Nagaland. She had to go underground and run her movement from there.
She came in contact with the Vishwa Hindu Parisahd and participated in Hindu Sammelans first at Jorhat and later at Guwahati in 1982 along with Gwalior Rajmata Vijaya Raje Scindia and then RSS Sarsanghchalak Balasaheb Devras. She also came in touch with the Vanavasi Kalyan Ashram and became its active member. She was honored by the Kalyan Ashram at its Bhilai Conclave. I had an opportunity to participate in one of her festivals at Tening village in Nagaland where Kalyan Ashram runs a school.
The Government of India honored her in 1972 for her contribution in India's freedom struggle with a "Tamra Patra" and with 'Padma Vibhushan" in 1982. She breathed her last on 17th February 1993. The Government had released a postal stamp in her memory in 1996.