Saket Gokhale, the notorious RTI activist, and TMC leader, has come under fire, as one of his platforms, which he used to lure people to raise funds for his fight against Prime Minister Narendra Modi, has vanished from the internet. His fundraising website, 'Ourdemocracy. in' is now unreachable and mysteriously closed.
It all started on August 26, 2019, when, after quitting journalism, the hyper RTI activist Gokhale filed an RTI petition, which cost Rs.10, against PM Modi, saying he "gave up a cushy job to fight the BJP/RSS". He then asked liberals as well as Modi haters to raise funds so that he could pay his bills but also allow him to widen the scope of what he has been doing, which is usually filing frivolous RTIs that cost Rs 10 to fight against the BJP and RSS.
Following that, liberals, far-left extremists, and Islamists end up getting honey-trapped into Gokhale's alleged financial scam. Through that, Saket raised 22 lac in barely 3 months. He also acknowledged having raised over Rs 22 lac through the fundraiser. This is when anti-CAA propaganda was raging.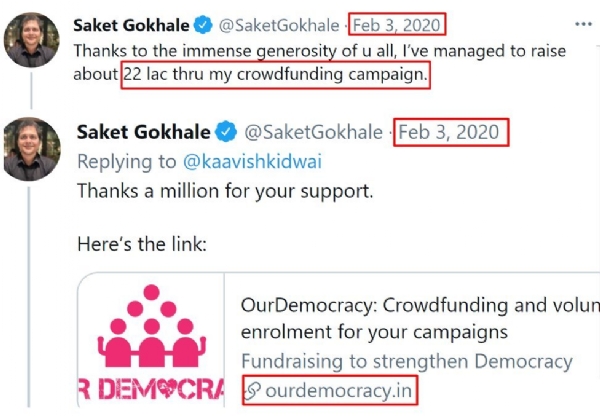 Later, on October 29, 2020, during a time when farmers' protest was rising, he again started the next funding and collected a whopping Rs. 48 lac in just 2 months. Through all funding websites, he collected Rs 76 Lac in a span of 17 months (avg just Rs 4.4Lac/pm).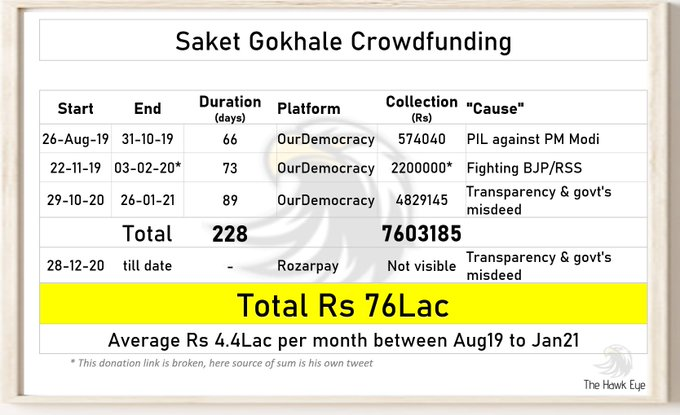 During that time when some social media demanded accountability from Saket Gokhale, he moved from a fundraising platform to Razorpay platform, thus removing even an ounce of transparency obligations.
More interestingly, the platform that has disappeared from the internet was also used by Kanhaiya Kumar, Aam Aadmi Party leader Atishi Marlena, and even Dr. Kafeel Khan.
After this matter came to light, several Twitter users have now unleashed an attack on Gokhale for the funds raised by him and the lack of accountability around them. Users lashed out at Gokhale for the lack of accountability over the funds raised.
Following the backlash, Gokhale started covering up the blunder and said he had raised funds for his sustenance – like a salary to be able to do his work full-time. "The kind people who supported me are aware of it. You don't promise 'audited accounts' for your monthly living expenses," he added.
But here we should point out, earlier, when he was asking for funds, Saket mentioned that the fund was not just raised for "sustenance" but for other purposes as well. In his social media post, he said that this money not only allows him to do his work full time but will also help him to train and rope in more people for his detailed investigation.
Further, Gokhale also claimed that he had deactivated his crowdfunding account around mid-2020. However, some Twitter users pointed out that the account was still active until last year.
It is for sure that Saket has landed him self in hot soup. With that fraud he has now emerged as the Scamster no 1.
.
.