Islamabad, Jan 05: Pakistan has reportedly ordered 25 J-10C fighter jets from China. Pakistan is keen on inducting these aircrafts in their Air force by March this year. This purchase is portrayed as an answer to India's purchase of 36 Rafale jets from France.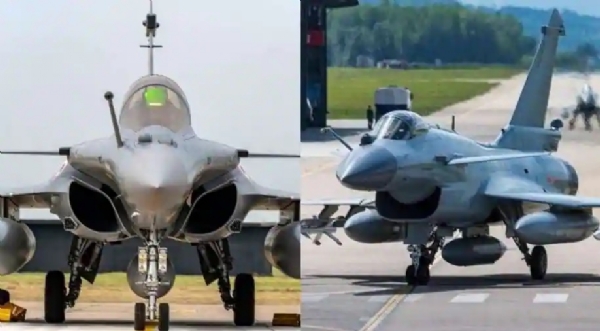 After a lot of controversy and a lot of delay, the Modi government stood firm on its ground and ordered 36 Rafale jets from France. These are multi combat aircrafts, which can bomb the ground enemy units as well as engage in dogfight with enemy aircraft. These aircrafts have given a much-needed boost to the Indian Air Force. This new purchase has rattled Pakistan, as perhaps for the first time Indian air force not only has numerical superiority over Pakistan but also technological superiority as well.
To tackle this adverse situation, Pakistan has purchased 25 J-10C fighter aircrafts from China. These aircrafts are touted as an answer to India's Rafale. Pakistan's notorious interior minister, who portrayed Pakistan's victory over India in the recent T-20 world cup as victory of Islam, has also tried to convince his countrymen about the capabilities of J-10C.
The announcement was made by the country's Interior Minister Sheikh Rasheed Ahmed at a public event in Rawalpindi last week. Speaking at the event, the minister said the Pakistan Air Force will fly past with "25 J-10s" on 23 March, on the occasion of Pakistan Day, a celebration similar to India's Republic Day.
While it is not yet clear if Pakistan is actually buying the fighters, which have been in service with the People's Liberation Army Air Force (PLAAF) since early 2000s, or getting them on loan from China, aviation experts and sources said that the J-10C, which is the latest variant, cannot be compared to the Rafale.
Comparison between J-10C and Rafale is not possible, primarily because the latter is a twin-engine fighter with a globally recognised missile system and the latest electronic warfare suite.
The J-10C, which Pakistan has been eyeing for long, is actually a single engine fighter, which is in a different league than the Rafale. The design and inspiration for the J-10C comes from a junked Israeli fighter programme of the 1980s, defence sources explained.
It is believed that the J-10C traces its origin to Israel's multi-billion-dollar Lavi fighter jet programme which was halted in August 1987.
Incidentally, in 1988, then-Israeli defence minister Yitzhak Rabin had denied a Sunday Times of London report which claimed Israel and China were working together on missiles and fighter jet programmes.
.
.