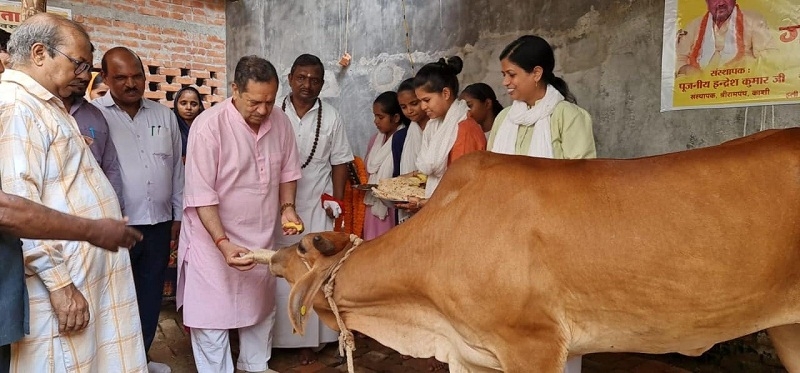 Indresh Kumar feeding the Gau Mata after inaugurating the temple at Kashi
Kashi, Aug 1: The first of its kind "Gau Mata Mandir" a temple dedicated to cows, revered and held sacred by millions of Hindus was inaugurated here in this city of Baba Vishwanath on the banks of River Ganga on Saturday.
Senior RSS functionary Indresh Kumar while inaugurating this temple said that devotees visiting this temple will have the dual benefit of having 'darshan' and 'touch' of Gau Mata.
The temple situated at Shri Ram Ashram in Lamahi village of Varanasi will remain open for devotees from 7 am to 8 pm said Chief Priest of Sri Ram Panth Dr. Rajiv Shrivastava.
The two cows in the temple would be worshipped every morning and evening after performing 'aarti' and 'tilak', he said.
"Scientists all over the world are researching on Indian cows. In complex diseases like cancer too, cow urine is beneficial," he added.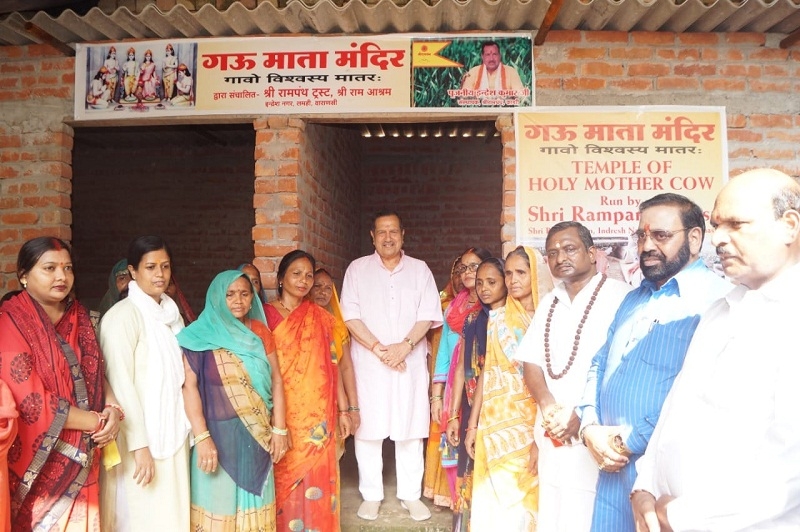 Explaining the idea of this temple he said that we wanted to encourage worship of living Gau Mata hence no idols in this temple. At present, there are two cows of Gir and Sahiwal breeds placed in the temple and those who cannot keep a cow can visit this temple and get 'darshan' and feel their 'touch' also in this temple, he said adding that the temple will benefit the visitors with peace of mind and freedom from physical ailments.
"The temple comprises two rooms in which Gau Mata will stay. In the future, if the temple attracts more devotees, we will include more Gau Matas and build a bigger temple," he added.
Nazneen Ansari, in charge of Gau Mata Mandir, said the governments of various countries should encourage the promotion and raring of indigenous cows of India. The Gau Mata temple will also provide cow urine to those who need it.
Gau sevaks appointed for the temple include people from the Muslim community too.
On the occasion of the inauguration, Archana Bharatvanshi, Najma Parveen, Dr. Mridula Jaiswal, Dr. Niranjan Srivastava, Gyan Prakash, Om Prakash Pandey, Dhananjay Yadav, Dinesh Chaudhary, Suraj Chaudhary, Deepak Arya, Mrityunjay Yadav, Dr. Nilesh Dutt Dwivedi, Dilip Kumar Singh, Mohd Azharuddin, and others were present.