Namaskar, the new series 'INSIGHT' is an attempt to present the central thought of a thought-provoking book. "Missionaries In India Continuities, Changes, Dilemmas", a book by Shri Arun Shourie compels readers to contemplate various points put forth. It refers to towering personalities like Swami Vivekanand and Mahatma Gandhi. When one reads their views one cannot help thinking that many socially aware people would like to know these facts.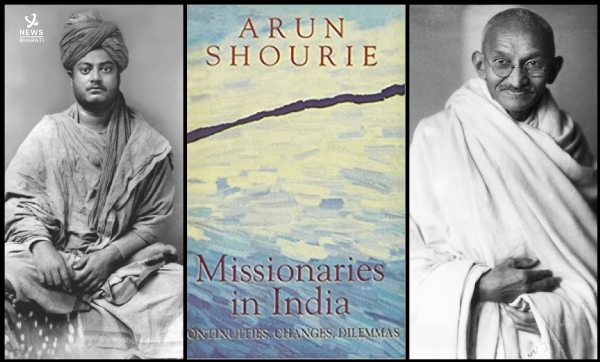 In the process of making us aware of our shortcomings, our self-confidence and self-respect were destroyed. Swami Ji described this as what education turns one into "a mass of negation, lifeless and boneless". Gandhi Ji repeatedly reminded us that modern hospitals were set up at the cost of our treasure of medical knowledge accumulated over centuries.
Gandhi Ji drew our attention to the fact that the services provided were the means to achieve the objective of conversion to Christianity. (Reference- Collected Works and Mahadev Desai's Diaries) Some Missionaries also acknowledged this fact. A detailed training or guidebook was available to carry out the activities of conversion.
Also Read: INSIGHT I: Swami and Gandhi's views on Christian missionaries through the lens of Arun Shourie's book
An interesting interaction between Gandhi Ji and a professor of philosophy from Poland is noted in the book. Gandhi Ji says, "It is an essentially untrue position to take, for a seeker of truth, that he alone is in absolute possession of truth." Gandhi Ji even said," My submission is that your position is arrogant". He then suggests that the better position would be to accept all religions as equal. If it is not accepted, conversion becomes an inescapable duty to every Christian. The book gives an account of the unbelievably huge resources at work to achieve this aim.
The numbers or percentage of converts in a couple of continents and many countries are impressive. Are they closer to the spiritual? Is their conduct better? The questions are raised by Gandhi Ji.
Lord Jesus is replaced by the Church and the number game took center stage. ( The account of activities is noted in the book, which surprise readers) The number was increasing for a century till the late sixties (1960). After that, they were on decline except in North East. Gandhi Ji used the expression" vendors of goods" to describe the concept of chasing numbers. And all the techniques were used to make it effective,even allurement and violence were not spared.
Hardship and suffering during the famine were looked at as tools for conversion. Swami Ji criticized missionaries in the harshest language for these means used. Gandhi Ji warned them about devaluing the great example of Jesus, robing the service of nobility, and using material incentives and promises which cannot be kept. He was deeply pained and anguished by these things.
When a polish student requested him to give his autograph on a photograph, so that he can use the proceeds of the sale to help a school, he said," you don't expect me to support the fathers in their mission of conversion?"
Mahadev Desai records how Gandhi Ji was asked to hold back writing anything about conversion in the area of Tiruchengodu and even the desecration and demolition of Hindu temples. Gandhi Ji would not mind blessing voluntarily embracing Christianity, but it was not the case. He could see only condemnation of Hindu religion, use of allurement, taking advantage of weaknesses, and making the converted demolish their temple which then didn't belong to the converted or Christian missionary. He described this as ' outrageous'.